---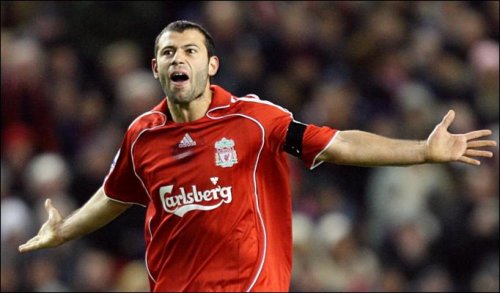 If reports originating from ESPN are to be taken at face value, then Roy Hodgson and the Liverpool board are going to find themselves with a few decisions to make in the coming days, as Javier Mascherano is believed to be ready to hand in a transfer request in the next 48hrs to make his wishes to leave Liverpool formal.
Barcelona have long been linked with the Argentinian captain but the financial situation at the Nou Camp has been shown as a little unstable in recent days with comments and reports from Bloomberg coming in to the public realm. Barca failed to get their man last summer and if Rafa Benitez has his way then its going to be a second failed attempt for them as he looks to entice the rear guard to his new home of Inter Milan.
Benitez was the man who brought the former West Ham player to Anfield and noises from Inter suggest he is more than ready to work with his former midfielder again. Mascherano has voiced his unrest on several occasions now, quoting his familys inability to settle and his wife's lack of English speaking as a driving factor to depart to either La Liga or Serie A.
Most Liverpool fans are happy with Javier's performances on the pitch in the majority through his time at Liverpool but many also see his recent credited comments as less acceptable and a move away from the club this summer nothing but inevitable.
An ESPN Soccernet source has been quoted as saying;
"Javier is looking, for sure, to leave Liverpool,"
"There is no doubt that at the moment he wants to go.
"Await developments, as Javier has made up his mind."
Developments will no doubt continue until a conclusion is reached for better or worse but many clubs will feel that any player not commited to the club, regardless of his International standing as a player, is someone that needs to be moved on and quickly. Liverpool are likely to command a fee in the region of the £30m for the player but all fans eyes will be on the board to ensure that tough tackling midfielder isnt let go for any less than he is worth given the clubs well documented financial plight and just as importantly how intelligently those funds are reinvested in to a squad that cannot afford to be weakened any less than it is already if the club wish to remain remotely competitive.
Time will tell who plays their cards the best but the Mascherano situation is likely to be the first of several key developments with the squad in the coming weeks.