---
Having neglected this site for almost 3 months, I feel it is now time to get back up on the horse and start writing in preparation for the season ahead. Events at our club since April, have discouraged me from blogging. There are far too many people more knowledgeable on the business side of the club for me to stick my oar in, and others know potential transfer targets' strengths and weaknesses alot better than me. But I'm back now, and ready for August 15th.
Firstly, I'd like to, belatedly, welcome Roy Hodgson as our new manager. I have my reservations, particularly that the board have who they want, a yes man that will not get involved in issues above his remit of 'managing and coaching the team'. That said, however, Roy will receive my support in its fullest.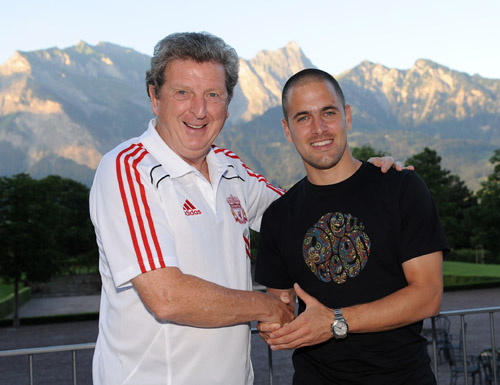 <
When Rafa was sacked, I genuinely feared for us. My expectations for next seson were downgraded immediately from 5th-6th place to battling Birmingham for 10th! When Roy was appointed, this improved my confidence for the coming season and with it I fully expected us finish 7th at worst. Events of this last week or so has brought even higher belief, I BELIEVE we can challenge for 4th. Bill Shankly famously said, "If you are first, you are first. If you are second, you are nothing". Sadly the game has evolved since then. For nothing more than financial reasons, and if Sky are to be believed, a top 4 finish is considered a successful season. For me, 4th place is nothing more than a necessary stepping stone to hopefully launching a title challenge in the next 3-4 seasons.
As Gareth Roberts says in his excellent Well Red magazine, available here http://www.wellredmag.co.uk/buy.html, every Liverpool manager since 1959 has won a trophy. Ok, so Roy is only our 9th manager in the intervening years but I doubt any other team can make such a boast. There really is no pressure to keep this streak going Roy, honestly!!
IF we achieve any success this season, it will be merely papering over the cracks. The time our club lives on is, just like the money Hicks & Gillett used to purchase our great institution, borrowed. The longer they remain at the helm, the worse the situation becomes and the less attractive we become to potential buyers. Tom and George are not welcome anywhere!
YNWA