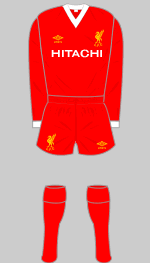 When I was eleven I got my first Liverpool replica kit,  I remember saving all my pocket money for months and then waiting another two months for it to ship from the UK to Malta.
The kit finally arrived at the end of the 1981-82 season but then the following season the club changed the kit drastically. After 86 years of the shirt being solid red, white pin-stripes were added. The sponsor changed too and now the kit that I had spent so much time saving for wasn't going to be worn by my heroes anymore.
Needless to say I was gutted, I couldn't afford to keep buying the kits as they kept changing every two years. So I didn't buy another replica kit for over 20 years and opted for other Liverpool merchandise instead.
Fast forward to 2002 and now I could order the shirts online, the prices were still expensive but I could afford it. Instead of spending money on a Lacoste shirt I can now buy at least two or three  Liverpool shirts a year. Finally I could wear the same shirts that my heroes were wearing.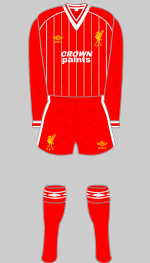 As you know, Tom Hicks and George Gillett arrived in 2007, after a few months all hell broke loose and the truth of how and why they bought the club came out. A small number of fans started to call for a boycott of official merchandise.
Since 2008 the boycott call has been growing and like many Liverpool supporters I was thorn about this, not being able to wear the shirt of my heroes is painful. As the 2010/11 season is about to start we are faced with a new home kit. The boycott calls now are louder than ever and I am seeing more and more fans shunning the shirt and opting to wear retro shirts, SOS t-shirts and a group of fans even created their own version of the shirt with proceeds going to SOS and HJC.
The club has reported that demand for the new replica shirts has been very high, this is probably due mostly to demands from countries where the previous shirts couldn't be sold due to alcohol advertising laws. Of course then there are the kids, how can someone tell their 8 year old that they can't get a Stevie G. shirt? Because if they don't, their blue nose uncle Howard is going to be buying them an Everton one.
I don't think the boycott will have much of a financial impact however it is sending a very strong message. I must admit I do own the new replica Standard Chartered shirt which I received as a gift. I am not wearing it until the club is sold.
Y.N.W.A.
-Antoine