---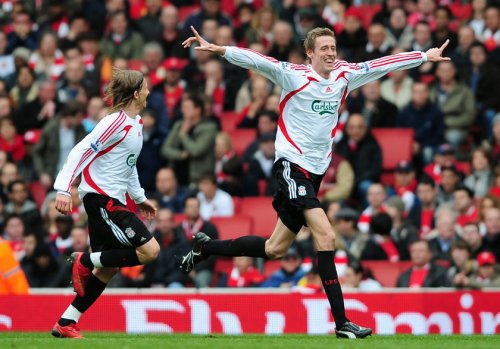 Liverpool are reportedly lining up a bid to bring England striker Peter Crouch back to Anfield, some sources already advising that conversations are underway and the player could be heading to Melwood this coming week for a medical.
Rumours concerning Peter Crouch have intensified over the last fortnight, as Liverpool have looked to add an experienced striker for around the £10m mark to their squad. Their orginal interest was thought to lie with Loic Remy of Nice but nio deal materialised for the player and he has since been to talk to Stoke, over a Premierhsip move. The name of Crouch has moved on from a suggestion in many places to a lot of talk from Spurs sources a fortnight ago that he may lie outside of Harry Redknapp's plans for the coming season. Spurs sources were also credited with saying at the time that finances are alot tighter at White Hart Lane than they have been in recent transfer windows and the sale of Crouch maybe required to enable them to bring in one of their own targets. Spurs funnily enough are now credited with directing their interest at Remy.
The 29-year-old England International spent three years with the Reds earlier in his career, where he was a popular figure with the club's fans despite returning just 22 goals in 85 Premier League games for the Anfield outfit. Crouch was somewhat underplayed by Rafa Benitez and never fully received the opportunity that he perhaps thought he would, but his exit for the arrival of Robbie Keane certainly provided no improvement as the Irish international failed to deliver for his boyhood team.
A lack of backup options for Fernando Torres went on to prove costly for the Reds, as the Spaniard was sidelined for a big part of the campaign with a series of injuries. Despite the young potential of David Ngog amongst the Liverpool ranks, the squad is lacking depth across the forward line. Liverpool are hoping to pay around the £8 million mark to seal a Merseyside return, but Harry Redknapp is believed to be looking for an extra £1m to £2m to conclude the deal.
Crouch would not only add depth and support to the forward line but would also increase the homegrown player count for the Kop side. Crouch's arrival would be another step towards the level of squad that Liverpool should have operated from last season. If the truth be told, even with the arrival of Crouch, the Liverpool strikeforce is still a little light weight compared to the leading Premiership sides, who tend to operate from a bank of a minimum of four but the ability to bring in the likes of Remy as well may not quite be in Liverpool's grasp just yet as the battle in the boardroom for ownership continues to rumble on.