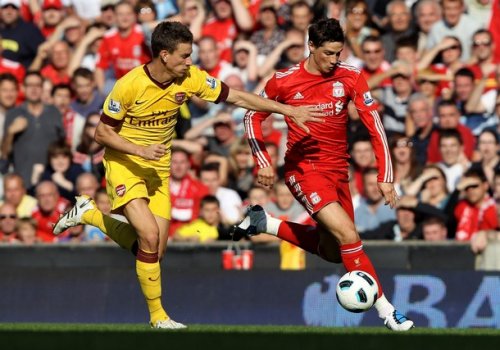 As the end of the transfer window starts to approach, just 15 days to go until August 31st, the mention of the new Premier League rules that take effect for the 2010/11 season become ever more mentioned across all forms of media. The reason for this is that by September 1st 5pm, every Premier League club has to register its squad for the current campaign, meeting a new level of criteria designed to increase the number of young 'home-grown' players in the Premier League and with a long-term aim of giving more options to the England manager.
A further target of the strategy is to prevent teams stock piling players, or fielding squads completely dominated in numbers by overseas players as explained by Chief Executive Richard Scudamore recently:
Scudamore does not believe the move will encourage clubs to hoard young foreign players and claims the England team will ultimately reap the reward.
"It's not in the club's interests to stockpile players. It will make buying home-grown talent more attractive," he said.
"We're not going down the route of a nationality test but what this will mean is that you just can't buy a team from abroad."
"We think it will give clubs an extra incentive to invest in youth. We think that one of the benefits will be that it will help the England team."
The 2010-11 Premier League season will see top flight clubs forced to comply with rules, specific to games played in the Premiership and no other competitions, over the size of their squads and the type of players that make them up. The system is simply administered at each club via an online form which automatically flags up if they have named too many players who do not qualify as "Home-Grown".
Some teams will most certainly be affected more than others at different points of the rules. For example Liverpool are recognised as only having Steven Gerrard, Jamie Carragher, Joe Cole, Glen Johnson and new arrival Brad Jones as the only senior homegrown players on the books, although a good abundance of U21s does exist. Manchester City on the other hand, fresh from a £100m spending spree and rising have some different thinking to do. Although their current squad boasts 13 senior home grown players, a number of them are recognised as surplus to requirements at Eastlands which will lower the availability to them but overall the squad is much closer to 40 players than the 25 limit. Therefore a considerable number of players are not going to see Premiership action this season although they will be able to feature in their Europa campaign as well as the English cups. The new set of rules could certainly encourage a hectic last week in the transfer window as teams look to meet their quota's as well as possibly ensuring that high paid players not named in the 25 man squads, are loaned out, sold on etc.
An Overview of the Rules
Clubs register a squad of up to 25 players, which must include at least eight 'home-grown' players, at the end of each transfer window.
Home-grown players do not have to be English; home-grown players are defined as those who "irrespective of nationality or age, have been affiliated to the FA or Welsh FA for a period of three seasons or 36 months prior to 21st birthday".
Clubs can supplement their squad with an unlimited number of players under the age of 21.
Changes can be made only during transfer windows, although in exceptional circumstances (eg two out of three goalkeepers injured) moves could be allowed.
Players loaned out to Football League clubs cannot be replaced, but can regain their spot on return to parent club.
Clubs do not have to name a full squad of 25 if they do not have that many contracted players and in this instance they may add free agents outside the transfer window. However if they have 25 eligible contracted players, they must be named.
Clubs do not have to name eight home grown players but if they do not have that many signed they will operate from squad reduced by the relevant number of home grown players missing.
Rules purely apply to only Premier League matches – not European, FA Cup or League Cup games.
The first deadline to be adhered to for squad submission to the Premier League is 5pm BST on 1st September 2010, the current transfer window closes on August 31st 6pm 2010.
Liverpool's Managing Director Christian Purslow commented at the weekend on BBC 5 Live that – "I think there will be one or two more ins and outs. There are a few people who will move on".
As well ensuring that players surplus to requirements at Anfield are moved on, or simply unhappy for personal reasons such as is the case with Javier Mascherano, it is logical to assume that the Liverpool board will be closely looking at their home grown quota over the coming fortnight as much as overseas targets continue to exist.