---
Roy Hodgson has today been quoted saying "We were unbelievably over-staffed when I came and, if the truth be known, we still are over-staffed." Now, come on, looking at our 25 man squad, it's not exactly massive, if anything, it's really similar compared to other teams, if not smaller. The Academy is bloated and rightly so, we want the best of the best for our club coming up the ranks. So why is this coming out now? More players to leave in January?
I cannot help thinking Roy's hand is being forced by the Cowboys strangling our club. Time is ticking towards October 6th, a date where our club can be plunged into deeper trouble with the Banks, created by the two idiots, who don't even speak to one another, just looking to make some quick dollars from our club. For me it makes sense. Roy was fairly active in the transfer market. Fact of the matter is, the Club made a profit. You only need to take one guess as to where that money went!
Media news has died down since August when the board set a deadline date for proposals to come in. There were a number of interested parties apparently being vetted by Christian Purslow, what is the latest? Has anyone heard a peep as I am none the wiser and to be honest, getting more nervous as the days go on? Are we still in negations, are there still interested parties? The fans need to know. And more so, need to take further action.
For this reason and, to be honest, I am ashamed to of not done this sooner, but better late than never! I registered with the Liverpool Supporters Union – Spirit of Shankly. The Union aims to represent the best interests of our members and by extension the best interests of the supporters of Liverpool Football Club on both the local and international level and to hold whoever owns the football club to account.  There is more information on the website, check it out!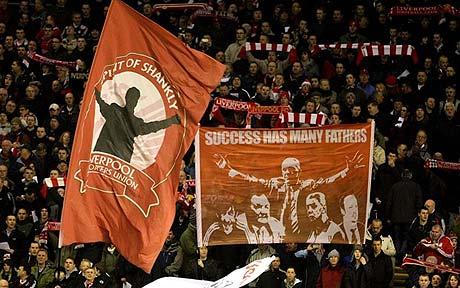 Time is ticking and personally, I am sick of sweating every transfer window, worrying about losing our best players, worrying about the future of our club. We are the biggest club in England, being run by two monkeys. We need to do whatever we can to help OUR club. Call yourself a fan? Join.
YNWA