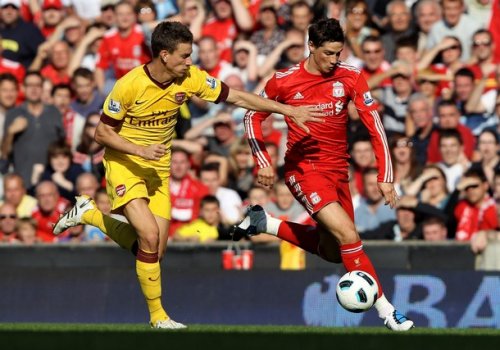 There has been a lot written about Torres' attitude with some claiming "He is not interested", the truth of the matter is that Fernando is not 100% up to his level. He was plagued by injuries last season and he is just starting to get back his rhythm, if he seems frustrated at times he is just frustrated with himself that he hasn't reached the level he is used to.
Even though he hasn't been at his very best he also has denied the quality of service that he has had in the past. He is probably still adjusting to Roy's tactical style however it is good to point out that our last five Premier League Games had a touch of Torres in them.
He scored a brilliant goal against WBA, against Manchester United he was fouled in the box (which gave us a penalty) and outside the box (the freekick that Stevie G equalised on). Against the Black Cats yesterday Nando's shrewd thinking created the goal for Kuyt (Nando could have scored it himself). Then the equalising goal that Stevie G. scored was delivered by no one other than Fernando Torres.
Yes his defensive mistake led to Berbatov's goal last week however Nando is not a defender.
While everything looked gloomy yesterday I must say that we saw a couple of flashes of the old Torres coming back.
Y.N.W.A. Nando
-Antoine