---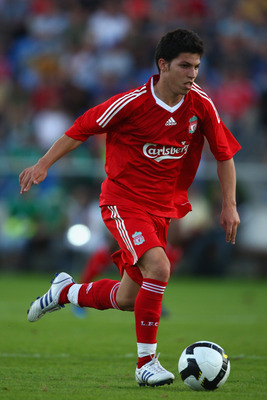 Today the news has been that Daniel Pacheco is wanting out of Liverpool and isn't happy with the current way he is being treated by the managers. Pacheco was for the last few years our most promising young player and we can "blame Rafa" for bringing him here from the Barcelona youth team. He has featured for the Spanish Youth sides, also standing out and sparkling. He was even featuring in the first team at Liverpool and many fans had the feeling he could really be a star for us! So now he wants to leave our great club?
The word is Pacheco arrived late to a reserve team match and has been left out of matches as a punishment. But is it fair to do this do him? Is the boy allowed to show his frustration? In my opinion, I think as a player, when you do wrong to your team and manager, a punishment is an optional choice but sometimes necessary to show discipline. But when you are not being given any chances by either John McMahon or Roy Hodgson, why would he want to stay and train with no hope of playing? And it must be a bit of a confusing idea where senior players who are new and not performing (Poulson) can take a place on the bench, why not Dani? Or maybe its not the seniors and the youth? Jonjo Shelvey, a new arrival this year at Anfield also a very bright future and captain of the England U-19 squad, has already made both his Europa and Premier League debut and has made the bench for the past few games. Might be unfair to one who has worked for the past few years to earn a spon just to see it fade away?
So why is this titled the Spanish Curse?
At the end of the 2008-2009 Season, we were sitting at 2nd place, with Rafa Benitez as our manager and Xabi Alonso as a our play maker. Alsonso left to Madrid after a spill out with the boss and we dropped to 7th place the following season with the same manager, although he fought tooth and nail for us, Rafa didnt have what he needed. That season Rafa was fired and we were appointed Hodgson. He wanted 10 games to be judged, now asks for 38-55 matches, and has already brought us to the relegation zone, losses to both our biggest rivals, losses to some of the weaker teams in the league and lets not forget our "historic win" at Bolton away…
Now Pacheco wants to leave, and Rumors of Torres and Reina leaving are always popping up and seeming more realistic each time.. We can not let any more Spaniards leave the squad. I am not saying this is the answer to winning the league and ending all problems, but it definitely will not help us in any way.
We need to hold on to our youth players, NESV has already said if players want to leave, they can go. Also they haave said that they believe in the youth and want to build the team up from the bottom and spend wisely, rather than to buy out players and extraordinary prices and hope they adapt. Liverpool needs to keep and improve it's depth, or we will not be a strong team, just a group of strong individuals.
So, we need to hold on to Dani, Torres, Reina, and ALL of our players that want to stay and perform 100%.
YNWA
Brandon O'Shea, The Passionate Red
Follow me on Twitter at: @Brandon_OShea