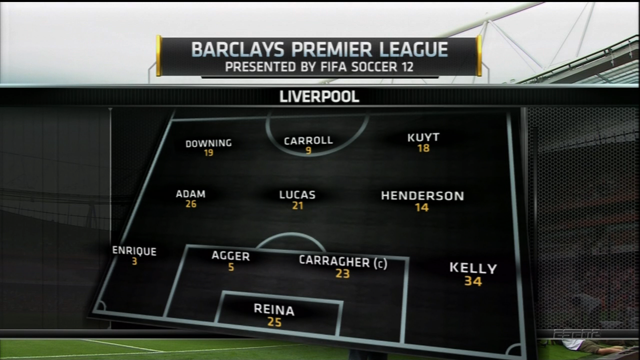 What's this insistence of playing Carroll upfront and using him as an end-of-long-ball-distributor? Clearly it is not working! The Reds look sluggish, wasteful, and frankly boring when they play this system. When Suarez and Mereiles came on in yesterday's game, we played 'our' game. Quick one-touch exchanges with players moving into empty spaces and making themselves available constantly. We may have been lucky, but we earned our luck because we were all over them! At times Carroll seems to be looking for bearings. A mention for Henderson: perhaps we should realize it is a clear case of easing him into the fray instead of exposing him to the firing line from the onset. He is trying, but is he rendering?
I have a feeling Raul Meireles is a bit pissed off for not being played from the first minute. Fitness issues aside, I am just as pissed and I am just a fan! He seemed to have an attitude when the Reds scored both goals against the Gunners. He knew the cameras where on him, and he was not exactly smiling was he? Okay, I know about the middle finger / Lucas / Frimpong joke!
People keep asking: but why is Aquilani not selected? Aquilani is not in Kenny's plans! The reality is that Alberto Aquilani wants to play in the Serie A, plain and simple. Kenny is an intelligent person apart from being hugely charismatic, and he knows that he needs players with their heart in it and that their talent alone is not enough. Juve backed off the deal, Fiorentina apparently did not fit the bill, but we could see Aquaman join AC Milan (the Italian Red Devils) either on a season loan with option to buy or as an outright sale. Whatever happens, we are bound to lose our butt financially on this one: purchased for Stg 20 million, handful of games the first season, out on loan the second and eventually sold to AC Milan for Stg 6 or 7 million max! This was not good business!
Did you people know that Mr Thomas di Benedetto, the Boston-based millionaire who recently purchased 60% of AC Roma for Stg 52.5 million (almost as much as Chelsea paid for Torres!) is a partner and shareholder of the Fenway Sports Group? Yes, that's right! So it seems we could well have infiltrated the Serie A through this deal. Who knows if we will be seeing more future dealings on the Liverpool/AC Roma front in the future?
Now I am one who firmly believes that Flanagan is one for the future. One to carry the Gerrard and Carragher legacy, but Martin Kelly (thoroughbred centre-back or not) is the one for the present. He shows the intensity and passion that is nothing short of the Carragher mould! Strong, concentrated, confident. Definitely a candidate for the Liverpool captain's armband five years from now!
I am sure most of us are rarely aware of what is happening in the background, but most of us, me included have a question: what is happening with Cole, Poulsen, Kyrgiakos, Degen, Insua, Jones, Pacheco, Wilson, Ngog and Shelvey! From this list only Ngog was a sub for the Sunderland game, the others never made the squad! News anyone?