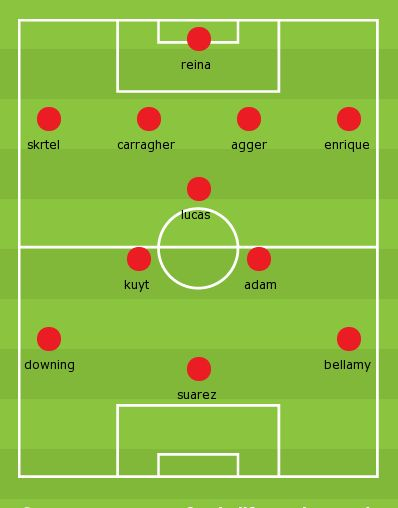 Kenny Dalglish and Co. seem to have little injury worries ahead of what may prove to be second direct clash for a top four finish of the season. With Gerrard being gently nursed back to full fitness but perhaps not yet completely ready (it was so refreshing to see pictures of him in training action at Melwood finally) and Martin Kelly back in training but again possibly a tricky gamble to risk so soon, the only real dilemma lies with Glen Johnson. Our first two right backs may not be available so Kenny will have possibly two options: Skrtel and Flanagan.
It's practically the only position where we have some issues at present and the Manager will need to decide between youth and experience, speed and physical strength. It's a gamble, especially when you know from starters that it's the area where a certain Gareth Bale will by plying his trade!
Kenny will probably opt for his preferred 4-4-2 game-plan but take a look at what I am proposing for the game against Spurs in the layout above.
So why 4-5-1? In essence this is more a mash-up between 4-3-3 and 4-5-1 to be honest and that is because I always thought that a great manager should be able to change the shape of the team according to the changing conditions of the game. If the game is a tight contest then a 4-3-3 set up would give more balance, if on the other hand we produce a spell of pressure on our opponents that a morphing to a 4-5-1 would add more containment from the half-way line and possible give our midfield more options, if not the chance to strike a goal themselves. I also feel that the Downing, Suarez and Bellamy trio will give our forward line speed of movement and execution which may cause the Spurs defense come serious issues.
Needless to say everyone has his formation and his favorite players. I'd love to have Gerrard and Johnson in place of Kuyt and Skrtel, but it is not to be. If they had been fit and available for selection, than that would be my choice for the starting line-up, hands down!