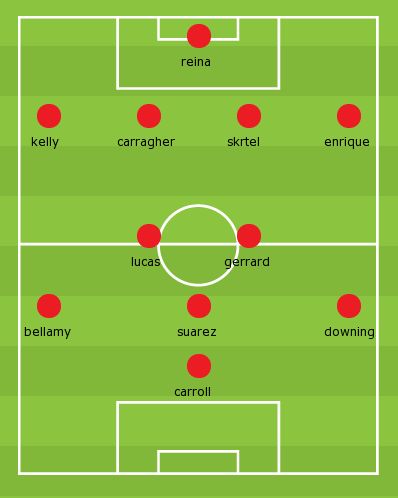 Saturday will see the Reds play the first of two of the most important fixtures of the season: away to Everton at Goodison.
The above game plan is how I would initiate the first battle skirmishes, because battle it shall be! Kenny will most probably go for his favoured 4-4-2 set up but I would like to think we can play some mind-games with the Blues and present ourselves with a set-up that sends the right message to the Evertonians: 'We're going for the jugular!'
4-2-3-1 would be my pick, and this would be the starting line up! Please allow me to make some clarifications and considerations. Why 4-2-3-1? Well, this is a very attack-prone set-up which however allows you to revert to 4-5-1, 4-3-3 or 4-4-2 in the blink of an eye (or with a simple gesture from the Manager). Why these players? Well, let's say that deep down I would have preferred Coates to Skrtel, as for the rest, that would be my starting eleven for the derby. Lucas would be asked to do his usual (front of back four) patrol and interdiction shift, while Gerrard would hover over the halfway line to dictate the tempo and initiate most of our attacking forays with his vision and legendary distribution (something we have been lacking). Bellamy and Downing would scour the flanks giving us width plus depth, and keep their full-backs anchored in their positions, providing rapid movement and providing ammunition for Carroll and Suarez, who have liberty of movement along the full width of the attacking front.
There is no Kuyt or Adam in this line-up because the scope here is to have speed of execution, added scoring options and the possibility to switch Bellamy and Downing from left to right and vice-versa giving their defense no fixed reference points, because both Bellamy and Downing are brilliant and as effective on either flank. Carroll can grasp the attentions of the centre-backs in a brut power struggle leaving openings for Suarez and the occasional stealthy incursion by Gerrard.
It is probable that Kenny & Co will go for a more prudent approach, possible the usual 4-4-2. We have to see if Gerrard will be given a start and if Bellamy will be given faith to inflict damage. We need to be audacious here. We need to show Everton we are going for the win. We need to be tactically more polyvalent and flexible, morphing our strategies according to the run of play. We also need to send a clear message to Man Utd that we are going to give them more than a run for their money, come their turn.