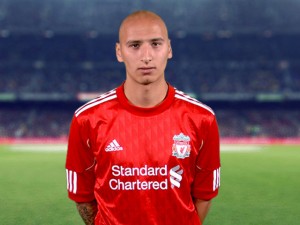 By Kelvin Eze

There is no doubt that Steven Gerrard is a complete effigy of what Liverpool football club stands for particular on the pitch. However, just as Richard Buxton rightly explain in his recent article regarding Gerrard, I can understand that his illustrious era is gradually coming to an end. No matter how hard it is to accept yes it is, because whatever goes up must surely come down.
NB: Please note that this post is void of stats, only normal illustrations, explanations and analysis contained. I leave stats to those it belongs.
In a town where you have a king ruling, you equally have the princes and other co rulers in order to have a successful rule. Gerrard in this case is the LFC's King who is making way for another. I must admit that it is pretty hard to accept, I wish he can carry on with the same level of performances without or to be fair less injury. Who is that next Anfield king? He is that one who I describe as the 'king designate' in the person of Luiz Suarez. He is always and already on the palate of the lfc fans, and equally on the palate of biased pundits who are only out to smear him; for example as in the case of Mirror football and Rory Smith, both claiming he is a racist without been proven.
But the question is: is he the future Steven Gerrard? Hardly so. When we compare and contrast Gerrard and Suarez as to their style of play, they are quite different. Gerrard loves a free role, he plays as a second striker forming the best partnership with Fernando Torres, he displays the swagger, curves the ball, he enjoys spot kicks and free kicks. You could see him all over the pitch inspiring every personnel on the pitch. He is a complete attacking midfielder, an embodiment of a midfielder that loves scoring; whereas Suarez is not a midfielder but rather a striker or a second striker who loves to drift either right or left and in the box. These positions are where he thrives well. Suarez displays almost same but with free kicks, spot kick, and curvy shots with eyes closed and with accuracy Gerrard is ahead of him; except with time if he can get that included in his attributes, basically he won't be like Gerrard.
Another regular team player who many including the King Kenny talk of is Jordan Henderson, the one they say would be a long term Gerrard replacement. I have watched him often times during his Sunderland FC days, I have seen his performances both past and present. He was fantastic for his former employers Sunderland FC but in no way near Gerrard's style of football. His performances in his present club liverppol fc, has been below par as against what we saw in his previous club, although he gradually picking up his confidence and normal play. However, in terms of his style of play; his movement with the ball, his passes, ball control, tackles and running on the pitch are quite different. So, who really represents or is an effigy of Gerrard? Simply put, JONJO SHELVEY. Signed from Charlton Athletic FC by Rafa Benitez in 09/10 season, one of his astute signings regardless of what the media say to smear him.
When Benitez was going to sign him, it was reported that he was playing well above his colleagues, with his blistering shots during games and in training. This also reminds me of his wonder goal in England U21 training; he used his upper right foot to score, leaving many to wonder how he did it. That goal was exactly like the type Gerard once scored. (pardon me I don't have a ref of that at the moment). I equally recalled that both Gerrard, Benitez and Torres were instrumental to his signing. May be he would have joined another club then, so as sweetener he might have been told that he would replace Gerrard in the near future, and sure they were/are right.
Under Roy Hodgson he was given plenty of chances, which moved Roy to say that he see him as Gerrard's future replacement if he continues doing well. So even though Roy was out of dept he got that one right. Unfortunately, Shelvey got injured and that affected him. We can argue that he had some initial issues of understanding Liverpool ethos then as he had some twitter social networking backlash. That in a way stunted his involvement. Every young player is susceptible to such but would make up with time with proper training. As time passed by in order to fast track and improve his football growth the club deemed it fit to loan him out, albeit I learnt he initially rejected it. The loan move which is 3 months duration is now yielding huge profits both for him and the club. In their game against Leeds United on 02/11/11 he got a hatrick, a club that was once playing premier league but now a championship club. The first goal he scored was from a free kick like that of Gerrard's against 'the Mancs' this season. In total he has scored 5 sweet goals, performing brilliantly in the midst of senior team players of a recently relegated premier league club Blackpool fc. He's got confidence now, playing with more of it. Everyone at LFC hopes when he returns he comes with experience to challenge, but more importantly he would carry with him confidence which is essential to his growth. Jonjo is gradually becoming a complete attacking midfielder, an embodiment of a midfielder. At age 19 he already got England Under 21 call-up. Imagine a midfielder scoring 5 out of 6 appearances for his club; isn't that what Gerrard does?
In summary I can see a Steven Gerrard in Jonjo each time he moves with the ball, passes the ball, controls the ball, with his tireless running on the pitch, when he chest the ball, his free kicks and spot kicks, his fearless move into a dangerous area and tackles, curvy right hand like that of Gerrard. If he continues his style of football, surely someday soon he would take over from Gerrard.
It is with these I say: Skillful JONJO SHELVEY, the future LIVERPOOL FC STEVEN GERRARD in the making.
Please note: This piece purely my opinion and not of every fan of LFC or LFC.
Sure, there would be some who share same opinion with me.