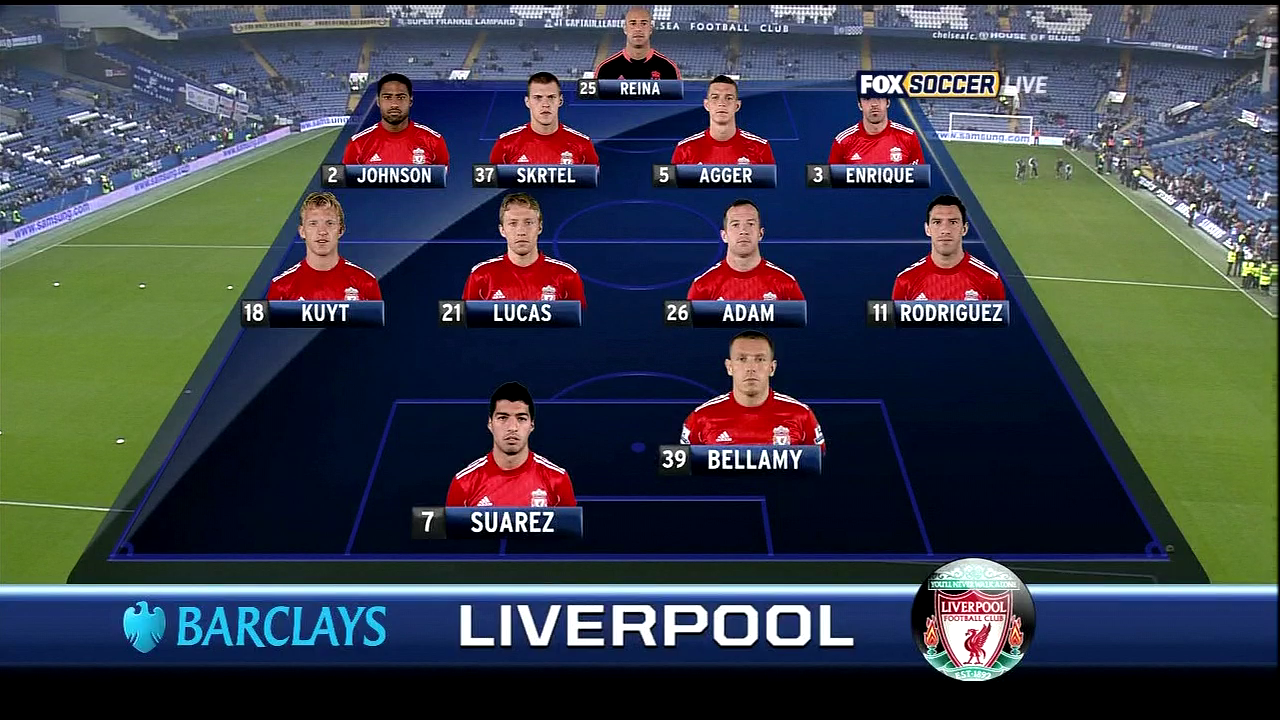 Some might have wondered where the old fart that usually writes to lambast the Reds when they fall short of expectations might be hiding. Well here he is, ready to give credit where this is due and critique the shortcomings making sure everyone is kept on a tight leash.
On a day when the Reds were inferior in all the statistics were they usually reign supreme, be it possession, passing, tackles ecc, ecc, they came out on tops in the only statistic that really matters: they scored one more than Chelsea, got the three points and a morale boosting, confidence solidifying and ego friendly win at Stamford Bridge. We are still a bit way-off consistency, but we certainly were cynical and why not!
I tend to often quote the words 'bold and brave' and my first impression was that Kenny & Co wanted to try something different. Now allow me to make some considerations on what I saw:
• In an initial 4-4-2, Suarez and Bellamy worked tirelessly to continually harass the Chelsea back four and keep them on edge. A very generous display yet again from the feisty Welshman (would be pointless making that remark for Suarez as he was his usually unconditional self).
• Lucas and Adam had a solid game in midfield, and while the Brazilian was partially conditioned with an early yellow, the scot showed a glimpse of what is expected of him and was pivotal in both goals, and showed Ramirez on one or two occasions that he meant business.
• Maxi! We had been asking why the argentine has been left in 'neglect' warming the bench. Kenny's 'gamble' paid off, big-time. Suffice to say he has not lost his urge to put it in the back of the net has he?
• Kuyt put in his usual selfless shift but I felt he gave the ball away on too many occasions and his passing was essentially poor.
• Captain Pepe saved our game with that stupendous save just after their equalizer which could have killed us off.
• I don't want to sound harsh because I really adore the guy, but did anyone notice Carra's absence?
Summed up in a paragraph, I felt the Reds had a decent and disciplined first 45 minutes were Chelsea's superior possession never really worried us bar that Drogba free-kick. Our goals were two exceptionally executed gems and while the first rewarded the Reds' asphyxiating pressing in the first half which caught the Chelsea back four in possession and napping at the same time, the second was an inch perfect long range pass from Adam, enabling Glen Johnson to display sublime technique in mastering the ball on the run, to leave Ashley Cole for dead, and to finish with the consummate ease of a seasoned striker! We struggled in the first phase of the second half when AVB took off an evanescent (and highly overrated) Obi Mikel bringing on Sturridge and placing Ramirez in front of the back four. AVB's plan initially worked as the Reds were pinned back and the young forward found the net and brought back Chelsea on level terms. The introduction of ex-Reds Torres and Mereiles went almost unnoticed while our Downing for Bellamy and Carroll for Suarez swaps seemed purely academic.
So why do we win at the Emirates and at the Bridge and draw at home to Norwich and Swansea while Arsenal and Man Utd both record victories away to them? Is it 'newcomers' syndrome'? Do we take 'lesser' opposition for granted? Consistency is key! Being bold and brave is imperative, but being cynical and clinical does not hurt, does it?
It's baffling why we grind out results against top opposition to then come down crashing against teams we really should be dominating. While we drew at home with Norwich and Swansea, both Arsenal and Man Utd got three points away to the same teams! Consistency is key! Being bold and brave is imperative. Being cynical and clinical would not hurt either. We are still in the mix and we do have the right ingredients: we just need the right recipe week in week out!