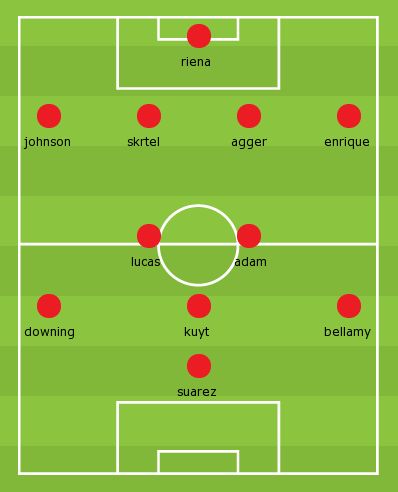 The Italians have a saying which goes 'squadra vincente non si cambia', or never change a winning team. Yet this may not always be a wise choice and one must always consider that Chelsea and Man City are two very different propositions which might need to be handled differently!
Many friends on this blog have called for Kenny to maintain the same line up and game-plan which saw us snatch all three points at Stamford Bridge. However, one must consider that Chelsea are factually sustaining an evident dip in form at the moment with 4 defeats out of 5 games, and their high defensive line system is certainly not helping! Man City are a completely different animal! They have shipped in only 11 goals (on a par with the Reds and Newcastle) but have scored 42, almost three times as much as us! Mancini, in pure Italian fashion, gives his defensive package primary importance, and then there is a multitude of offensive options and talent that can 'invent' a winning moment when you least expect it.
The Reds look much more of a cohesive unit that the Sky Blues, and this should be our winning card. I have proposed a 4-2-3-1 formation which can morph into a 4-5-1 or a 4-4-2 according to the run of play. I 'm quite convinced of my selection but given his performance at Stamford Bridge and the sharpness he seems to have carried on from last season, I would not mind having Maxi in place of Kuyt to act as a second striker! It's a matter of opinion I presume isn't it? I just hope that Kenny does not base his selection and game-plan with thoughts of next Tuesday's League Cup fixture in the back of his mind. One game at a time Kenny: let's take on City and then think about Chelsea Monday morning!
Will the Reds give Man City their first defeat? Will the Reds make a statement by means of another positive result? Will Man City capitulate at Anfield? I guess we will just have to wait and see…….!