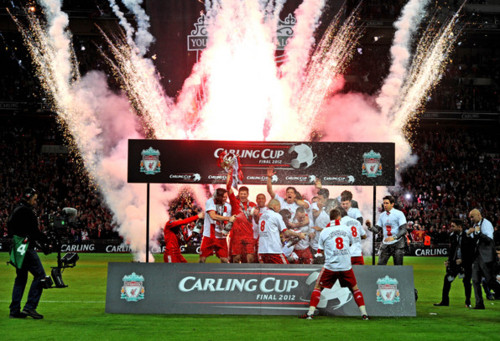 "It's only the League Cup."
Despite our victory today, these words were said by our very own Liverpool fans three decades ago. Rival fans didn't hesitate to remind us of that.
Hypocritical? No.
Circumstantial? Yes.
Liverpool were at our peak in the 1980s. Let's face it – we were unstoppable, and everyone knew it. We had won six League titles, two FA Cups, four League Cups, five Charity Shields and two European Cups just within those ten years. More importantly, we commanded a presence in the footballing world. Teams would play us in fear, and we would give them a hell of a game. The Liverpool of the 1980s was the Barcelona of the 2010s – only better. Our greatness had psychological effect among our fans, who in 1977, coined the term "Mickey Mouse Cup" when Everton reached the League Cup final to belittle the Toffees. At the time, it did seem like a "worthless" cup in comparison to the others that we had been winning. When we were knocked out of one cup, it was easy for us to obtain another. We were on top of the world. Nothing was impossible.
However, after a six-year trophy drought and nearly going into administration under Hicks and Gillette, all of that has changed. For the past two decades, United and Chelsea have taken turns as being the most successful club in England. Liverpool fell into the shadows in the 1990s, despite the Spice Boys displaying great amounts of potential. The 2001 Treble, 2005 Champions League title, and 2006 FA Cup title came as a pleasant surprise, for we were no longer undisputedly the most successful club at the time. The Liverpool of two years ago wouldn't stand a chance against the Liverpool of three decades ago, relatively speaking.
There's a commonly quoted phrase that says: "You don't know what you've got until it's gone." The phrase couldn't be more applicable to Liverpool's current situation. After going through such a dark age, I've come to realize that a trophy's a trophy, whether it is the European Cup title or a "Mickey Mouse Cup" like the League Cup. Trophies are a tangible sign of progress – the progress that we've made under Kenny Dalglish and NESV, the progress that wasn't happening under the Hicks and Gillette administration and Roy Hodgson. "Progress" doesn't mean that we've gotten there yet. We are still improving, still learning. After all, it took Sir Alex Ferguson a whole six years to establish his regime.
And Kenny's already won a trophy in just a year of coaching.
– Follow me on Twitter if you'd like: @AccioMaria