---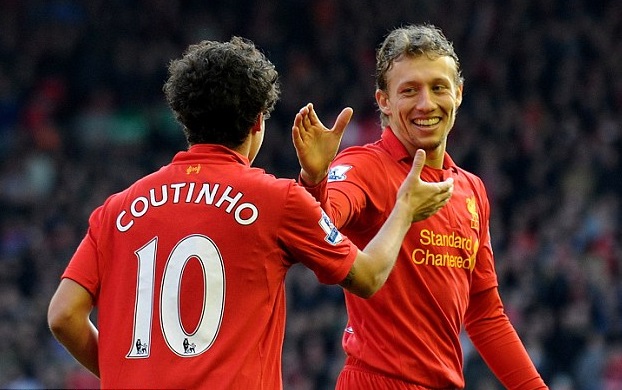 Every time you tune into a Liverpool match, the midfield of the Mighty Reds tells you two stories, two very distinct stories that come together to form a sort of magic – a Brazilian magic. These two stories are so far apart that you could separate them with a bridge, and that's what I've done.
On one side of the bridge you have Lucas Leiva, a defensive midfielder who signed from Gremio and who at the time was the captain of the u21 Brazilian side. The youngster was one of the hottest prospects on the market and the Liverpool faithful were excited to see flair and flamboyance, but it wasn't to come. Instead, it seemed Liverpool had signed a player with little attacking ability and a dud of a Brazilian. With Alonso, Gerrard and Mascherano in the midfield, it was hard for Lucas to prove his doubters wrong.
The fans were not pleased.
Then Alonso and Mascherano were gone, and with each passing match the dedication and commitment that Lucas showed to the club became more and more evident. He started winning fans over, and once everyone's eyes had been opened from their premature judgment, it was clear to see that this Brazilian was unique – and before you knew it, his role as an enforcer in our midfield and his support of our defence had seen him become one of most valuable players – and leaders.
Rafa would be proud.
Cross the bridge and what you find is a whole lot of Samba. Everything you expect from a Brazilian, and then some, is found in Liverpool sensation Coutinho. Unlike Lucas, the young Brazilian won over the Kop immediately with his fancy footwork and magic making abilities and has proven to be one of the most dynamic young players in world football.
Coutinho hit the ground running since signing from Inter with his contribution of goals, assists and all-round brilliance, and it came at a perfect time as Liverpool were needing that inspiration in the final third of the pitch.
Everyone knew he was good, but no one expected him to be so good.
Having two players who play to completely different yet vitally important roles means that when they meet each other on this bridge, it brings about flair and stability, goals and tackles, and sense of excitement that Liverpool have found the perfect balance in our midfield – A Brazilian Balance.
YNWA
Liam Bekker