by Luke Hartigan @LiverbirdPride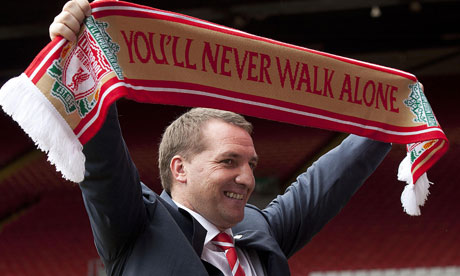 Over the last four years, Liverpool Football Club has seen some of the worst league placements since the fifties. Some may agree that it was because of the departure of Rafael Benitez, sure he finished seventh but he also finished second the previous year with a strong Liverpool side. Then came the cycle of Liverpool Managers coming and going. First off was Roy Hodgson, he had done a good job at Fulham winning the LMA Manager of the Year but let's be honest it was a mediocre signing by Purslow. Hodgson didn't really do anything good for Liverpool, he lasted until January 8th and he let go some good players.
Then came in King Kenny Dalglish, Kenny was a solid manager for the time we've had him. In his 17 months in charge at Liverpool he had won us the Carling Cup (Now Capital One Cup) and reached the final of the FA Cup, only to be beaten by Chelsea. Before Hodgson was appointed manager Kenny had wanted to be manager of Liverpool but was rejected because he was said to be out of management for too long.
Then came in former Swansea boss Brendan Rodgers, the lad looked promising as he was confident in his interviews and was a great personality and he was the first manager to get Swansea City to the Premiership.
In the summer he had made some good signings in the likes of 21 year old Joe Allen and 21 year old Fabio Borini. Brendan Rodgers had known these players quite well having worked with both at Swansea. He didn't get off to such a good start in the Premier League with Liverpool losing 3-0 to West Brom. This made some criticise the former Swansea boss.
He did however catch the eyes of some with some very impressive victories such like the 0-6 away to Newcastle United. Even at the end of the season with the main striker Luis Suarez serving a 10 match ban Liverpool still went unbeaten winning three and drawing one.
Liverpool still finished seventh with people thinking Rodgers did nothing but in fact we've finished on 61 points which was the highest we've finished on in quite some time.  If it had been another season that would be a definite for top four which can only mean we're moving forward. Now comes Rodgers first full summer transfer window with our precious club and with knowledge about Liverpool in his mind he has adapted his style of football into our players and is searching for the right candidates to sign for L.F.C.
Already Brendan Rodgers has signed four players and the transfer window has barely opened. Rodgers is taking the mistakes of the past and is fixing them by making Liverpool top four contenders once again. He is looking at the youth system which seems to be working very well. He brought in Luis Alberto, a 21 year old from Sevilla who looks very promising and we have been linked with other young talent such as ilori and Wanyama.
Having Rodgers at our club is making me feel better about our situation and possibly finishing in top four, especially with all the manager changes there has been in the Premier League. Only time can tell how Rodgers will attack the Premier League next season, but one thing is for sure for Liverpool fans, we can start to be excited about the new season again.