---
By Simon Calbert @CalbysCorner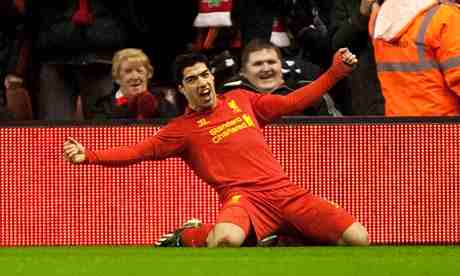 "No one is bigger than the club", let me say from the outset that I agree whole heartedly with these sentiments. I would suggest that such an underlying ethos is an almost unspoken understanding at all successful clubs, however as a statement, it is generally used as a pre imminent warning rather than a definitive line in the sand. So what for Luis Suarez? Is this a broad side warning shot across his bow or are we as a club better off without him? I would suggest in the short and longer term it is vitally important that he stays.
His recent quotes from Uruguay can be interpreted as either a player angling for a move abroad or perhaps the venting of a man who by and large feels a great deal more comfortable with the press in his homeland. Whatever his motives, if he has any? He has been very careful to convey that his frustrations are with the British press, not Liverpool FC. In fact he has spoken well of the club and its fans. Just maybe the club have issued that very warning recently, as his quotes seem to have shifted from his admiration of Madrid to his pride in being a Liverpool player.
During his time at Liverpool Suarez has treated fans to his amazing technical ability and desire on the pitch, whilst he has infuriated many with his unrestrained behaviour and theatrics. He has certainly brought unwanted attention to the club, but I would argue that the bad press as a result of his two major on field incidents are now irreversible and little gloss will be restored to the image of the club by cutting ties with the player at this point. There is no doubt he is a flawed genius on the pitch, an unmatched work ethic fuelled through a fierce competitiveness, attributes we all admire. But can you be so intently fervent in each contest without occasionally surpassing the boundaries acceptable behaviour? Of course Suarez has spectacularly exceeded those boundaries, but my question remains the same? It's definitely one for Sports Psychologist Dr Steve Peters to try and channel his intent without the unsporting spill over we have seen in recent seasons, but I feel it would be an opportunity lost not to try and educate and in a sense rehabilitate the competitive psyche of our most gifted player. If successful this would surely be an enduring testament to the club and further the notion amongst all players that LFC is a special place.
It is with the club in the forefront of my mind and that very statement 'No one is bigger than the club' that I believe it is important to retain Suarez at least for the coming season. 'Transition' and 'rebuilding' are the words most used to describe our last season and I tend to agree. Youngsters cutting their teeth, inconsistent performances and late signs of promise typify a team coming to terms with a new manager and tactics. Part of this process of course is assessing what works and building upon them for the coming season, in which I might add LFC seem to be doing with a great deal more diligence and due purpose than in any off season in recent memory, judging by our early moves in the transfer market. Suarez, at least in a performance sense was immense last year and as an attacking player will be difficult, if not impossible to replace. The implications of losing Suarez not only lay with coming close to directly replacing his statistical output in terms of goals and assists, but with the effect his loss will have on the rest of the team particularly our attacking players. Even the most biased of Suarez loathers have begrudgingly come to acknowledge his trickery and marvelled at the chances he creates sometimes seemingly from nothing. Marking such a player takes the sort of concentration that most defenders cannot maintain for 90 minutes. I would also suggest that he would occupy an opposing team's defensive consciousness like few other players in the league, conceivably alongside Van Persie and his clinical finishing and the raw pace and power of Gareth Bale. Defenders must be filled with an unerring sense that even the slightest mistake will be punished. Attacking players like Gerrard, Coutinho, Sturrige, thrive on the space he creates with each nutmeg and the shaken resolve of defenders who know each ball will be contested with the will of a mad man. People may point to our relatively good form late in the season and even some statistical analysis which perhaps dispute the importance of Suarez to Liverpool's performance. I would argue that our late season fixtures were perhaps not weighted with the importance of those earlier in the season when certain targets were still achievable. With little on the line teams often play with more freedom without the added pressure of achieving say a 4th place finish. Such claims may also have some basis in the fact Suarez at times despite his brilliance can be somewhat unpredictable to the players around him, on a different page some would say, however for a LFC outfit that has generally struggled to break teams down (Stoke City!) surely having a player that can change the game in an instant is the sort of combustible spark required at times. The first 6 games of the new campaign, will deliver another snapshot of our play without him and there is no escaping the hope and optimism of any fans when the first kick off a new season comes about.
So what for the team if he is sold? Of course this article is pitched as a prediction and the hope is always that 'transition' leads to marked 'progression' in performance and results. Think of Liverpool teams of recent seasons and the reigns of our most recent managers. Admittedly all including our current manger have felt, or are still feeling to a small degree the rippling repercussions of the ownership and mismanagement of Hicks and Gillett. The end of Benitez's time triggered the disassembling of our much lauded midfield and most notably the sale of Xabi Alonso soon to be followed by Javier Mascherano, Hodgson's 'patchwork' signings did little to disguise the financial problems behind the scenes and Dalglish was entrusted with an expensive and predominantly British 'renovation' of which few parts were salvageable. Each of our last 3 managers has overseen a period of 'transition' or 'rebuilding' which has failed to lead to any real progression. As fans sometimes we are like jilted lovers, giggling at the prolonged form slump and misfortune of players who leave the club on bad terms. You know who I am talking about! Torres has struggled at Chelsea and it has been a guilty pleasure to watch it all unfold, but how many of us would feel vindicated bellowing the catch cry of the all-knowing and conquering 'I told you so'. Not me. He has started, stuttered, stalled and started again, Sound familiar? I genuinely feel that the club is getting its act together off the field and that we have a capable young manger. Our January signings, early moves in the current transfer window and late season form have all been encouraging and there are signs we can make it out of this current transition phase. The removal of Suarez however I feel casts a major shadow over this optimism and with our nearest rivals Spurs, Everton and Arsenal also strengthening it is important for continuity that we are building upon not replacing our best players. In fact Arsenal may be the best case for continuity in the premier league. They have consistently sold their better performing players and have also been without silverware for the past 8 seasons and are no longer battling it out at the very top. Make no mistake we are starting behind all of those rivals, with the exception possibly of Everton who are sure to miss David Moyes. Lose Suarez and we face the real possibility of another season of inconsistency, another season treading water in the upper regions of mid table otherwise known as 'Transition', but for those who can look objectively at the bigger picture, it is more like 'Stagnation'.