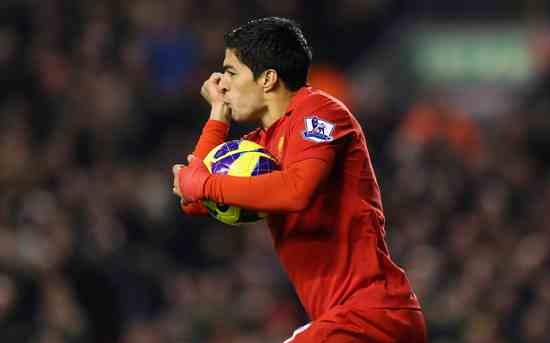 Luis Suarez's future as a Liverpool player has been up in the air for the entirety of the close season, and Liverpool will hope that everything is resolved quickly.
Suarez had admitted that his head would be turned by Spanish giants Real Madrid, like 99% of world footballers. Since then, he said that it was a "good time for a change," and has tried to force his way through the Liverpool exit door, citing the treatment by the British media (Daily Mail et al) as his reason, particularly after the controversial incident that involved biting Chelsea's Branislav Ivanovic in the 2-2 draw at Anfield in April. That incident was indefensible, and drew criticism from all walks of life; even Robert Mugabe (the Zimbabwean president who has had a honorary knighthood stripped for misruling of the African state) got involved.
"Bite-gate", as it has since been christened, also earned the Uruguayan a 10-game ban, to add to an eight game ban for being embroiled in a racism row with Manchester United's Patrice Evra, with an additional game suspended for an incident in December 2011 at Fulham and another one-match suspension for accumulating five yellow cards. That's 20 games that Suarez has been missed through suspension since he moved to Liverpool on January transfer deadline day in 2011 from Ajax for £22.7 million.
Despite Suarez's faults, there is no denying that he is an excellent player. Until that game against Chelsea in April, looked a perfect fit in a Liverpool shirt. He's showed great work ethic and lightning pace and last season's total of 30 goals was his best in a Liverpool shirt. For a lot of the opening months of last season, Suarez was Liverpool's only senior striker, after Andy Carroll was loaned to West Ham United and Fabio Borini was injured. Liverpool signed Daniel Sturridge in January and the chemistry between Suarez and Sturridge, along with fellow new arrival Philippe Coutinho looked very good.
Suarez also spoke of his happiness at Liverpool and seemed settled from an outsider looking in. So when the news broke that he wanted out, a bombshell was dropped. The opinions have been varied, from supporters and everyone associated with Liverpool FC. Some say that he owes Liverpool more time after the club's constant support through the numerous controversies that have blighted his Liverpool career, while others say get rid as soon as possible, be it to Real Madrid or to Arsenal or Chelsea (the latter two are unlikely given he wants to leave England).
If Suarez stays, he will have to do a lot to rebuild the trust of the fans. Suarez was a fan favourite amongst Liverpool supporters, but I don't know if it will ever be what it was if he stays. Saying that, Steven Gerrard almost left Liverpool for fierce rivals Chelsea in 2005, in the weeks that followed Liverpool's famous Champions League; he even went as far as submitting a transfer request before withdrawing it. The rest is history, as the saying goes.
Suarez is a fantastic player who was the source of many of Liverpool's goals last season (e.g. creating and scoring). If he left it wouldn't be easy to replace the goals he would have scored, and played like he did on the pitch. Also, selling your best players is not the way to go about getting into the top four of the Premier League, which Liverpool have as an objective for this season.
However, I don't want this saga to drag. I'm also sure that a lot of Liverpool fans don't either, as what happened before. In January 2011, as Suarez was coming to Liverpool, Fernando Torres had announced that he wanted to leave for Chelsea with days before he left, and got his wish with a £50 million. Liverpool set about buying Carroll for £35 million; clearly that was a panic buy, and rightly or wrongly, Carroll joined West Ham this summer for £15 million. Also in 2004, Michael Owen, who held similar status on the Kop, left for Real Madrid days before the start of Rafael Benitez's first season, leaving Liverpool short of options up front that season.
Liverpool also don't want to suffer a period like they did at the start of last season. Brendan Rodgers let Carroll join West Ham on loan (that's since been made permanent), but was blocked in his attempts to get Clint Dempsey from Fulham on transfer deadline day. Liverpool only had two senior strikers between September and January (that became one when Borini suffered a foot injury in October). Liverpool moved quickly to get Sturridge in as soon as the January window opened, and have swooped to secure the services of Iago Aspas, a Spanish forward who draws comparisons to Craig Bellamy.
Liverpool have valued Suarez at £50 million, the fee that Torres joined Chelsea for. If Suarez goes for that, they could do a lot of strengthening with it. In my opinion, Liverpool need another central defender, a defensive midfielder and obviously they would need another centre forward to try and replace Suarez, or a versatile attacking midfielder, like highly-rated Armenian Henrikh Mkhitaryan, who has been heavily linked for the past few weeks, but has since joined last season's Champions League runners up Borussia Dortmund from Shakhtar Donetsk.
Liverpool have given Suarez a deadline of 21 July to decide his future. I am a staunch believer that no player is bigger than the club, and Suarez has been very disrespectful over the past few weeks. In the mean time, Liverpool need to find a solution to move on quickly and find a plan to get into the top four and win a trophy in the coming season, irrespective of whether Luis Suarez is still at the club or not.