By James McPherson @jamesmcpherson8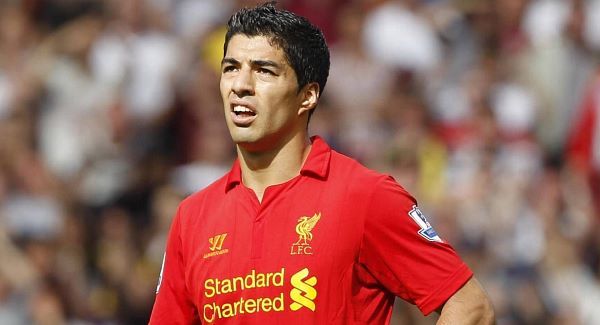 The one question that has remained on the lips of Liverpool fans this transfer window is: Will he leave? This question obviously refers to, what some would call Liverpool's star player, Luis Suarez. The Number 7 has recently reiterated his desire to play Champions League Football to the Liverpool hierarchy through his agent Pere Guardiola. Does this signal the end of the mercurial Uruguayan's stint at Anfield? If so, who will Brendan Rodgers look to as a replacement?
Luis Suarez's time at Liverpool, as we all know, has been surrounded in controversy. From the Patrice Evra race row to the biting of Branislav Ivanovic, Suarez has found it difficult to control his emotions on the pitch at some times. Some would argue that, particularly this season, his haul of 23 goals in the Premier League, plus the mesmerising performances he consistently produced far outweighed the negative press he generated for both himself and Liverpool Football Club. However, with Suarez set to be missing for Liverpool in the League until late September, will the Liverpool management team have to accept that it is time for the Uruguayan to be sold on? Furthermore, it seems that, Suarez is no longer committed to the cause and instead seems set upon moving to a team that will consistently challenge for the highest honours, especially The Champions League. Many Liverpool fans are split on this subject, with some stating that it would be worth keeping Suarez for another season due to his long term contract, while others believe a huge cash sum, which will almost certainly be in the region of £40-50 million seems to be the better option as replacements could be found. What all Liverpool fans can most certainly agree on however, is that a decision on the strikers future must be made soon so as to avoid the "Panic Buying" that has occurred in the past, most notably following Fernando Torres' £50 million transfer to Chelsea.
Possible Replacements?
When the Transfer Window comes around every good manager has a contingency plan in place should they lose their star players. For Brendan Rodgers, the mounting speculation over Luis Suarez's possible departure means that replacements must be found. Although Iago Aspas has recently arrived from Celta Vigo and Liverpool have a number of strikers in their ranks, it seems to be a matter of some ambiguity as to who will "fill the boots" of the captivating striker. Here we will look at some of the possibilities for this role:
Daniel Sturridge: The Englishman arrived at Anfield for a fee which was believed to be in the region of £12 million from Chelsea. Frustrated at the lack of first team action at the London club, Sturridge exploded into the Liverpool team firing ten goals in fourteen appearances and assisting five times. His work rate on the pitch since arriving at Liverpool also seems to have improved, with Sturridge more than willing to run the flanks and pressurise defenders. The difference between Suarez and Sturridge however, is that Sturridge appears to be the "Natural Goalscorer": The man who finishes off team moves with lethal accuracy. Suarez however was at the centre of everything good about Liverpool last season, in footballing terms. Many times the Anfield faithful were shocked at the Uruguayans control and the range of tricks he had in his repertoire. Therefore, while Sturridge would be, it seems, a fantastic replacement in the goalscoring sense, he does not seem to have the range of talismanic abilities Suarez possesses.
Christian Benteke: The Belgian forward is a man high on the lists of the top clubs in both The Premier League and Europe following his remarkable debut season at Aston Villa. The powerful and towering striker was central to Villa maintaining their status as a top flight club scoring 19 goals in The Premier League. A fast and domineering striker, Benteke led the Aston Villa line magnificently and was rewarded for his feats by being nominated for the PFA Young Player of The Year. At only 22 the Belgian fits the category of FSG's transfer policy of mainly buying young, talented players. He has proved that he can score against the best in the League, however his signing could signal a change in tactics, with Rodgers playing two strikers up front as opposed to his trademark 4-3-3 formation.
Christian Eriksen: Liverpool have long been linked with signing the Danish wonderkid from Ajax and could be a real contender to replace Suarez. Although not a striker. Eriksen thrives playing behind the strikers in a position similar to that of Phillipe Coutinho's. Eriksen thrived this season at Ajax, scoring 10 goals in 33 appearances from a midfield position and assisting thirteen times. Famed for superb passing skills and close control, Eriksen is clearly a rising star in world football. However, he is thought to be in dialogue with many clubs about a transfer this window most notably Borussia Dortmund. Furthermore, European football may be a deciding factor in Eriksen's choice of team which would make Liverpool signing him all the less likely. Should Liverpool get him, Eriksen would blend seamlessly into the side due to his footballing education at Ajax to pass and move.
So will he or won't he? Only time will tell as to Luis Suarez's role at Liverpool FC and whether he chooses to stay or not. Most Liverpool fans would loathe to see him go however the clear verdict is that, if he does go, sooner is far better than later.