By Thiago Gonzales @ThiagoGonzales2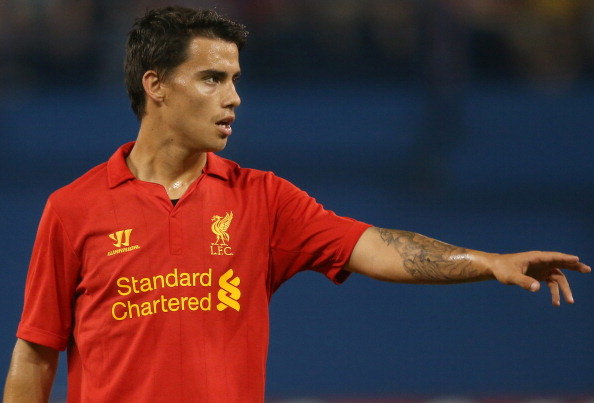 UD Almería have signed one of the Premier League's most exciting young talents, securing Liverpool and Spain's Suso Fernandez on loan.
The 19-year-old, who is a Spain international at under-21 level, will make the move from Liverpool back to his home country for the season as Brendan Rodgers looks to send him out to gain vital first team experience. The question is just what are we the fans, Brendan Rodgers, and Suso himself looking for with this loan deal?
First of all I think we would have loved to have seen Suso being the brilliant player we all want him to be in a red shirt. But the thing is he just isn't at that level, yet.
I think I wouldn't be the only one who was getting excited about the young Spanish lad embarrassing defenders at the Liverpool Academy on LFCTV. First time I seen him I thought "yeah, we've got a real talent here". And yes I might have been blinded by the fact that he was a young Spanish lad who had the look and the swagger of a Spanish spice boy.
I remember getting very excited when the number 30 went up earlier this season against the Mancs. I just remember thinking about the Spanish European U19 captain who had just been star of the tournament the summer before. While Suso's exposure to the first team seemed very premature it was exciting to see what he could do.
I wouldn't call his performance this season at the levels of some of his Spain U20 team mates (including a young Barcelona talent that has just joined the blue s***e). But nevertheless I knew "as soon as we get this lad some first team experience, he'll be ready".
But seeing him at the U20 this year really made my head turn. Was this the same Suso I had seen playing off the lead striker at the Academy? I seen a feisty, aggressive, central midfielder wearing the Spanish shirt.
Dare I say it, the way he was harrowing the attackers and throwing is feet in was similar to a young Steven Gerrard as apposed to the young Xavi or Iniesta we all thought he would become. This is because the fellas at Melwood have got him in at a young age and said "this is how you play in central midfield in England". The very same thing happened with Cesc Fabregas at Arsenal.
If Cesc Fabregas would have came through the Barcelona ranks he would be as far forward player as Silva and Mata (in which he actually has been playing for Barcelona this season). When Cesc was playing in the Premier League he was one of the best center-mids in the league because he could play the Spanish Number 10 role and the English central midfield role. This I can see being Suso's future role. And if we can get Suso to that level in a few years, I'm sure an ageing Steven Gerrard will be very honoured to take some of the weight piled on his shoulders and pass it along to young Suso.
So the big question Liverpool fans would want answered is "why isn't he going on loan to a premier league club?". I would much prefer Liverpool to be throwing on a Swansea, Hull, Cardiff etc.. shirt than to be flying off back to his home country. The question on most people lips at the moment is "just what player will we get back from UD Almeria at the end of next season?". Will it be a successful Jack Wilshere/Tom Cleverly loan to Bolton/Wigan. Or will it be the type of loan we send Pacheco on every season? For the past 5 seasons I've said at the start of each one saying "Ah I hope young Dani Pacheco gets his chance this season". Dani Pacheco is 22 now, almost 2 years older than Phil Coutinho and 3 years older than Suso. I don't think it is ever going to work out for Dani, which is a shame because I really liked the lad. The next thing Liverpool need to make sure of is that Suso doesn't become 'the next Dani Pacheco'.
Brendan Rodgers has spoke of his admiration of the young Spaniard this season. But we also heard Brendan try to convince Jonjo Shelvey he would become the next Steven Gerrard on last years 'Being Liverpool'. Jonjo Shelvey has recently joined Swansea City for £5million, a move I don't think Steven Gerrard ever took during his career.
What I think we all need to do as fans is trust in Brendan's decision to send him out on loan, and most importantly send him to Spain. Don't forget that UD Almeria have just gained promotion to Liga BBVA and will now face teams like Barcelona and Real Madrid next season. Which puts young Suso up against players like Pepe, Varane, Pique & Ramos, rather than stay in the U21's and be put against Wolves' 18 year old defenders.
There's no doubt in my mind that Suso would rather stay here and get up to some weird hijinks with best pal Jose Enrique. But I think he will be happy to be back in the Spanish sun getting some vital first team experience.
Sending Suso out on loan in my opinion will be the best thing for all parties. If in 10 months time we get a 20 year old Spaniard back who has 20+ La Liga games under his belt and hopefully a generous handful of goals/assists it will be like getting a complete new signing in. This season I generally believe Suso will take that next step which will get him fully prepared for the 2014/15 season in which we are hopefully putting him into our Champions League group stage matches.