---
By Darren C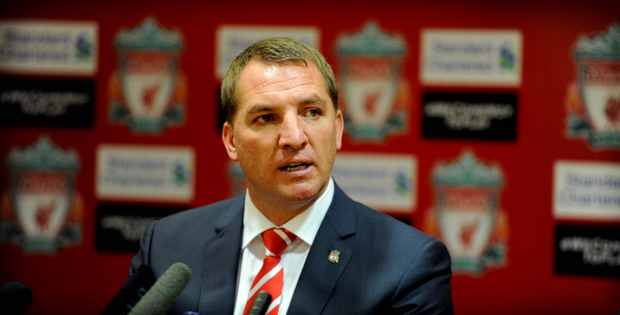 It has been pretty apparent the way Brendan Rodgers' is trying to set this Liverpool team up is not too dissimilar to that of Spain's current all-conquering generation and the Barcelona team, now helmed by Tito Vilanova, that soared to greatness under former player and coach Pep Guardiola. But, with Liverpool's squad of last season, how did they match up with these two elite teams, in terms of quality and the way they play?
Rodgers seemed to have a goalkeeper perfectly suited for this style of play in existing number one Pepe Reina, who was schooled at Barca's famed La Masia academy. However, what was not noticed was that Reina had reinvented his kicking style under former boss Rafa Benitez. With fast counter-attacking football on the forefront of Benitez's strategy, Reina often kicked long to find either the head of Peter Crouch, or the pace of Fernando Torres, after he made a save or collected a cross. This is why not many realized that Reina actually had to reinvent himself back to his Barca roots, that of short passes out to his defence. Under Rodgers last year, Reina relearnt how to play possession football from the back, and gradually looked like what Victor Valdes does for Barca, who would play his goal kicks to Gerard Pique most of the time. Spain's first choice, Iker Casillas, seems uncomfortable with short triangles with his centre-backs, and hence prefers to kick long to the flanks. This is also somewhat similar to Reina's plan B for keeping the ball by kicking goal kicks long to his full-backs, whenever opposition forwards come pressing. It is this mixture of long balls to the full-backs or short triangles with his centre-backs that makes Reina a combination of both Spain and Barca's first choice goalkeepers. This is sorely required especially in the faster-paced duals played out in the Barclays Premier League.
High, forward-thinking full-backs are probably the second most important reason to Spain and Barca's success with this style of football for so long now. Barca's Dani Alves and more recent addition Jordi Alba play almost like extra wingers, giving Barca much width yet allowing their wingers become inside forwards instead and play in the channels between opposition defenders. Liverpool's full-backs Glen Johnson and Jose Enrique are very much in the same mould, loving to attack opposing full-backs with direct, marauding runs. However, they are much more cautious than the Barca duo due to the Reds transitioning to a new style of football. Their cautious mentality is similar to Spain's, as the reigning World and European champions balance out an offensive-minded Jordi Alba with the more defensive former Reds defender Alvaro Arbeloa.
Spain is fortunate to have two ball-playing defenders in Sergio Ramos and Pique, similar to Barca as they have Pique partnering midfielder-turned-defender Javier Mascherano. All three are comfortable on the ball and not afraid to receive possession. Liverpool was not as fortunate to have such luxuries last season, with Daniel Agger the only centre-back deemed to be able to play out of defence. His partner in crime were either Jamie Carragher or Martin Skrtel, and most know they are not the most graceful of defenders, instead focusing on hard tackling and safe football.
Taking the double-pivot midfield as focus of discussion, Liverpool's duo of Lucas Leiva and skipper Steven Gerrard is definitely more similar to Spain's Xabi Alonso and Sergio Busquets than Barca's Xavi and Busquets. The most similar of all three is definitely that one of the two deep midfielders is a midfield hard man, not afraid of putting in a tackle or two. Lucas and Busquets do their jobs well in that they either win the ball with ferocity or by interceptions via intelligent positioning, before handing possession over to their more creative partner in either Gerrard, Alonso or Xavi with a short five yard pass. However, whereas Xavi prefers short passes amongst many triangles across the field, Gerrard and Alonso prefer to attempt long-range killer passes that can split open defences in a split second. Barca prefer to work passing triangles in order to bring their talisman Lionel Messi into play as soon as possible, while Spain and Liverpool prefer to get their wingers into play quickly, as they obviously have no Messi to rely on. Another point to note is that there is a difference between Gerrard and the other two deep-lying playmakers, though. Gerrard does still make his forward runs, albeit less often now due to his age, whereas Xavi and Alonso tend to sit deep and conduct play.
Spain and Barca's attacking third overflows with talent, while Liverpool's attacking trio makes up their comparative lack of talent with hard workers. Andres Iniesta and Pedro Rodriguez are constants in both teams, with Cesc Fabregas usually the man completing the trio for Barca while David Silva of Manchester City is the third playmaker in Spain's team. But you can argue that both teams could be similar if Fabregas plays instead of Silva. There are differences in tactics, though! While Barca's front supporting three constantly interchange, for example Iniesta drifts wide left to allow Pedro to siege the box with his quick runs, Spain's offensive philosophy is one of inverted wingers, hence why Silva is usually preferred to Fabregas. Silva, a left-footed playmaker, plays on the right while Pedro, who prefers his right boot, hugs the left touchline. Both cut in on a regular basis, ready to thread intricate through balls or shoot once they are in the box. Hence, Liverpool's attack is more similar to Spain than Barca's. Left-footed Stewart Downing hugs the right touchline, cutting in regularly to allow Johnson to bomb forward with the space Downing left behind. It is very much the same on the other side, with Henderson manning the left side of midfield while Enrique forages towards the byline. The Reds do have a talented playmaker in Philippe Coutinho, who seems to be a younger version of Spain and Barca's main playmaker Iniesta. Both are superbly expert with the ball at their feet while both possess immaculate vision and passing abilities. Hence, both are very vital components of their respective team's attacking threat.
Spain does not have a main forward. For all the talk of their talented midfielders, they cannot seem to have a world-class centre-forward. The last they got to that was Torres, but both he and David Villa have been a shadow of themselves recently. Just the fact Fabregas was asked to play as a false number nine just shows how far Spain's forwards have fallen. Barca and Liverpool, though, have superbly talented individual forwards in Messi and Luis Suarez respectively. Both tend to drop deep to link play, are great dribblers of the ball and deadly in front of goal. Both can take a good free-kick and demands the ball without fear. Tricks and flicks are sure-fires on their menu for horrified defences. The only difference is probably that Messi prefers to drop deeper more often than Suarez does, as the latter tend to stay up top closer to the goal.
So far, so good it seems. Rodgers' Reds are slowly, but surely turning into a side that can match the style, if not quality, of the great Spanish and Barcelona sides of the present. One can only hope this generation of Reds can obtain even half the success of these two exponents of the beautiful game.