By Kaz Deguchi @khdeguchi1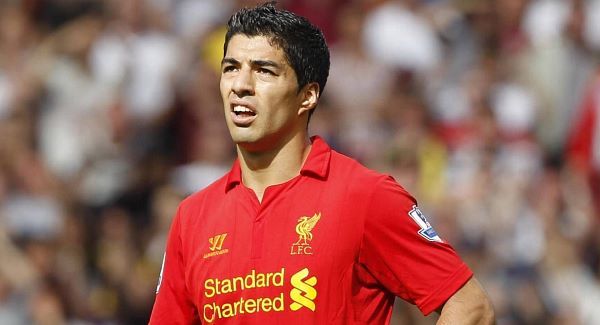 This summer`s transfer market has been rife with speculation linking a handful of top class players to different clubs and with the rise of PSG and Monaco the transfers of Edinson Cavani and Radamel Falcao has already been finalized. Some say it only takes a single player`s transfer to cause a domino effect.
For Liverpool FC, they have a significant piece in the standing chain of dominoes in the name of Luis Suarez who has repeatedly stated his wish to leave Liverpool. The reason behind his intentions will not be dwelled upon here since we are aware of the numerous reasons that may be.
The negotiations and mind-playing games that accompanies many transfers (not all) are to be expected but in the situation of this Suarez transfer saga, there seems to be a heavier dosage than the norm. A couple of weeks ago, Arsenal made a formal bid which is rumored to be £30 million for the player (BBC Sport) after failing to seal the deal with Real Madrid over Higuain. This bid has obviously been rejected by the club and many sources are stating that Suarez has a £40 million release clause which is the minimal amount Liverpool expect for the player  who was snapped up by the club for £22.8 million in 2011.
The real question amongst all this is; which clubs are actually interested in the player? As has been widely reported, did Arsenal merely bid for Suarez with an offer which they knew would be rejected to indirectly convey to Real Madrid that they are able to pursue players other than Higuain? (The other player being Suarez who has been linked with a move to Real Madrid) If this has been the plan for Arsenal it clearly hasn`t worked since if anything else, the valuation of Higuain only seems to be getting higher. This is where the catch comes in and leads me to speculate whether it is another mind game by Real Madrid in an attempt to capture Suarez on the cheap. The Daily Mail and other sources have reported that Real Madrid is lining up an offer for Higuain and £10 million cash. If Real Madrid actually valued Higuain at £22 million which was the reported initial figure, the sum of the deal would be at least a good £10 million shy of what Liverpool would be willing to accept. However, The Times have reported that Real Madrid are now valuing Higuain at £37 million and in doing so if this rumored player plus cash deal was to materialize as a formal bid, Real Madrid may be able to argue that it is a \"fair\" deal.
It is worth noting however that this is merely speculation and that Real Madrid may have increased Higuain`s valuation due to Napoli; who have received a healthy sum of money from the sale of Cavani to PSG, joining the chase. This however raises more questions than answer because if it were to be true, are Real Madrid actually serious in their attempt to land Suarez? (The Mirror states that the Spanish giants will not bid higher than £25 million) Are Arsenal serious with their bid? Despite many sources claiming that they are ready to revamp their initial offer by £5 million it still would not be enough to land Suarez.
PSG have captured Cavani, Monaco have captured Falcao, Barcelona have captured Neymar, Manchester City are reportedly on the brink of capturing Alvaro Negredo and possibly Stevan Jovetic, and Chelsea have made a formal bid for Wayne Rooney and though rejected by Manchester United, Jose Mouriniho has gone as to say it is Rooney or nothing. This leaves the realistic destination for Suarez to be Arsenal or Real Madrid who up until this stage has not been serious enough for the player which begs the question, who actually wants Suarez?
Looking at the current situation, Suarez surely has to take a step back an re-evaluate his position. He has alienated many Liverpool fans who stuck by him during his controversies due to his media outbursts of his intentions to move on. Admittedly if Real Madrid are interested in him and do make a serious bid, there is no stopping him from leaving but with the other option of Arsenal there is room for serious contemplation. They only pipped Tottenham by 1 point to 4th position and despite having Champions League next season, with Liverpool becoming accustomed to Brendan Rodger`s philosophy and new players being added to the squad, should he not stay at a club that he is loved in to mount a credible and realistic chance of finishing in the Top 4?
With his abundant talent comes his controversial character which everyone is aware of. There is still plenty of time until this transfer window closes and if a Liverpool fan, many more rumors and speculation are to be expected.