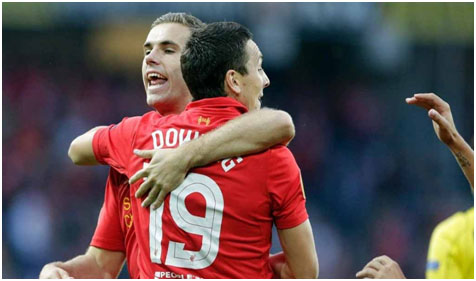 Both Jordan and Stewart have received a lot of criticism since joining Liverpool during the Dalglish era but do they deserve it? Most Liverpool fans would agree they haven't lived up to their price tag but without a doubt there have been some signs of improvement from both players this season.
First let's start with Jordan Henderson, young, potential, showing good signs of promise. Jordan's first season at Liverpool was hard for him, a young lad with a big 20 million price tag smacked on his head. It all started so well with that cracking left foot goal against Bolton at Anfield but after that he never really established himself. The thing I believe Liverpool need to push on into the illusive top 4 is a goal scoring midfielder perhaps now we have that in Coutinho and Gerrard will chip in also but when you look at the top teams their midfield get lots of goals, we didn't get that from Jordan in his first season however this season he scored some important goals such as the goal to make it 1-1 at the emirates. His performances have improved however the question still has to be asked was he worth 20 million pounds and is he really a top 4 player or are Liverpool just hoping and hoping he will come good. My personal opinion on Jordan is that he can be a useful squad player for Liverpool and he certainly should be in the squad over Joe Allen but for Liverpool to get those classic European nights back at Anfield we may need to look for other options.
Next onto Stewart Downing, now I for one have been a big critic of Stewart Downing since day one, his performances go up and down, mostly down and his lack of assists and goals is quite frankly woeful considering the 20 million price tag we paid for him. However this season we have seen some of the fight that has made him a regular England international and a star at clubs like Villa and Middlesbrough in the Premier League. Rodgers publicly criticised Downing and I would say since about November Downing has been a consistent performer in the squad. He played some cracking games in the Europa League and started to contribute more in the league scoring and assisting goals against Fulham at Christmas time. Unfortunately towards the end of the season it could be argued his form dipped again with the attention aimed towards new signings. Now this might not be the case for some LFC fans but when I think of LFC strongest starting 11 Downing isn't in it and for a player we spent the same money United paid for RVP that just isn't good enough. My suggestion on what we should do with Downing? See if there are any potential suitors and try and get him off the 80,000 a week wage.
Finally, I'll conclude by answering the question I started with, were these two English well regarded midfielders worth 40 million combined? I'm afraid the answer is no.