Since F.S.G. took over Liverpool Football Club on the 15th October 2010 Liverpool have certainly put themselves out there in the transfer market. Spending big money for example 35 million pounds on Andy Carroll and 22 million pounds on Luis Suarez. However one thing I have failed to notice is F.S.G. continue to get criticism from Liverpool fans about their tactics during the transfer season. Age policies and unwillingness to repeat huge signings like Andy Carroll are two of the main reasons why some critics believe Liverpool aren't pushing themselves into the top four, I disagree with this notion.
Under Hicks and Gillette, the fans didn't have an idea what we were going to do in the transfer market and the small matter of them lumping 300 million pounds of debt onto the club too. One thing I have noticed with F.S.G. however the consistency in spending what is I consider to be large amounts of money every window. When it comes to summer time Twitter goes crazy with excitement of fans knowing we have the financial capability to sign five maybe more quality players, with Hicks and Gillette we certainly didn't have this. I would say that we have spent more than every team in the Premier League apart from City and Chelsea in the last 2 years. That is  exactly what we should be doing to get ourselves back into the top four and beyond.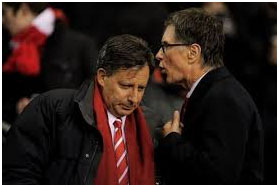 So now what can these guys at F.S.G. do to help Liverpool become the top team that we deserve to be. Well I personally believe that they should keep doing what they are doing. If they keep investing in Rodgers and most importantly keep Rodgers there the top four will be 1-2 years away maximum, looking at the state of the club 18 months ago I consider that quite an achievement.
Finally, to answer the question I asked at the beginning are F.S.G. heroes or villains? Well imagine where L.F.C. would be without them, they saved us from a fate similar to Rangers did they not? My personal opinion is that F.S.G. are heroes, should be treated like heroes and I wish them a long and illustrious future at Liverpool.