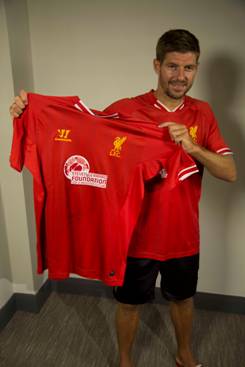 [25 JULY, 2013] Warrior Football is set to celebrate Steven Gerrard's upcoming testimonial match by providing fans with a one-off chance to bid for an exclusive piece of the legendary player's career history in aid of his charity, the Steven Gerrard Foundation (SGF).
Going live today at 10:00 GMT, the online auction www.gerrardtestimonial.com will feature 630 customised Warrior 2013/14 Liverpool FC home shirts featuring a special SGF logo, to commemorate the iconic captain's 630 competitive appearances for club. Bidding will be open to fans globally.
The 630 shirts will mark each game throughout Gerrard's professional career, including all domestic and European competitions. Along with a descriptor card outlining Gerrard's involvement in each match, shirts will be personally signed by Gerrard for each winning bidder.
Gerrard, who has spent his entire 15-year career at Anfield, says the Warrior auction initiative is a great way to share a part of his legacy with his fans and benefit his Foundation.
"I'm very grateful that Warrior will channel all proceeds from the auction directly to my Foundation," he said. "I want fans around the world to have the opportunity to share my history with Liverpool FC and this is certainly a great way to do so and give something back to the fans for their support over the years."
Shirts representing his most memorable appearances are expected to be the most sought after.
"The 2005 Champions League Final in Istanbul has to be a career highlight," said Gerrard. "To beat AC Milan on penalties after being 3-0 down at half time was one of the best comebacks in the history of football; lifting that trophy for the club was the best feeling ever. My favourite goal came a year later, a 90th minute equalizer from 30 yards out against West Ham in the 2006 FA Cup Final at the Millennium Stadium, we went on to win that match on penalties as well."
Established in 2011, the SGF helps disadvantaged children young people in need through independently evaluated grants with assistance from its charitable partner the Consortium for Street Children.
The online auction will go live on Thursday, 25 July, just under two weeks prior to Gerrard's testimonial match against Olympiacos FC at Anfield on Saturday, 3 August 2013.
For more information visit www.gerrardtestimonial.com.