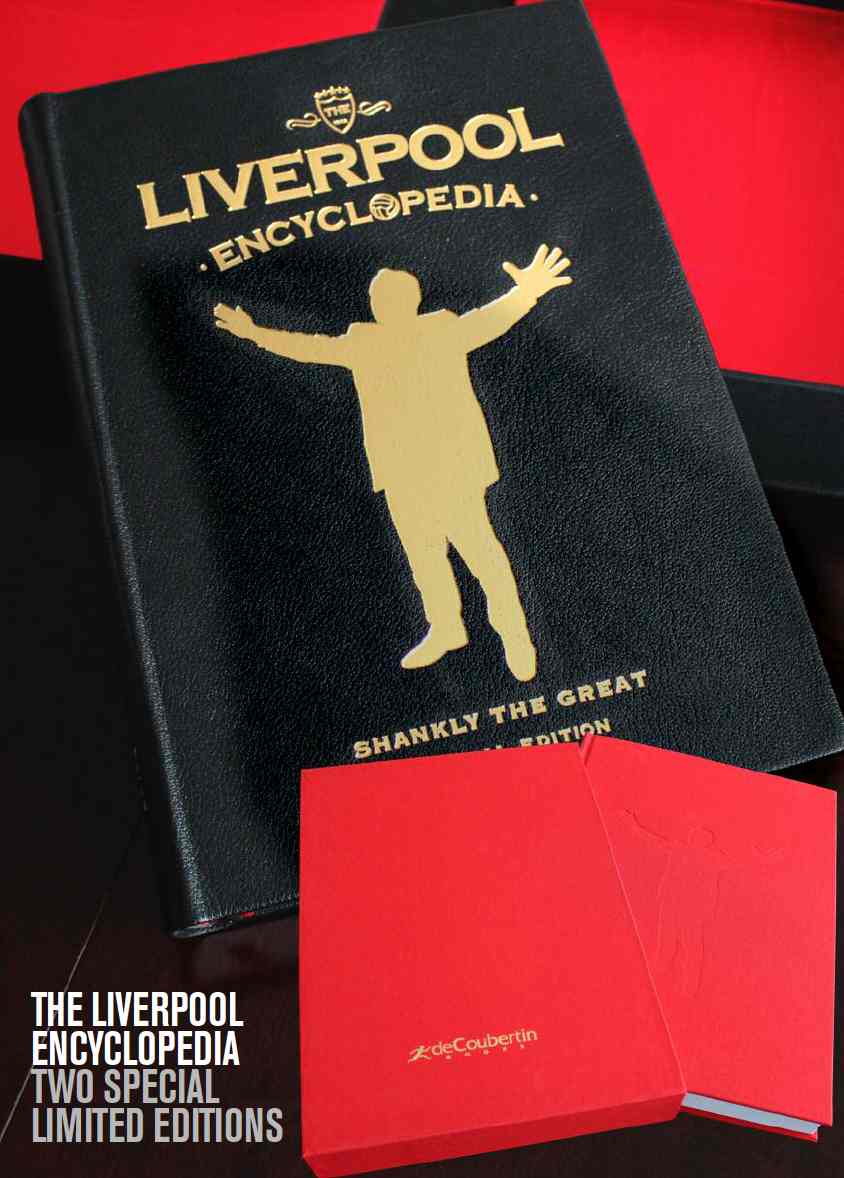 Ultimate Liverpool FC Collector's Editions Pre-Launched
Shankly Legends Sign Beautiful Handbound Books
Pre-order by midnight 10 August for big savings
To commemorate the centenary of Bill Shankly's birth, deCoubertin Books have produced two very special limited edition books that are signed by ten of the players who made Anfield history under the great Scot.  The books are all individually hand finished in British workshops and made with the highest quality materials.
deCoubertin Books were advised in production of its special editions by luxury brand consultancy, E-Notam. E-Notam is a boutique consultancy with a special focus on luxury projects. Its clients include Chanel, Perle de Lune and LVMH.  The company's goal is to help extraordinary brands develop their online business in a way that speaks to high-end consumers.
E-Notam's founder, Aline Conus, said, 'The limited edition versions of the Liverpool Encyclopedia are true luxury items.  Designed in Great Britain to the highest specifications and produced by companies with generations of experience in craftsmanship, they represent the best of British goods. That they are autographed by some of the men who made Anfield history makes them truly unique products. I'm confident that the combination of collectability and high production values will make them especially attractive to Liverpool's overseas fan base.'
(For a high-resolution version of the catalogue, please email 
asha@decoubertin.co.uk
)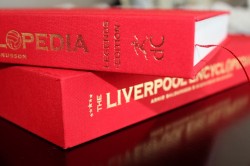 Price: £200.00. Pages: 656. Clothbound in a slipcase. Limited Edition of 200.
ISBN 978-1-909245-14-3. Publication: 30 September 2013.
Produced to commemorate the centenary of Bill Shankly's birth, this beautifully cloth-bound limited edition of 200 signed and numbered books is your chance to own a piece of Liverpool history. Featuring a hand finished debossed image of Shankly on the cover and presented in a cloth-bound slipcase, this is also signed by ten of the players who made Anfield history under the great Scot.
Designed in Liverpool and printed in Great Britain, this fully clothbound book is lavishly presented in a slipcase and signed by some of the greatest players in Anfield history.
The Liverpool Encyclopedia Legends Edition is a once in a lifetime opportunity to own a piece of Liverpool history.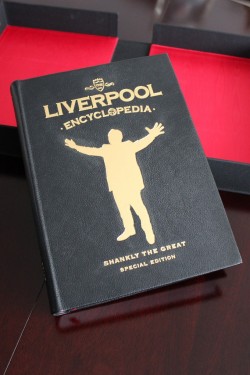 Price: £485.00. Pages 656. Leather bound and presented in a solandar case. Limited edition of 50. ISBN: 978-1-909245-15-0. Available: 21 October.
The ultimate Liverpool FC collector's item.
Featuring Liverpool's defining figure, Bill Shankly, in gold block on black goatskin leather, these beautiful handbound books are presented in a solander box, lined in red. With gold gilded edges, this book is also signed by ten of the players who made Anfield history under Bill Shankly.
Each book has an (optional) nameplate included in the front of the book, personalised with the name of your choice and includes the number of the edition.
This book was produced in partnership with Ludlow Bookbinders, a family business that utilise generations of experience to produce world class books.
The players to have signed these books include:
RON YEATS – 1964 League Championship winning captain.
TOMMY SMITH – Played more than 600 appearances and captained Liverpool to their first European success.
IAN CALLAGHAN – Holder of the Liverpool appearance record and key figure through the Shankly and Paisley eras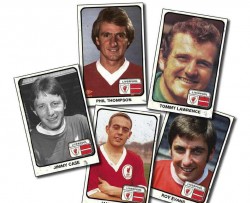 CHRIS LAWLER – The Silent Knight, who served Shankly's Liverpool with distinction in more than 400 appearances for the club.
TOMMY LAWRENCE – Goalkeeping colossus, who kept the Anfield net for nearly 15 years.
IAN ST JOHN – Centre forward hero of the Shankly era.
JIMMY CASE – Goalscoring midfielder, whose career spanned Liverpool's Golden era.
PHIL THOMPSON – Captain, coach and Anfield legend.
ROY EVANS – Shankly-era bootroom boy, who would one day follow the Scot into the Liverpool manager's seat.
BOBBY GRAHAM – 1960s attacking stalwart.
About the Liverpool Encyclopedia
In this huge landmark book, authors Arnie Baldursson and Gudmundur Magnusson have chronicled the individuals and incidents that made Liverpool Football Club one of the most famous institutions in world football.
With full biographical entries on every man to pull on a Liverpool shirt, including some 420,000 words, hundreds of full colour photographs and utilising new and original research, the Liverpool Encyclopedia crosses new boundaries in the study of the Anfield giants.
Beautifully laid out and lavishly illustrated, this will be an heirloom passed down between generations of Reds' fans. Coming just two years after the success of Liverpool: The Complete Record, Baldursson and Magnusson have created another indispensible addition to every Liverpool supporters' library.
The Liverpool Encyclopedia includes:
– Full profiles, biographical and career information of EVERY Liverpool player to make a competitive appearance since the club's creation in 1892.
– More than 1100 photographs, including many rare and some previously unseen pictures.
– In depth profiles of every man to manage Liverpool.
– Articles on significant figures and moments in Anfield history.
– Facts, figures and statistics from the renowned LFChistory.net website; the benchmark in Reds' historical accuracy.
Printed in full colour, expertly written and extravagantly illustrated throughout its 656 full colour pages, this is the essential reference work for every Liverpool supporter and student of English football.
The authors' previous book, Liverpool: The Complete Record, was published to critical acclaim by deCoubertin Books in 2011.
Praise for Liverpool: The Complete Record:
"The best book about Liverpool Football Club I have ever seen."
– John Keith
"The new history of Liverpool is a rare book indeed – one that truly raises the bar."
– Alex Miller, Sportingintelligence.com
"Quite simply this book is a joy to hold, have, read and should be on the bookshelf of any Liverpool FC supporter."
– Anfield Online
"The most factually comprehensive book about Liverpool FC. Ever."
– The Kop Magazine
About the authors
Arnie Baldursson and Gudmundur Magnusson are the editors of the LFChistory.net website. deCoubertin Books published their book Liverpool: The Complete Record in August 2011 to critical acclaim.
The Liverpool Encyclopedia has been designed in Liverpool by Leslie Priestley a designer with over 25 years industry experience. His previous collaboration with deCoubertin Books, The Everton Encyclopedia, was described by the BBC as 'a work of art'.
About deCoubertin Books
Founded in 2009, deCoubertin Books is a small publisher with big ideas. We use our experience from the worlds of journalism, web, publishing and design to produce beautiful non-fiction books that we passionately believe in.
deCoubertin Books think it is important to support Britain's creative and manufacturing industries wherever possible and we are proud to have all our printing carried out in UK plants.
For interview, serialisation and review copy requests, please contact asha@decoubertin.co.uk
-Ends-