Pretenders to Captain Fantastic's Throne
By @darrenchoong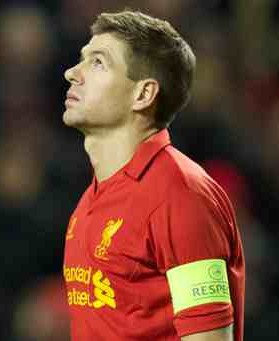 No doubt, homegrown skipper and talisman Steven Gerrard is Liverpool's greatest player of the Premier League era. He is close to the top, if not the top, of the all-time list, but such arguments whether he, Kenny Dalglish, or Ian Callaghan deserve top billing will be endless!
I could also go on and on about how great Gerrard is and why he deserves this mantle as Liverpool's greatest Premier League era footballer. Instead, let's look at the seven pretenders to his throne.
First off is his fellow homegrown counterpart and ever-reliable vice-captain until his retirement this year, Jamie Carragher. It may be odd to include defenders in this list of pretenders, but there will be one more mentioned in my next point. 13 years as a professional in the Red of Liverpool, Carragher was not seen as the superb centre-back initially. He was viewed as supremely versatile, as he debuted in defensive midfield, deployed as a full-back under French boss Gerard Houllier, only settling in as a centre-back when Rafa Benitez arrived.
Carragher did go on to form one of Europe's best defensive partnerships with Sami Hyypia, and this formed the backdrop for his finest hour, his cramp-battling Champions League final performance against AC Milan's Andrei Shevchenko and Kaka, both of whom were at their peaks then. One could argue that Liverpool had their best Premier League era defence when full-backs Steve Finnan and John Arne Riise completed the back four. Appointed vice-captain in 2004, he was a highly committed defender known for his last-ditch tackles, and was a leader in defence, marshalling his fellow defenders with his infamous high-pitch screams of instructions.
Carragher's duel with Didier Drogba during the latter's time at Chelsea was a particular highlight during that period of around four years. Three League Cups, two FA Cups and a single UEFA Cup and Champions League medal was all he could muster, with the elusive Premier League medal he missed out his only regret. At least, his 737 appearances is second only to Callaghan.
However, Carragher was always in Gerrard's shadow, always Gerrard's sidekick. He also played second fiddle to John Terry and Rio Ferdinand in the England set-up, never gaining much international recognition or caps, which forced him to retire early from England duty. These are probably why, along with the stigma defenders get due to their lack of entertainment value such as their obvious lack of goals, Carragher could only be seen as one of Liverpool's greatest players, Premier League era or ever for that matter.
Like Carragher, Sami Hyypia was a star in the centre of defence for 10 years. Signed for £2.6million from Dutch team Willem, he immediately formed a formidable defensive partnership with Stephane Henchoz, and as co-captain with Robbie Fowler in 2000, led Liverpool to a unique treble of FA Cup, League Cup and UEFA Cup successes.
He became full captain in 2002 and subsequently formed another impenetrable partnership with Carragher, which was the catalyst for the Reds' 2005 Champions League success. His vital goal against Juventus in the quarters was the highlight of his goalscoring exploits as a defender, netting a total of 35 goals in his 464 appearances.
After 2007, Hyypia dropped to third, then fourth choice under Benitez after the arrival of first Daniel Agger, and then Martin Skrtel. He still performed well when called upon, highlighted by his brilliant nullification of Wayne Rooney and Cristiano Ronaldo in the 4-1 drubbing at Old Trafford in the 2008/09 run to second place. Although he lacked pace throughout his career, his aerial ability and reading of the game was second to none, particularly useful in both penalty boxes.
Although he earned individual honours such as being name in the UEFA Team of the Year 2001 and winning the Finnish FA Player of the Year 9 times, he left for Bayer Leverkusen to play for another two years, where he is now the manager. Hyypia, for all his loyalty and consistency, could be Liverpool's greatest foreign import, but in truth was always far from threatening Gerrard's throne.
Before I get to the glory-encompassing strikers, here's a footballer playing in a similar position to Gerrard, Spaniard Xabi Alonso. He was the classy, cultured continental midfielder Benitez wanted for his Spanish revolution at Liverpool, dispensing Englishman Danny Murphy in the process. Alonso was, and still is, renowned for his vision and exceptional passing ability from deep. Somehow, his shooting from deep in his own half is also a highlight, with two goals scored from his own half against Luton and then Newcastle. Alonso was overran in the first half of the 2005 Champions League final, but after Benitez brought Dietmar Hamann on to steady the ship, Alonso went on to score a penalty rebound that sparked Liverpool's impossible revival.
Along with Javier Mascherano, they formed the best midfield at that time that was the catalyst for Liverpool's 2008/09 ultimately futile title tilt, as this complementary double pivot freed Gerrard up to form a devastating forward partnership with Spanish hit-man Fernando Torres – highlighted by the 4-0 drubbing of Real Madrid and 4-1 defeat of Manchester United within the space of a few days.
A steadying influence in midfield, Alonso also helped Spain to their maiden international title whilst a Liverpool player, proving pivotal in their Euro 2008 triumph, along with Torres. However, he only really enjoyed a couple of successful seasons. Furthermore, Alonso left in acrimonious circumstances in the summer of 2009 for Real, blaming Benitez's pursuit for Gareth Barry in the summer prior for his exit. That was the moment he could never be considered one of Liverpool's greatest, but he certainly is still one of Liverpool's best imports.