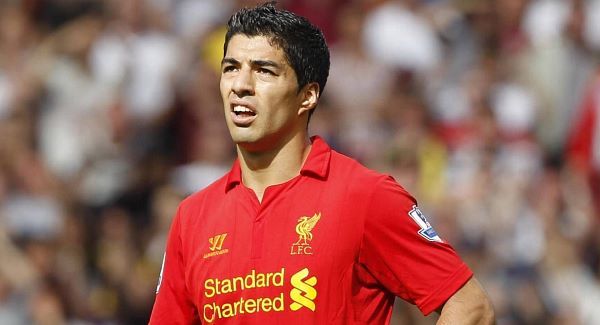 [Check out http://footballfollowing.wordpress.com for more football-related articles, with Liverpool FC & BPL the emphasis, including some Singapore football reports!]
One can only hope in desperation should the brilliant Uruguayan Luis Suarez were to leave Liverpool. Hope still remains that he will finally come around and give his all for one more season, in the hope of getting into the competition he craves to be in, the Champions League.
This situation remains familiar to many Arsenal fans, when in the summer of 2012, their talisman and top scorer of the previous season, Robin van Persie, decided to leave for current champions Manchester United. The similarities are stark with the current Suarez transfer saga. On the back of his most successful season so far with the Reds, being their top scorer and second in the overall Premier League list, behind a certain RVP, Suarez now yearns for a move away from Liverpool as well, citing the Champions League-less football at Anfield next season.
How did Arsenal cope so well without RVP then? They managed to retain a top 4 spot, winning 3 more points in the 2012/13 RVP-less season than the 2011/12 season; but they did score 2 fewer goals. Simple, they managed to spread the goalscoring burden out – something Liverpool and Brendan Rodgers might want to look into and do for the upcoming campaign.
In the 2011/12 season, the Alex Song-RVP axis was prominent in much of RVP's goals, and RVP was so vital in Arsenal's season, as he contributed a whopping 40.5% of the Gunners' 74 goals in that campaign. A distant second place to his 30 goals was right forward Theo Walcott's 8, followed by 6 goals each from midfielder Mikel Arteta and defender Thomas Vermaelen. Winger Yossi Benayoun completed the top 5 list with 4 to his name.
Arsene Wenger, learning from the lessons of the Cesc Fabregas transfer saga a summer prior, acted quick to sign forwards Olivier Giroud and Lukas Podolski, as well as picking up playmaker Santi Cazorla from Malaga. He also somewhat caved in to Walcott's craving to play upfront, and he was duly rewarded as Walcott upped his tally to 14 in the 2012/13 RVP-less season (as seen in blue).
Wenger's major new signings Giroud and Podolski contributed well too, scoring 11 league goals each, around 30% of that season's goals; while the success story of Cazorla netting 12 from midfield, always handy for a top 4 side.
Walcott's 6 goal increase, along with the new signing's goals, accounted for 55% of Arsenal's goals that season, more than making up for the loss of RVP, even adding 6 more goals from attacking positions! In a way, this benefited Wenger as he did not have to worry so much of either forward getting injured, unlike the way he banked on the sole fitness of RVP for the whole of the 2011/12 season.
Considering that Suarez's 23 goals last season only accounted to 32% of Liverpool's total tally, the reliance on him is relatively lesser than what Arsenal's was on RVP in 2012.
The current squad does have the potential to score more and make some sort of contribution to this potential gaping hole. Daniel Sturridge used half a season to score 10 league goals, which was not bad considering he was a new signing. If he can find more consistency and get amongst more goals, a 15 goal target would be pretty realistic. 20 might be a stretch, but so long as he uses the full season to improve on his goal tally, he could be what Walcott was for Arsenal last season (see light blue).
English duo Steven Gerrard and Jordan Henderson did a decent job getting the goals from midfield last year, 9 and 5 respectively. Gerrard's goalscoring exploits and form may take a hit next season, with another year gradually taking its toll on his body. If he can maintain or at least score close to the figure he got last year, and that Henderson can maintain or even slightly improve his tally, both Englishmen could emulate how Arteta manage to maintain his goal tally (see red).
Brazilian wonder kid Philippe Coutinho should be able to easily double last year's half-season tally of 3 goals, if not more, coupled with more assists to fill Suarez's creative gap. The sensation of last season, Raheem Sterling, should be fresh and raring to go after sitting out of almost the whole second-half of the season. A year older and with more experience under his belt, his measly 2 goals last year from left-wing should be easily doubled or tripled. Though, we must bear in mind the fact that defenders will be keeping a closer eye onto him.
The emergence of Jordan Ibe in pre-season could see him be this year's Sterling, and a tally of at least 2 goals should not be too hard to ask from him, right? New signing, Luis Alberto, will definitely need time to acclimatize to English football and struggle initially, but a return of 5 would be welcomed, though 3 seems more realistic. These four young supporting guns could, with smart rotation, give Rodgers a total tally matching Cazorla's for Arsenal last year (see green).
Last year's flop, Italian U-21 international Fabio Borini, probably faces a make-or-break season at the club. He is technically better than Dirk Kuyt, and with more pace due to his younger age, should be able to match Kuyt's tallies of at least reaching double figures. 10 goals is the minimum requirement that he should be able to reach, or he will surely be shown the door next summer. With regards, he needs to get Podolski's tally last year (see orange).
New addition Iago Aspas, a Spanish Craig Bellamy of sorts, could be what Olivier Giroud was for Wenger last year. If granted his favored centre-forward position, Aspas has the mentality to trouble Premier League defences; if he starts inside right replacing Stewart Downing, Aspas will certainly bring more firepower, grit, tenacity and pace compared to Downing. A tally similar to Giroud would be a realistic target, although he could very well get to Sturridge's target of 15 should he adapt fast and well (see dark blue).
The potential for another 9 goals even with Suarez's departure could see another 12 points, with defeats turning into draws and draws becoming wins, Champions League football could be achieved with a potential of 70 to 73 points (last 4 years' average points for 4th was 70 points).
Rodgers would do well from learning from Wenger's improvisation of sorts last summer, and in all fairness he has, so far, with the signings of Iago Aspas and to a lesser extent Luis Alberto. He would be better served with another striker in the 20-30million mould, should Suarez leave for the mooted 40-50millions figure, which could add another 10 goals to this team.
If Suarez does stay, and another wide-man is added to the squad, Liverpool could still add even more to their 71 goals last year and hopefully challenge for that elusive 4th spot. Better still if Rodgers' Reds could somehow get 4th, and appease Suarez.