By @yashasvid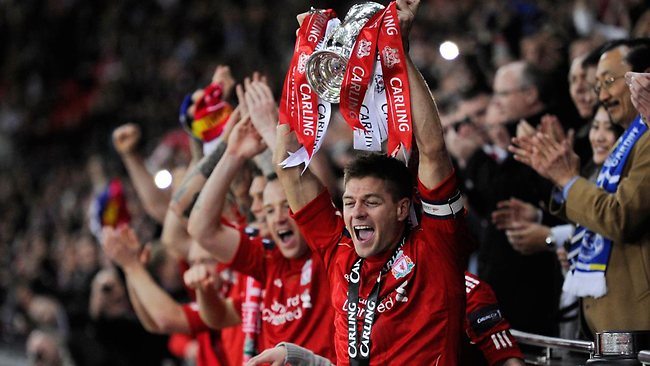 Leaders have many ways of leading. Some lead by pushing those around them to do well, some by not being afraid of giving you an earful, while yet others lead by not being afraid of giving competition a torrid time. However, once in a generation comes that rare breed who leads by possibly the most important virtue of a leader – example. Over the past decade, Steven Gerrard has become the very embodiment of that.
It is not hard for any football fan to remember the times Steven Gerrard has grabbed the Liverpool team by the scruff of the neck, hauled them back into games, and eventually dragged them past the finishing line. Whether it is hammering a last gasp 25 yard intervention into the top corner against Olympiakos, making last ditch tackles at right back against Milan – in the probably most miraculous final ever, producing another last second equalizer against West Ham, hammering a hat-trick against Everton on his 400th appearance in the league, or coming off the bench at half-time to slam a hat-trick past a hapless Morgan de Sanctis in the Napoli goal, Gerrard has been there, done that.
In Steven Gerrard, Liverpool have a player with a vision few players in the modern game have, and an ability even fewer do. In any team, his presence will lead to more goals being created, as well as scored.
After over a decade of fantastic service, in which he has single handedly led the club to countless victories, Liverpool definitely owe their captain a happy swan-song. They must aim to become a team whose whole is greater than the sum of its parts; and then deliver to the man, who is still among one of the best in the world  and is regarded by many as the best player to ever pull on a Liverpool shirt, a return to the Champions League and the beautiful European nights at Anfield he craves.
In a world where loyalty is in short supply, Steven Gerrard has resisted offers from Chelsea, Inter Milan, Real Madrid and Bayern Munich. And he then thanks Liverpool for their loyalty to him. Such is the greatness of this man.
"Is he the best in the world? He might not get the attention of Lionel Messi and Ronaldo, but yes, I think he just might be. He has great passing ability, can tackle and scores goals; but most importantly, he gives the players around him confidence and belief. You can't learn that. Players like him are just born with that presence."
– Zinedine Zidane on Steven Gerrard