by @Redfellar
With good reason, the thought of replacing Steven Gerrard is one that no Liverpool fan would like to think. But with the ever-changing game, and the ever-aging Gerrard, it's one that we're going to have to do more often, especially in the coming years… Blasphemy, right?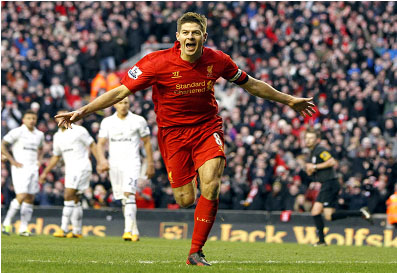 Now there's one thing that's for sure when you first look at the issue: there's only one Steven Gerrard.
"He has great passing ability, can tackle and scores goals, but most importantly he gives the players around him confidence and belief. You can't learn that – players like him are just born with that presence. Is he the best in the world? He might not get the attention of Messi and Ronaldo but, yes, I think he just might be." – Zinedine Zidane on Gerrard, 2009.
There is no player in the world of football that can walk directly into Gerrard's boots and play for Liverpool, and do for Liverpool, what Steven Gerrard does. It's a Rafa-fact. So where does that leave a manager? Brendan Rodgers has, arguably, his toughest challenge yet to come in replacing Steven Gerrard. Not in bringing the player in to do so, but in pleasing the fans when the time comes.
Under Brendan Rodgers, we play a type of football that is widely regarded as a 'continental' style. A style molded from, and made famous by Barcelona and the Spanish National team. Their football is their own form of language that other clubs, ourselves included, seem to be trying desperately to become fluent in. Xavi, Iniesta, and Busquets together form what is undoubtedly the very best midfield in world football. So let's take that to Liverpool.
Sergio Busquets. Often clouded by his bewildering obsession with cuddling the grass, Busquets contribution to the 'Tiki-Taka' system is unrivaled. He is the very best player in the world at his job. He is the anchor man. He makes the ball winning challenges. He provides the necessary physicality in a non-physical midfield. He is Lucas Leiva.
Andrés Iniesta. I don't particularly think there's a word that truly describes Andrés Iniesta available to us for use. He's elegant, he's sharp, he's usually the one running through the defence, and his vision is probably only rivaled by his teammate, Xavi. He's simply mesmerising. He's Phillipe Coutinho.
Xavi. Barcelona and Spain's very own pendulum man. When he gets the ball, he's already ahead of the game and the ball has already gone. If you imagine that the team was a solar system, he'd be the sun. His role is to keep the ball moving, retain the possession with intelligent, patient play, and stretch and draw in the opposition, leaving space for the team, at the drop of a pin, to play into. He, is most definitely not Steven Gerrard. Steven Gerrard receives the ball, looks up, and hits it 40 yards to an overlapping Glen Johnson. Now that's not a bad thing. I'm not saying that that is a bad trait to have, but that's not a trait that fits the system. It's that slightly smaller square peg in a slightly larger round hole that will fit in, but not perfectly. It's also a trait that we won't have in the team when Gerrard is gone, hence the article.
The 'pass to Gerrard whenever possible' tendency we've had over his career, especially the latter parts, hinder the entire machine. Not so much so that it breaks down completely and becomes irreparable, but enough that it sometimes costs us. Now, Barcelona and Spain often deploy the same idea with Xavi, and it works. Why? Because they are two completely different style of players. To get the best out of Xavi, you pass to him whenever possible, to get the best out of Gerrard, you don't. It's simple enough. But, once we've recovered from the depressing realisation of change, we've now got another problem. There is only one Xavi. (F.Y.I, this is where I really wanted throw in a cliché with "… or is there?")
When Brendan Rodgers called the then 22 year-old, Joe Allen, the "Welsh Xavi", there was a mixed reaction amongst Liverpool fans. Some ridiculed. Some watered at the mouth. Some went straight onto the internet to find the following stats of the 2011/12 season:
Xavi, Barcelona:  Pass Accuracy: 93.0% | Passes: 1830
Joe Allen, Swansea: Pass Accuracy: 90.3% | Passes: 1075
(Stats via the telegraph)
Then came the new Premier League season, and following impressive displays against the likes of West Brom, Hearts, and 2012 Premier League Champions, Manchester City, Joe Allen picked up the Standard Chartered Player of the Month for August, as voted for by the fans. With consistent performances throughout September, a month which included another fan voted Man of the Match award which came against Arsenal, and praise from Liverpool Legend and former pass-master, Jan Molby, for his "Barca-like passing ability", Joe Allen quickly became a favourite amongst the fans who understood Brendan Rodgers idea for the team. Which, considering he was playing in a deeper role, one that Lucas would have been in should he not have been injured, deserves credit.  However, those that did not appreciate the change in play due to a lack of results, despite performance, did not have quite the same adulation for the Welshman claiming that "all he does is pass sidewards and backwards".
"All he does is pass sidewards and backwards". I personally despise that phrase. Above all else, it shows a tactical ignorance and lack of understanding towards the players role in the system. Xavi does not receive the ball and hoof it up to Lionel Messi. He stretches the play, opening up the pitch. He makes the opponent wither by recycling the ball around the team of who will, should they see the correct run, play the ball into a more attacking position, thus initiating a more attacking phase of play. This would not be possible without Xavi's pendulum attitude to playing the ball. Don't believe me? Then maybe the man himself?
"I pass and I move, I help you, I look for you, I stop, I raise my head, I look and, above all, I open up the pitch." – Xavi.
Now things were not as easy for Allen, as it is was for Xavi. Xavi had been playing with his team, the same way, since he was a young player coming through La Masia. Allen, in contrast, had just come into a new side full of players who had little to no experience of playing the way Brendan Rodgers wanted them to play. Allen was on another page to the majority of his new teammates, making the 'end product' a little harder to come by.
For players like Allen and Xavi, in their role they have no distinct and recognisable 'end product'. They keep the ball moving, there is no 'end' because there shouldn't be one in that particular role. The only time the ball should stop is when it is in the net. But, in fact, there is an 'end product' for players like those. When they have recycled the ball around the pitch and then, either directly or indirectly, a ball is played into an attacking position, they have their 'end product'. When they have pulled the opposition around the pitch to such an extent that there is an open space to attack from, they've done their job.
Joe Allen's season should have ended in October. He picked up a shoulder injury that would take 5 months before the club decided it was time to finish his season and send him for surgery. 5 damaging months, if we're honest. Allen's form dipped in October and continued to do so, not quite looking the same player that had been so previously impressive. Even some of his 'fans' began to doubt him, and did so until the club announced he would indeed be going for surgery.  Since then, there's been very frequent debates on Joe Allen and his future, or lack of, at Liverpool between fans. Be it on twitter, or with the neighbour, there is always a Joe Allen themed debate taking place and unfortunately for him, there seems to still be, even after a decent pre-season, people calling for and end to his Liverpool stay.
I, on the other hand, believe he is precisely the kind of player that is needed to eventually take over from Steven Gerrard. His vision, ability, and workrate allow him to play both beside Coutinho, closer to the front line, and also beside Lucas, gathering the ball and moving it along. He is the perfect replacement for the way we want to play. As can be seen in the following beautifully constructed and in-depth representation.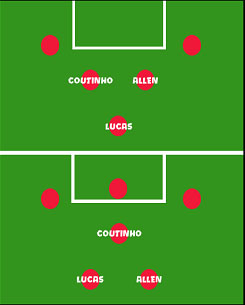 It's never easy saying goodbye to good players for fans, especially when the good player is arguably the greatest ever to wear the shirt, but to be a success you need to adapt, and with our own pendulum man in Joe Allen, we can do just that.