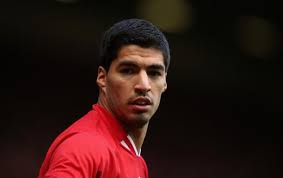 Ever since Luis Suarez gave an interview during the Confederations Cup it has been obvious that he wanted to leave Liverpool. Fans have blindly refused to accept this because he is such a good player but deep down they knew. The only thing that has changed is his reasons for wanting to go.
The lad has offered any and every excuse for wanting to move on.
First he was sick of being targeted by the media. (Understandable, perhaps).
Then he was annoyed at the attention his family get when they go shopping.
Next he declared how he had always dreamt of playing for Real Madrid.
We heard how he was flattered by Arsenal's interest.
He eventually admitted that he wants to play Champions League football.
And now he has made a statement about how Liverpool lied to him and reneged on an agreement to let let him leave should an offer in excess of £40m come in.
It's about time Suarez told the truth. He should be a man and give the Liverpool fans some respect. Because they have given him so much support during his time on Merseyside.
The way he has constantly changed his story makes me wonder how far he would go. If Man Utd were to put an offer in would all be forgotten? Would he say he wants to go there? What about a team who aren't in the Champions League? If a club like Tottenham or Monaco tried to buy him would he suddenly harbour ambitions of relocating to France or playing in the Europa League with the prospect of getting into the Champions League next season? Both of these scenarios seem unlikely but the way he's chopped and changed all summer, nothing should surprise Liverpool fans.
This whole situation is so unfortunate because whether Suarez stays or goes, his relationship with the club and the supporters has undoubtedly been soured.
Whether this is irreparable or not, only time will tell. But there have been suggestions that Liverpool are now resigned to losing him and have even subtly named their price to several big European Clubs outside of the Premier League. They are adamant that they still don't want to sell him to one of their rivals for fourth place. However, with so many of the European clubs having already spent big during this transfer window there doesn't seem to be as much interest as you would expect. Barcelona have spent £50m on Neymar, Real Madrid have already bought Isco and are looking to add Bale. PSG signed Cavani for £55m, whilst Monaco splashed £58m on Falcao. In Germany, Bayern Munich have also added to their already impressive squad by taking most of Borussia Dortmund's best players. So unfortunately for Suarez a lot of the big clubs in Europe have already done most of their transfer business. And that is the only positive for any fans who still want Suarez to stay.