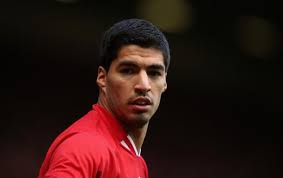 So I have decided to write this short article despite the huge number of articles about this man and I think you have guessed who it is by now if you have not then it's Liverpool number 7,Luis Suarez.The most important thing about a transfer is the selling club has a adequate amount of time to replace the player as highlighted in the 2011 January transfer windows when Liverpool agreed to sell Fernando Torres and rushed into the signing of Andy Carroll paying more then he's worth and we all know how that turned out so I hope to god we are not left in the same situation with Suarez this season.As for whether I want him to stay or not I am undecided really on one hand he's a magnificent player who could this season be the difference between Liverpool and top four like Carlos Tevez when he was unhappy at Manchester City and in the end his influence helped City winning the league.On the other hand he's no good if he's watching from the stands due to bad discipline or behavior also I should imagine he's having a negative impact on squad morale.
Should we decide to Cash in on Suarez I don't think there is a player who would join Liverpool who is as good as our number 7 I really don't.However I think there maybe a way we could improve the team If Rodgers switches to a 4-2-3-1 formation and signs a LW and RW for around £20 million pounds each such as Turan and Lamela then that could improve our team in my opinion and would create a fight for places in the starting line up.Moving onto the politics of the move John W Henry has recently come out on basically said there is no chance that Liverpool will sell to Arsenal and the player is not for sale at any price which gives Liverpool the power in negotiations as the player has 3 years left on his contract and Brendan Rodgers is not under any pressure to sell so unless there is a fee of around £55 million pounds I don't think Brendan and John W Henry will enter negotiations. Liverpool's stance on the player has not change since Suarez requested to leave the club and if Liverpool where to sell Suarez it would really disappoint me as the manager and owner have repeatedly said "He's not leaving"  "He's not for sale" http://www1.skysports.com/football/news/11670/8861679/transfer-news-liverpool-owner-john-w-henry-says-luis-suarez-is-going-nowhere so it would make FSG look hypocritical should they sell.
Suarez is a player who wears his heart in his sleeve and gives 110% each match and I wonder if he will continue to do so if he doesn't leave.Suarez on his day is in the top 5 players in the world without a doubt as we seen against Norwich twice.However when watching him it feels like it's only a matter of time before he does something stupid and then you wont see him for another 8 matches and if you are going to pat £50+ million pound on one player you would want him on the field at all times something which Suarez does not guarantee you.My preference is that he moved to Madrid there we would probably see the best of Luis Suarez on a stage where he deserves to play and lets be honest he should be playing in the champions league. Whether it's in football or a job or anything you want to be at the top of where you can be and at the moment Suarez is not at the top somewhere with a player of his ability should be.
Steve Gerrard has been quoted as saying Liverpool are as good as out of the running for top 4 if Suarez leaves a statement which I disagree with,Although Suarez has magnificent ability he wastes lots of chances,He scored 22-23 goals last season however he should really have scored 30+ with the chances he got however to be fair to him he did create a lot of them chances himself.During his time at Liverpool his commitment to the cause has never been questioned it's just his poor attitude and self discipline.Which was highlighted last week when Suarez REPORTEDLY never turned up for Gerrard's dinner and on a weekend when we where supposed to be celebrating the career of a legend Suarez once again took the headlines which in my opinion outlines his selfishness.As for the fee I want,I would think if Gareth Bale is worth £105 million the Suarez has got to be worth at least £60 million as they are both around the same caliber of player with Bale being worth more due to being a few years younger however a player is only worth what the interested club is willing to pay.
Liverpool in my opinion have made the right decision to make Suarez train alone as his negative attitude will rub of on the other players something that Rodgers was quick in realizing.When teams know Liverpool have got money to spend they will hold Liverpool to ransom and Liverpool will end up paying more then the player is worth something that is always worth bearing in mind when you receive a high transfer fee for a player teams know you have got money to spend and they will make sure you pay over the odds.Suarez has continuously made his intentions know requesting to leave and we all know why,He will loose his loyalty bonus and 5% of the fee should he goes so by going to newspapers and the press he is letting his intentions be know while not giving up a hefty chunk of money something which has really annoyed me as even Torres had the decency to hand in a transfer request so Suarez is taking what can only be described as the cowards way out.Liverpool is a historic club with unparalleled support and how a player could treat it in such a bad way disgusts me.
Whether or not we see Suarez in a Liverpool shirt again remains to be seen but for me and I can't speak for everyone he has burned his bridges because of the way he has gone about requesting to leave.If John W Henry and Brendan Rodgers who says Suarez will not play for Liverpool until he realizes he isn't going to be sold manage to convince Suarez to give it another year I think that could be a very good solution as if Suarez proves the difference between Liverpool and top 4 and we make the champions league and he still wants to leave then Liverpool would be better placed to attract the "Top players".Luis Saurez in my eyes has proven himself to be a coward here are some of the thing he has said when previously asked about leaving Liverpool http://www.liverpoolecho.co.uk/sport/football/football-news/reds-show-strength-suarez-must-5694536 this proves that Suarez has taken the cowards way out after reassuring the fans he will stay at Anfield.
In summary The deciding factor of whether Suarez leaves or not should be a)Liverpool have enough time to sign a replacement/replacements b) The fee should be fair in the current climate and finally the does should suit all parties if all them credentials are met then I think Liverpool should be happy to part with Suarez however I don't think John W Henry shares the same opinion. If Liverpool do decide to sell then it's certainly going to be a very hard job improving the team without him there,I decided not to use the term replace him as basically there is no one who will replace him however if the money is spent wisely then we could become a better team without him which should always be the most fundamental part of a transfer. FSG throughout have never changed there tough stance something I respect them for however as I touched upon earlier they will look like fools after publicly stating that Luis Suarez is and will remain a Liverpool player.