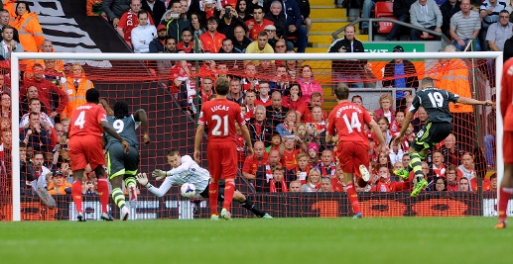 17th of August 2013, Anfield. Remember that date when Liverpool fans witnessed a new type of Liverpool – one that is exciting, committed and has real talent in every department. Yes, it was only Stoke City, but the scoreline did not do justice to LFC given the performance over 90 mins.
Liverpool looked confident and enthusiastic to set the pace of the match. Rodgers looks to have instilled belief into the players' minds in their own abilities – Coutinho, Aspas, Sturridge, Toure, Henderson and Lucas all looked equal to Rodgers' updated demands in terms of specific role requirements.
In fact, Aspas showed signs of being a fantastic buy. He quickly became fluent with Sturridge and Coutinho in terms of creativity and movement, backed up by the impressive and vastly improved Jordan Henderson. Even more impressive about Henderson is that he really looks comfortable with himself and the role he has been given. Many fans were doubtful of Henderson when he arrived from Sunderland, but he now looks like he is finding he way in this new style Liverpool set up.
Rodgers himself seems to have learnt from last season. Our extremely poor start cost LFC dearly in the final race for Europe, but Rodgers must have taken the positive elements from the way LFC responded in the second half of the season. Had Liverpool played anywhere near the type of football in the first part of the season that they produced after the Christmas period, LFC would have easily qualified for European football, and the Anfield faithful would be looking forward to welcoming the magical European nights they are accustomed too.
With the departure of Liverpool's defensive legend Jamie Carragher, Rodgers looked across the M6 for a replacement. Kolo Toure arrived from Manchester City already acquaint with the pressures of playing for a big club. Both Rodgers and Toure will be pleased with the Ivory Coast international's first match of the season in Red. He almost even scored with his header rattling the Stoke cross bar. All in all, Toure was solid and composed along side Agger.
Daniel Sturridge looks to have hit the ground running since his move to Anfield back in the January transfer window. In the absence of Luis Suarez, Sturridge is proving his weight in gold for the Reds. He's quickly established an understanding with Liverpool's other master buy, Coutinho. The pair provide creativity and a cutting edge to the Liverpool attack.
Simon Mignolet also made his debut for the Reds after fan-favourite Reina joined Rafa Benitez in Italy. Many questioned the signing of Mignolet, claiming he isn't better than Reina, but I do trust Rodgers transfer signings. Every signing is a gamble. Some will work out, some will not – that's football. Mignolet couldn't have dreamed a better conclusion to his Liverpool opening match than what happened in the 89th min at Anfield.
Daniel Agger somehow managed to handle the ball inside the Reds' 18 yard box and the official had no hesitation in awarding a penalty. Up steps Walters for Stoke who must have believed he was about to rescue a point. However, Mignolet had other ideas. The Belgian jumped up and down in an attempt to unnerve Walters. It work as the Stoke striker run up and hit a low drive to Mignolet's right, but the new Reds keeper guested right and saved. The ball fell to Jones who hit a hard drive towards goal but once again Mignolet was up to the job by saving again for a corner. Anfield erupted and the Liverpool players smothered the Reds' new instant hero. It was a deserved victory. LFC should have been out of sight by midway through the second half.
For all Liverpool's fantastic fast flowing football, I am still not fully convinced when it comes to our defensive abilities. Agger and Toure worked hard and were generally solid but we struggle against set plays, which must be a concern for Rodgers. Another long standing concern is our inability to finish off games. This is not a new problem. It has been our downfall for a few seasons now. It has also been one of the reasons why we fail to qualify for Europe. We draw games we should have put to bed and lose games we deserve a draw from – all because we fail to take chances.
I believe Rodgers can and will address these problems, but it must be given top priority. This transfer market, we need a wide man and a centre back. What we have currently is capable of beating anyone on their best day, but we need a squad to do it week in and week out.
The Luis Suarez farce has once again thrown LFC in the media spotlight for all the wrong reasons, but Rodgers and John Henry deserve credit in the way they both have handled the situation. They have kept a level of dignity when the Liverpool name could have so easily been tarnished again.
It is welcome news that Rodgers now claims that the whole situation is resolved. I personally found Arsenal's bid for Suarez both unwelcome and utterly ridiculous in terms of price and suitability. The question I asked myself is, 'why would Suarez go to Arsenal if he had any ambition to win trophies?' The answer to that is Suarez never intended to go to Arsenal. He hoped another European club would join the party, but they never did.
Brian Reece
Twitter @oldfattoad