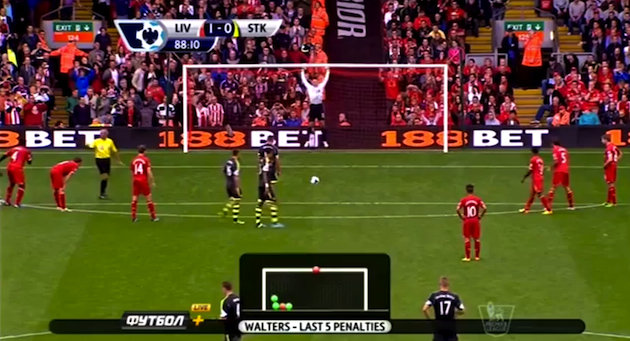 Liverpool's Premier League opener against Stoke City was by no means a boring 1-0. There was a great ebb and flow to the game and both 'keepers had huge parts to play – eye catching saves are as big a part of football as any goal is – and we were treated to some fantastic goalkeeping courtesy of Simon Mignolet and Asmir Begović. The big Bosnian pulled off some truly amazing saves to deny Liverpool what could have been a routine Anfield win. The City 'keeper denied Jordan Henderson twice – the second one, a truly mouth watering finger tip save onto the post, Gerrard once from a free kick – a spectacular leap to his top left hand corner and Enrique from close range. In comparison, Mignolet had a quieter afternoon but the Belgian started in a much more nervous fashion – the new boy looked shaky when up against Peter Crouch during the early exchanges, but who wouldn't? This nervy baptism would soon be forgotten by the Kop faithful as Mignolet composed himself to make a double save at the death – first from Jonathon Walters's penalty and then the follow up from Kenwyne Jones. It is upon this double save that this article is based.
Liverpool have often struggled on the opening day of the season and looked to be consigned to yet another poor Premier League start. As Walters ran up to take the penalty there was a low point experienced by Red supporters that hadn't been felt all summer – a great summer of optimism was enjoyed after great form towards the end of last season, coupled with shrewd signings and a positive pre season and all this was about to crash around Liverpool like a house of glass. However, in that moment, the script was rewritten and Mignolet sprung to his right to save the tame spot kick. New hero. The change in emotion was obvious but what could it mean for the Reds going forward? That's exactly what we'll discuss here.
Psychology
The boost received by the players after Mignolet's save was as clear and obvious as the hand ball that preceded the penalty. The ten outfield players had started to tire after relentless off the ball pressing and an equaliser looked inevitable. Nobody wants to deal with three big strikers when they're running on empty. The point here is what the save gave Liverpool in the shortest of short terms – it gave them the adrenaline and that little bit more motivation to finish the job they should have finished thirty minutes ago.
Had Walters converted the spot kick then heads may have dropped and chests would certainly not have been pushed out in defiance. Gerrard's reaction, in particular, summed it up. The norm these days is for the Reds to work hard and concede whilst dominating – much to the anger of every Liverpool supporter. It's as if the big Belgian had torn that \"normal script\" up and Gerrard – having seen more botched jobs at Anfield than most – was evidently completely overjoyed. Perhaps even he can now believe that this squad is capable of riding these difficult circumstances without capitulating at the most inappropriate of times.
Brendan Rodgers and the playing staff can now head to Villa Park, Old Trafford or wherever knowing that they can deal with the highly pressurised situations that the Premier League throws up week in, week out. Situations such as Newcastle at home (1-0 down after dominating), Stoke away (the Reds capitulated as soon as they took the lead) and West Brom home (lost 2-0 despite dominating for eighty minutes) could be prevented now the players know they have a 'keeper who can actually come to their rescue. Reina was a popular Anfield character but his nickname of \"No Save Reina\" was justified. With the midfield and defence now seemingly protecting by a trust worthy goalkeeper, the Reds can afford to take that extra risk and perhaps break down these stubborn defences.
For Liverpool's faithful, let's hope Jan Molby is correct in his assessment: \"the dramatic nature of the win over Stoke was a massive psychological boost for Simon Mignolet and the Liverpool squad in general\".
A Special 3 Points
Everyone in football knows that a league win results in your team earning three points. These three points never change in value. Or do they? Obviously, the points awarded do not change but the meaning of these points can be different every single time – a win over a local rival is deemed more creditable than a routine win over a relegation threatened side. Despite the excitement that the start of the season provides, many supporters just want that first game to be done and dusted. A win is a win and the excitement often turns to despair for half of the league table's occupants.
A supporter's absolute big wish is that, come the end of the opening day, their team can still achieve the maximum 114 points total that a perfect season can yield. So, winning on the opening day can continue the feel good factor that a solid pre season can create. The penalty save and therefore victory against Stoke kept Liverpool's proverbial sails full of momentum.
Liverpool supporters in particular know how important the start of the season can be. Last year, with a new manager and a new philosophy at board room, coaching and playing level, the Reds began their campaign with a difficult away trip to West Brom, followed by visits to Anfield from Manchester City, Arsenal and Manchester United. These tricky opening fixtures meant Liverpool were immediately on the back foot and the ground lost at the start of the season was completely devastating to Liverpool's potential pursuit of the top four places. This time Liverpool have a (potentially) much kinder fixture list to start the season and a solid start is certainly possible – stage one vs Stoke City is complete and the Reds now need to continue that form at Villa Park and at Anfield against Manchester United. Simon Mignolet's save provides confidence and Liverpool's playing staff should be confident of picking up more victories at the start of this season.
What If?
What if exactly. What if this is the start of something big? If Mignolet's save breeds the confidence and team unity that we've spoken about then what is stopping the Reds from gaining Champions League football this season? This Liverpool squad is easily the strongest put together since Benitez's 08/09 team. One of Rodgers's biggest criteria for a potential target is that they must be versatile. This gives the Liverpool manager a squad depth to challenge without having an overly large and difficult to manage squad. Aspas, Sturridge, Suarez, Borini, Sterling and Ibe can play all along the front three, Coutinho and Hendeson can play in the advanced midfield position and on the flanks and Allen, Gerrard and Lucas can rotate as and when it is correct to do so, Johnson, Kelly and Wisdom provide ample supply at right-back, Enrique and Cissokho will compete for the left-back berth and Rodgers is still looking to add to the central defence and left forward position before the window closes. The point to this is that they have the squad but do they have the mentality?
This is something Liverpool's coaching staff have been known to be working on under Rodgers with sports psychologist Dr Steve Peters brought in to help Liverpool's players cope with the added stresses of representing a club with huge pressure and expectations. A win as tough as the Stoke City one can open the eyes and minds of the Liverpool players to what they can achieve even when these high pressures are applied. Mignolet himself should thrive now after defeating the pressure in only his first competitive game – and the feeling should spread. If Liverpool do make the top four, or at least challenge closely all season, then the save from Jonathon Walters's penalty will be seen as a season defining moment.
To be brutally honest, we could all be reading too much into this first league win. We could be reading too much into how important Mignolet's penalty save actually was. Maybe, it was just as it was – a penalty save which gained three points and the affects of that save ended when the final whistle blew. Who really knows? I'm just talking about possibilities and what the save COULD mean for Liverpool Football Club. We'll all know come May 2014.
On Twitter: @ZAForster