Thankfully for Liverpool, the answer to that against Notts County wasn't failure. It could well be the reason for defeat against Manchester United on Sunday though. Two goals up at half time and Liverpool were cruising. For the second game running, Liverpool have only narrowly avoided defeat by failing to take control of the game in the second half. For the second game running, we have looked completely out of sorts in the second half of the game. I don't want to be critical about the win against Aston Villa though. That was a highly resilient performance against a highly underrated team. But this was another matter altogether. I don't expect Liverpool to be walloping Notts County 5-0, but I do expect them to have the professionalism to see out a game they're winning 2-0 at half time.
And so, failure to do that has potentially cost us four players. Yes, that's FOUR including Daniel Sturridge limping a little at the end, even though it it doesn't seem to be serious. Joe Allen was our best player at the start of last season, but Jordan Henderson's incredible development has pushed him far, far ahead of the Welshman in the pecking order while Aly Cissokho was never going to be first choice left back so early into his career at the club. Which leaves us with Kolo Toure. Kolo Toure, who has been our best defender thus far, injured his groin in extra time. Extra time which we shouldn't have allowed in the first place. We now look incredibly lightweight at the back. Can we realistically expect Martin Skrtel, however much I rate him, to start his first game since that confidence-shattering game against Oldham and keep the likes of Robin van Persie and Wayne Rooney (depending on his impending Chelsea transfer) out? It's not that I don't think Martin is a good player. He was our best defender two seasons ago. But his confidence is certainly shot and I would not be surprised to see him making a defensive error on Sunday.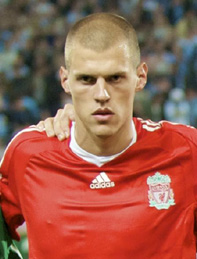 Joe Allen played well without really doing anything extraordinary. Raheem Sterling had a really good game, even filling in at right back at the end of the game and actually getting power into his shots! Luis Alberto, however, showed glimpses of what he could be if he develops as expected. I am turning into a big fan of the Spaniard, and though he might take time to develop, he has all the ingredients to succeed at a high level. What I noticed about him yesterday were mainly two things – firstly, when he is running with the ball, the ball seems to be glued to his feet, à la Coutinho. His touch is silky and will only get better. Secondly, he has the vision to see passes that the opposition doesn't see. He may not be able to execute them yet, and his passing is something I expect will develop over time. Footballing intelligence is something that may or may not develop over time, so it is good to see a young player at Liverpool who seems to have it from the off.
I would be pessimistic and say that the most we can hope for against Manchester United on Sunday is a draw. I could be whining about FSG and how they've starved Brendon Rodgers of signings, which will lead to a defeat against the Mancs and endless ribbing from United supporting friends. But what I've learnt from years of supporting this club is that we always raise our game for the big games. The most intense rivalry in football will give the players reserves of adrenaline. It is against the so called 'lesser' teams that we play a 'lesser' game. We'll dig deep against United, and win, lose or draw, I'm sure we'll do our best. Which is all fans can ask from the players really. Let's all hope Martin Skrtel plays a blinder on Sunday. Goal-line clearance from a van Persie strike and a Kop end goal from a corner from me! Haha!
Follow me on twitter 
@yashasvid
 and read this article on my blog
here
!