by Peirce Eldredge @arisekingbrenny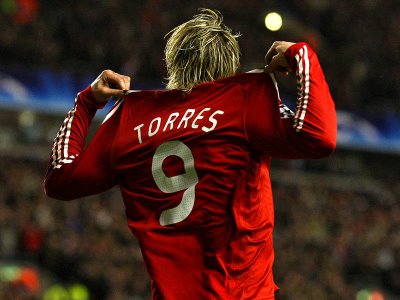 There have been rumours floating about that Liverpool may make a deadline day swoop for Chelsea misfit Fernando Torres.
Torres is currently out of favour and out of form at Chelsea and he has been for the past 3 seasons, ever since his heartbreaking deadline day January transfer deal sending him from Liverpool to Chelsea for the massive fee of £50,000,000. While many Liverpool fans were left feeling betrayed by the striker, it was a little easier to take when Torres only scored 12 goals in the next year and a half in all competitions, (57 games).
In the summer of 2012 Torres was awarded the Euro 2012 golden boot award and it may have been thought by some that he had regained his goal scoring form he enjoyed at Liverpool and would finally get back on his feet at Chelsea. The 2012-2013 season proved to be a little bit better for Torres with 22 goals in all competitions, yet he played in 64 games in total, starting 49 of them. He also was reunited with former Liverpool manager Rafa Benitez, who was interim manager for Chelsea until a replacement could be found in the summer. It turned out that replacement was Jose Mourinho, former Chelsea manager who led them to back to back Premier league titles in the 2004-2005 and 2005-2006 seasons.
Unfortunately for Torres it seems Mourinho does not fancy the Spaniard, targeting a host of strikers including Manchester United's Wayne Rooney. Eventually Mourinho signed an aging Samuel Eto'o which sparked up the rumours that Torres could make a move back to his former club where he enjoyed the best form of his career. Would Torres be welcome back by the supporters? Would he be able to find his form once again? Would he become a starter over the likes of Daniel Sturridge and Luis Suarez? Would Brendan Rodgers style of play suit him? What number would he wear now that his favourite number nine is taken by newboy Iago Aspas? These are all questions to be answered if a deal were to go through before deadline day. To start I think at first supporters would be split on whether he is welcome or a traitor. Yet after a few goals an interview saying how he has "always loved the club" would put most fans back on his good side.
Secondly I don't think he will ever find the form he used to enjoy as a red, he may score more goals than when he was at Chelsea but he will never reach that form again being he is already 29 and getting to the peak of his career. Nextly why would he start over a young, in form, confident Daniel Sturridge? That would be completely and utterly miserable for Sturridge and potentially ruin his Liverpool career, a very bright one right now as well. So I don't see him in front of Sturridge in the pecking order and I don't think it's even worth saying anything about Torres over Suarez, maybe he could play with Sturridge up top while Suarez and Coutinho supply them, I don't really know how it would work, all I know is he wouldn't be the lone striker over a healthy Sturridge or an eligible Suarez . Brendan Rodgers style of play has evolved since he came from Swansea last summer and it has evolved into a quicker exciting attacking style with lots of passing as well, but not as much as the original style of play Brendan tried to implement. Torres is a counter attacking player who is very fast as most Liverpool fans know, so I'm not sure if Rodgers style of play would suit him, or more importantly if he would suit the style play. I can see it working for Torres but also i can see him being caught off-sides a lot and not getting a lot of chances on goal. As for the number, he could maybe buy it from Aspas as we sometimes see happen in American sports, or maybe a new number but that would ruin his song which is one of my old personal favourite songs. Obviously it's not too important as the deal isn't even close to done but if it somehow does go through it's something small to think about. I don't see this deal happening with the transfer committee unlikely to approve, but if we were to get him for around £10,000,000 and he was willing to not be a guaranteed starter and take a wage cut then he would be a good addition as he could potentially come back to form and then Liverpool would have three of the best strikers in the Premier league.
I know there is always a Torres link every window to get fans to buy the newspapers but this window it actually makes some sense even though it might not be the best deal as the club would rather invest on younger players who would be here for a long while and could develop ie; Coutinho, Sturridge, but if he can be bought for the right price and the right wage cut it would bring back Liverpool's number nine to Anfield again- er excuse me, number eleven, or twenty three maybe?