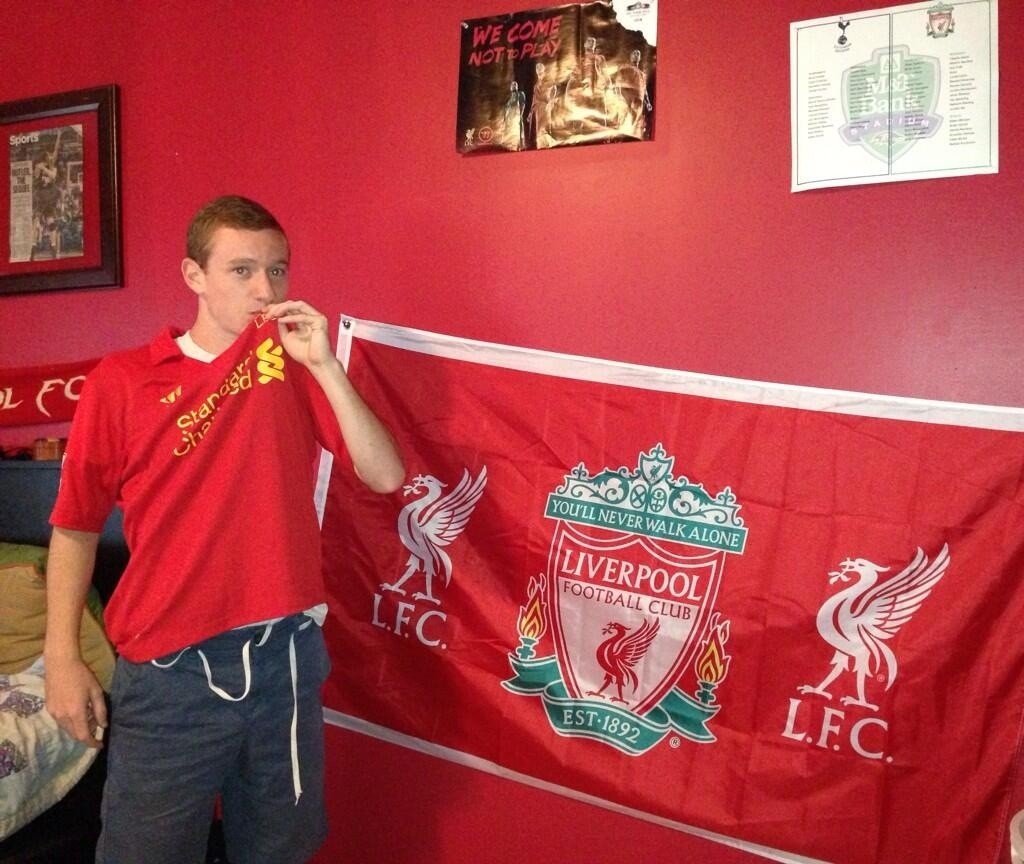 By Dakota Taylor @LFCkopite101
My name is Dakota Taylor. I am an 18 year old American kid who grew up on basketball, baseball, American football, and virtually every other sport but "true" football. The chance of me finding my true love being born in this situation was surely impossible. Over the past two years however, I have discovered Liverpool Football Club. This is the story how Liverpool forever changed my life.
I live in a stereotypical suburb in the USA. Indiana to be exact. Right in the middle of the country, with football being as absent as trophies in The Emirates. We have baseball, farms, corn, cows, and big trucks. We have youth football, but in our arrogant minds professional football doesn't exist. The only football I had known about was the MLS, Barcelona, and The World Cup. It sounds sad to me now, but this is just the average American.
I had always been athletic in every sport I had played, but something enticed me about football. The athleticism? "Perhaps," but far more likely just the pure uniqueness and energy it brings. All of my friends played, and it drove me crazy when they would talk about FIFA the video game, and I had no idea what they were saying. Formations, players, teams, leagues, chemistry. I knew of Liverpool prior just because my best friend Timmy was a fan. Besides that, it was all foreign. I was confused but this outlet is what first got me into football.
A half year had gone by and I was finally into the sport. My knowledge had solely come from FIFA, but I was now familiar with the rules, teams, and players. My "favorite team" was Real Madrid because of Cristiano Ronaldo. I saw no need to really follow any team, strictly from geographical reasoning. I am half way across the world, why not just like the best? I would watch all the football I could on Fox Soccer (The only American football channel), and my crush flourished into something greater. I loved English football.
Clint Dempsey…. A joke to many, but a hero to the American football fans. He is the reason why my new "team" became Fulham. Fulham was the team I followed. A team I could support. My first Premier league season was the 2010-2011 season. Fulham was mediocre, but I did not care because now I had a reason to like them. Plus, who doesn't like an underdog. I clearly remember beating Liverpool near the end of the season. I rubbed it in Timmy's face for weeks. I am very glad he forgave me, it changed my life.
July of 2011 I got a call from Timmy's mom. "Hey Cody (my nickname), we are taking Timmy to Baltimore to see Liverpool play for his birthday, would you like to go? You can not tell him though it's a surprise." I obviously was excited that I was able to go, but I was not a Liverpool fan nor Spurs fan which was who they played. None the less I bought a Reds shirt, and flew with Timmy to Baltimore weeks later.
We arrived at the stadium hours before the game to walk around the city. We were greeted with warm "Hello's," "Cheers," and high fives from from fellow Liverpool fans. Songs were being sung in groups and it was something straight off of Fox Soccer, I had only experienced it on television. It was magical. And when the gates to M&T Bank Stadium opened, I was like a kid at a candy store.
I had memorized "You'll Never Walk Alone" so I could sing it with the fans. I had no idea how powerful the song was, or what it really meant. This was the first thing I did in the stadium. People standing, swaying, arms on each others shoulders, we were strangers at best. We were all brought together by Liverpool. Police officers working the stadium who had never experienced a football match were gleaming at the fans, lacking words. They had never seen something so beautiful and were appreciating the brotherhood that is Liverpool.
The game itself was not super exciting. In fact, a nil nil draw couldn't get much more boring. The energy however was immense. I had never experienced the togetherness of 35,000 people all singing as if one big choir. I had found my home. I had found Liverpool Football Club.
The 2011-2012 season went by quick and it was of course not good. I had learned about all the players, their, abilities and background. I learned about the glory times of past, King Kenny, Bill Shankly. I often thought to myself "How could anyone not be a Liverpool fan?" The history, the ethics, the moral values. It was something not even Manchester United could give me to persuade me to become a Red Devil. I truly had fallen in love.
I was Optimistic about next season. Lucas Leiva was back from injury. Brendan Rodgers was going to bring us back to greatness. This of course did not happen (yet), but I was sure that with time, the clubs work would show its value.
This brings me to today. I am as big of a Liverpool fan as anybody. I can answer any question you throw at me regarding the club. I am knowledgeable about players and other clubs and it is a true passion of mine. I have also turned my friend Matt, a former Barcelona fan, into to a Red. Some people make fun of me, call me crazy, but I know I have about 90 million brothers and sisters around the world that will be there for me. This is something most people can not say. And if a fellow Red ever needs help, you can bet I won't let him or her WALK ALONE.
(A special thanks to Timmy Jarjoura, a true friend indeed)