by Shane Clancy (@koolhanger)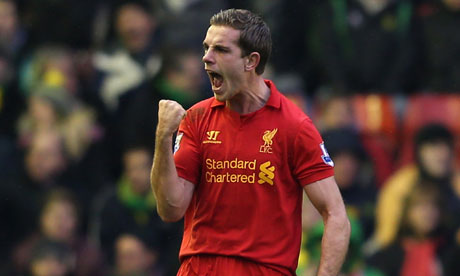 Arriving at Melwood in June 2011, Jordan Henderson had a lot to live up to.  Kenny Dalglish and Damien Comolli had just convinced the Red's relatively new owners, Fenway Sports Group, to splash £16 million on the Sunderland native.  The move was completed a week before Henderson's twenty-first birthday.
Jordan had already made his debut with the Senior England team the previous November.  He actually partnered Gerrard in the midfield for that 2-1 defeat at home to France.  It was a night when Fabio Capello expected him to perform the duties of a defensive midfielder, not a role Jordan was familiar with.
He came up short that night, as would many twenty year olds on their Wembley debuts.  Jordan was already a potential victim of the English media's desire for every aspiring youngster to be the next Owen or Gascoigne.
Born and reared in Sunderland, Henderson went on to sign his first professional contract for his home-town club in 2008.  He made his debut later that year as a substitute in a 5-0 away defeat to Chelsea.  From January 2009 he gained some vital first-team experience with a loan move to Coventry City.  Plying his trade in the Championship, Henderson scored his first senior goal a month later for the Sky Blues.  Jordan returned to Sunderland that April after fracturing the fifth metatarsal bone in his foot.
For both of the following two seasons Henderson was named as Sunderland's Young Player of the Year.  Steve Bruce, his manager at the time, described Jordan as "the best young British footballer there is".  He was held in very high esteem by the Sunderland board and coaching staff.  Upon the completion of his move to Anfield, Niall Quinn commented that "Jordan is a credit to himself, his family and Sunderland's Academy and everyone here wishes him the very best for the future".  Quinn, the Sunderland chairman at the time, must have been delighted with the return the club were getting on one of the products of their youth system at the Stadium of Light.
With the media spotlight now shining on him constantly at Anfield, the transition was never going to be easy.  Joining at the same time as Stewart Downing (£20m) and less than six months after the failing Andy Carroll (£35m), Henderson found himself the subject of constant scrutiny.  Dalglish and Comolli's transfers were being put under the microscope as the team struggled to gel significantly in the 2011/12 season.  Henderson was deployed to the right of midfield for most of the season.  He made 48 appearances and scored 2 goals that season.
Having watched Henderson over the last two years it is evident that his favourite and most effective role is as a more dynamic, central midfielder.  He times his breaks forward from the midfield to great effect, as shown recently with his cracking strike against Notts County in the Capital One Cup.  Jordan's best quality does seem to be his engine.  His impressive stamina and endurance can distract us from the fact that he is very good on the ball and a great first-time passer.  This past weekend Henderson was arguably the man of the match as Liverpool toppled United 1-0 at Anfield.  Officially this title was given to the immense Martin Skrtel on his return to first-team action.  However, Henderson's name has been mentioned quite a few times after his performance against the reigning league champions.
When Henderson signed for Liverpool many Red's fans were worried about how this "pretty boy" with his Joe-90 like shiny exterior would fit into their midfield.  Was he a battler?  Could he show a real passion and fighting spirit?
The best compliment I can pay Jordan Henderson is this; the characteristics he has so far displayed on the pitch are in complete contrast with what I was expecting when I first seen the man.
Liverpool fans everywhere have taken great satisfaction from watching this young man develop on the pitch over the last two years.  If Jordan continues to develop over the next few years then we will have in our possession a fantastic midfielder – Liverpool, and England, await.