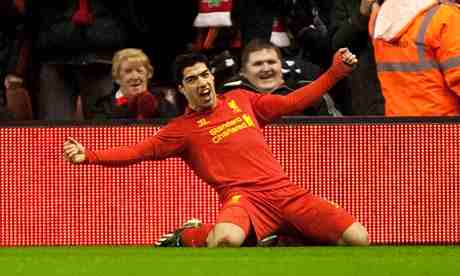 When Luis Alberto Suarez Diaz joined Liverpool on transfer deadline day, January 2011 his arrival was overshadowed by the headline grabbing signing of Andy Carroll following the departure of Fernando Torres. It would be a fair assessment of his period with Liverpool so far that since that day, headline grabbing comes as easily to Suarez as goalscoring, for better and for worse.
Controversy has very publicly plagued his tenure with Liverpool. Learning his craft on the streets of Montevideo, Uruguay, it would be easy to attest he is the living epitome of the adage, 'You can take the kid out of the street but you can never take the street out of the kid'.  It would be hard to fully envisage what sort of experience it must have been for a young Suarez but the significance of his social and cultural background on the troubles he has found himself in are hard to dismiss.
But those early influences are not solely the refuge of the negative traits in Suarez character. They have also created a player with an undoubted hunger for success, a passion for winning that can, and sometimes does, appear to have no bounds and a talent that is at times breath-taking. For every negative there is a superlative; for every accusation of dubious intent, irrefutable evidence of his skill and aptitude for goal scoring. For whatever you think of Luis Suarez as a person, as a striker for Liverpool he has been the saviour on more occasions he has been the sinner.
As with all strikers at top clubs, attention is rabid, unrelenting and uncompromising over Suarez. In the media rich world we live in there is no respite from the lens or microphone, no place with any lasting escape from the continual intrusion, no comment made that hasn't the potential for immediately hitting the public domain. This is the area Suarez has struggled with the most and comments attributed to him regarding a purported move away from Anfield this summer clearly laid the blame at the hands of the media. Yet the attention has largely been brought upon himself, though possible more through darker side of Suarez than abilities on the pitch. Success breads adulation, adulation leads to greater scrutiny and so the whole media juggernaut is a merciless beast once alerted to fallibilities.
Suarez is unquestionably a flawed genius but whereas others who have carried that dubious status have had issues off the pitch, whether through drink, sex scandals, gambling, Suarez genius and flaws have shared the same stage, the football pitch. As such, success is tainted by stigma and it will take a monumental effort to step out of the shadows of the dark clouds that hang over Luis Suarez. Whilst he may publicly make statements espousing his loyalty to Liverpool and his intention to rebuild trust, I have no doubt that this is the last shot at redemption for Suarez.
Don't get me wrong, I think he has the potential to be an Anfield legend, an EPL legend even, but I fear that even with a significant goal record, history may record he wasted that potential. I genuinely believe there is a player in Suarez who, freed from the onerous weight of his own expectations and demands, integrated with the new signings could help elevate Liverpool back to the top rung of European football.
I know I am not alone in relishing the proposition of seeing a Coutinho, Suarez, Sturridge partnership evolve and the damage that could do to any defence before it. I hope Suarez holds true to his word and pays the club and the supporters back where it counts, on the pitch, for their support.
Time will tell.
Comments, thoughts, suggestions on this article encouraged.
Gary Moore
Blood Red LFC
Twitter : @lfc_wlf