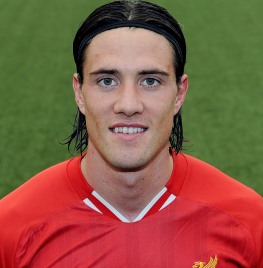 By @tomsk0
For a few years, Martin Kelly has been the man who has been expected to be the next local lad graduating from the esteemed Liverpool academy, but recent injuries, the inspiring form of Glen Johnson and Andre Wisdom competing with him for the Full Back position has halted his progress in becoming a regular player.
At 23 years old, Martin is getting to the age where he would want regular playing time at the club, and when fully fit I would play him a lot more than he is now. A decent level of pace, strength and a commanding presence can make for a rock on the defensive wing. However watching him recently – baring in mind he is still fragile – for the U21's, he has looked a lot less threatening on the attack, often lightly jogging up the wing to pass the ball short to another player, making for a tame attacking threat. I am sure the staff, players and fans will all put that down to his steady comeback from injury, but there is the worry of the mental block, a serious injury could make a player hit a wall which prevents them getting back to their best.
Kelly is still young, and he is in the best hands of Brendan Rodgers to get him back to the level that saw him being strong competition for a regular place. If Rodgers can turn around the form of players such as Downing, Henderson and Enrique, he can motivate Kelly to be as good as he can be.
Personally I would love to see Kelly as a regular for the first team. I believe it is important that we are one of the few clubs that have local players going through the youth ranks as the Premier League is in turmoil with the development of young English players. To be one of the few top 6 teams that use their academy well is concerning to the premier league, but also something that Liverpool should be very proud for.
Kelly will get back to his best mentally once he is back physically, but it is a question of whether Rodgers and the other staff would prefer him to our other wide selection of options at the back.