By Chris Hyde –  http://lfc4life.net/ (@LFC4LIFENET)
If you look on the Liverpool FC forums, on twitter and chat to many LFC fans the bulk of them feel that something is not working in centre midfield.  I think there is no doubt, we have not been controlling games this season, as we would have liked.   If you look at the below chart you will see we are allowing the opposition to have far too many shots on goal and we can't keep relying on Mignolet to save the bulk of these: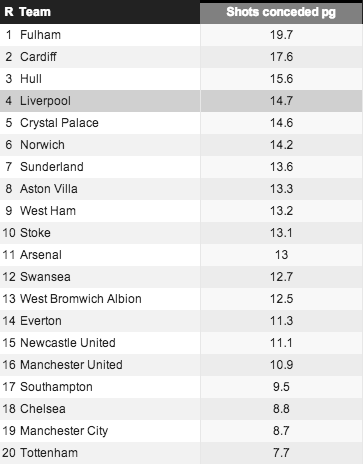 So what is the problem?
There is usually a few arguments that occur when discussing the centre midfield:
1) Lucas is not fit enough, mobile enough and is struggling as a result.
2) Gerrard doesn't have the legs anymore to play the role he is being asked.
3) Both Lucas and Gerrard don't have enough energy or mobility between them for the combination to work.
4) We need to be playing with three in the midfield to give them help.
5) Henderson or Allen should play instead of Lucas or Gerrard.
I think there is no doubt that number 4 is valid and obviously three centre midfielders has more chance of controlling a match than two do.  However if we do that, it means sacrificing another attacking player and that isn't ideal, especially against the weaker sides when we should really be playing more than three match winners to ensure we win games.  Also if Sturridge and Suarez are playing as a partnership, only having one more attacking player would limit our options when looking at formations, as two wide players would be less likely with three in midfield, unless we play with three at the back like we have done recently.  But three at the back isn't always the right formation to play, so we really need to find a centre midfield partnership that works and if Rodgers sticks with Lucas and Gerrard, then getting the best out of them.  Actually, even playing with three at the back we haven't controlled games and the centre midfield has still looked vulnerable.  But I believe if we are going to play with two centre midfielders, it doesn't matter which combination Rodgers selects, they will still struggle because of the tactics.
I think Rodgers really doesn't want to drop either Lucas or Gerrard for two reasons.  Lucas is our best ball winner, we see this as he been near the top of the stat charts for most tackles for not only our team but in the whole league.  For Gerrard it is simple, he is still a wonderful presence on the field with his composure on the ball and is still the best passer in the league for my money, certainly with his long passes, such as the one to Sturridge for the first goal against Sunderland.  He launches counter attacks brilliantly and a lot of our best work has come on the counter attack this season.  Actually some of our best football came on the counter attack last season, once the January additions joined the squad.  But I don't think many of our fans have an issue with Lucas and Gerrard in possession, both keep the ball very well.  The issues have been defensively.
But it isn't just Lucas and Gerrard that have struggled as a combination.  Even Henderson and Gerrard combination struggled many times during the weekend.  When I say struggle, I mean struggle to control the match and Crystal Palace had far too much time and space on the weekend and should have had a few more goals if we are being honest.  I actually thought Henderson played very well on the weekend, he was arguably man of the match, although that's always a debatable question.  But I think very few Liverpool fans would say he didn't play well and he did give the midfield more energy.  But as the stats show with Lucas he is breaking up play plenty of times, Gerrard is still influence games with his passing and ideally I think we'd have a combination of all three central.  All doing what they do best.
But for me whoever we select in a midfield two will struggle, because as a team we are not keeping possession as well as we should do, this obviously gives them more defending to do.  Now that's a team problem, not down to the centre midfielders, all of which have good pass completion stats for the season:
– Gerrard: 85.5% (376 of 440 completed)
– Lucas: 89.3% (316 of 354 completed)
– Henderson: 85.8% (290 of 338 completed)
(Source – Whoscored.com)
So that is one thing where the team could help the centre midfield, if we keep the ball better, then obviously the less defending the team has to do.
However for me the biggest issue is the defense, especially our centre backs have been far too deep.  Now this isn't a problem if the whole team are deep and compact.  Yet we leave Sturridge and Suarez very high up the field, even Moses a lot of the time has freedom to stay high.  This just creates a massive gap between our defense and attack, which gives the midfield a really tough job.
If you look at the below charts it shows how we often look on the field and the amount of space the midfield two have to cover: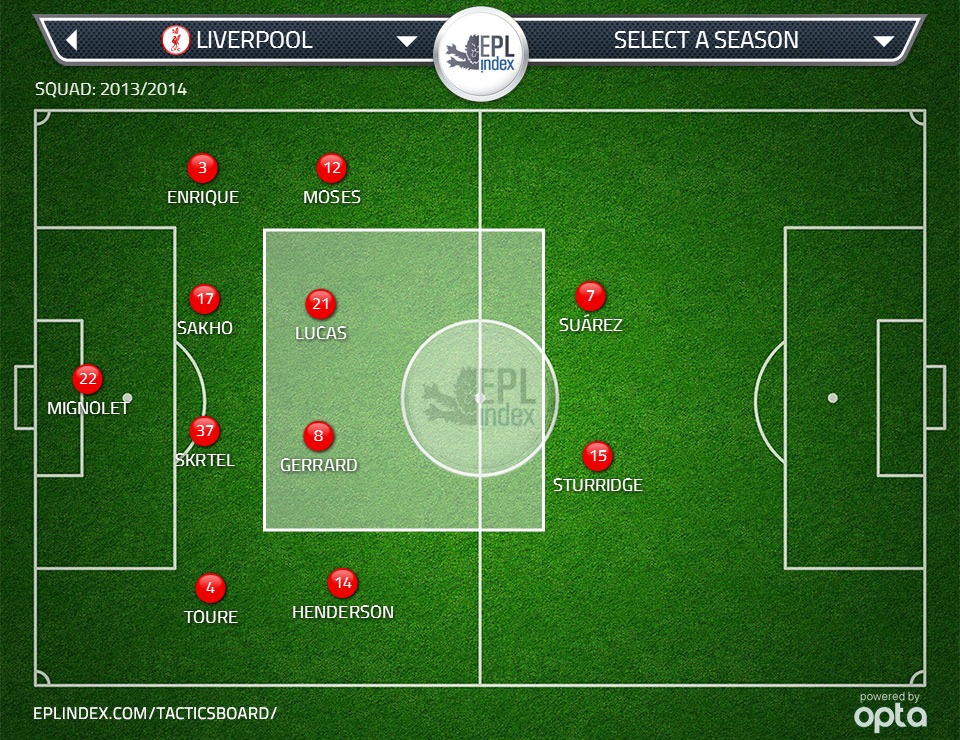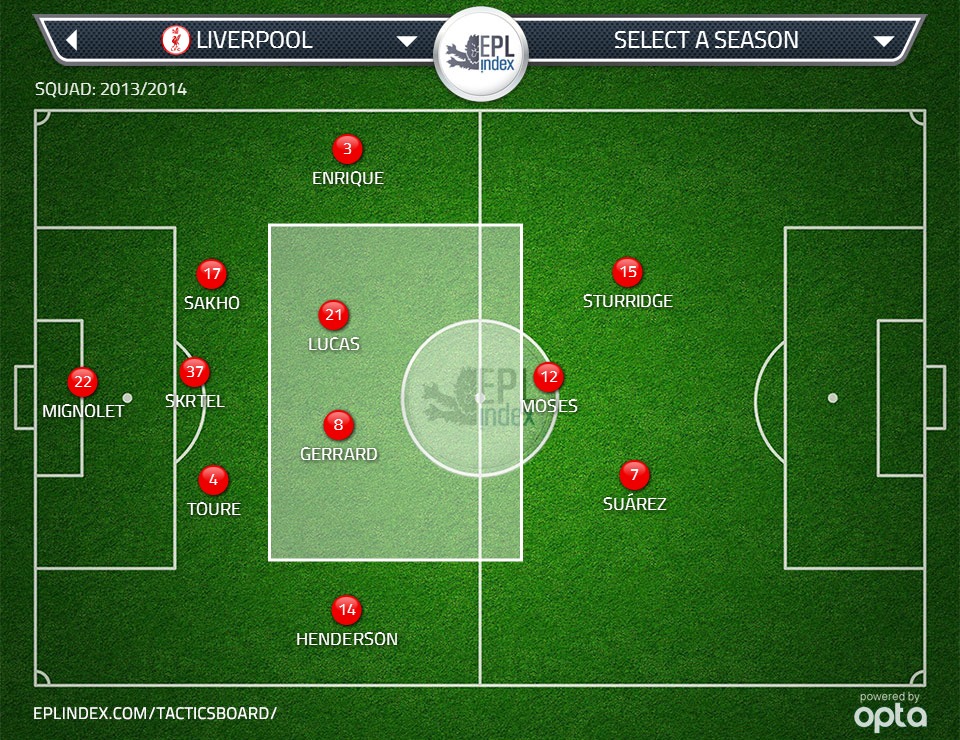 I think that amount of space is hard for any midfield two to cover.  But it really gives the midfield pair a problem, with the defense being so deep.  They have a choice to either push up and press teams, but this would give the defense no protection and would ask for trouble.  Or they drop deep and ensure there is little space between the defense and midfield, making us tough to break down and more often than not that is what they do.  But they have to do it, because pressing would be a disaster with the defense that deep.  If we are going to press you have to do it as a team, otherwise massive gaps will occur and they will be exploited.
But the above pictures are when things are going to plan.  Many times during games the gap is even bigger than the ones shown us and this just makes the issues for the midfield two even greater, as figures 3 and 4 show below: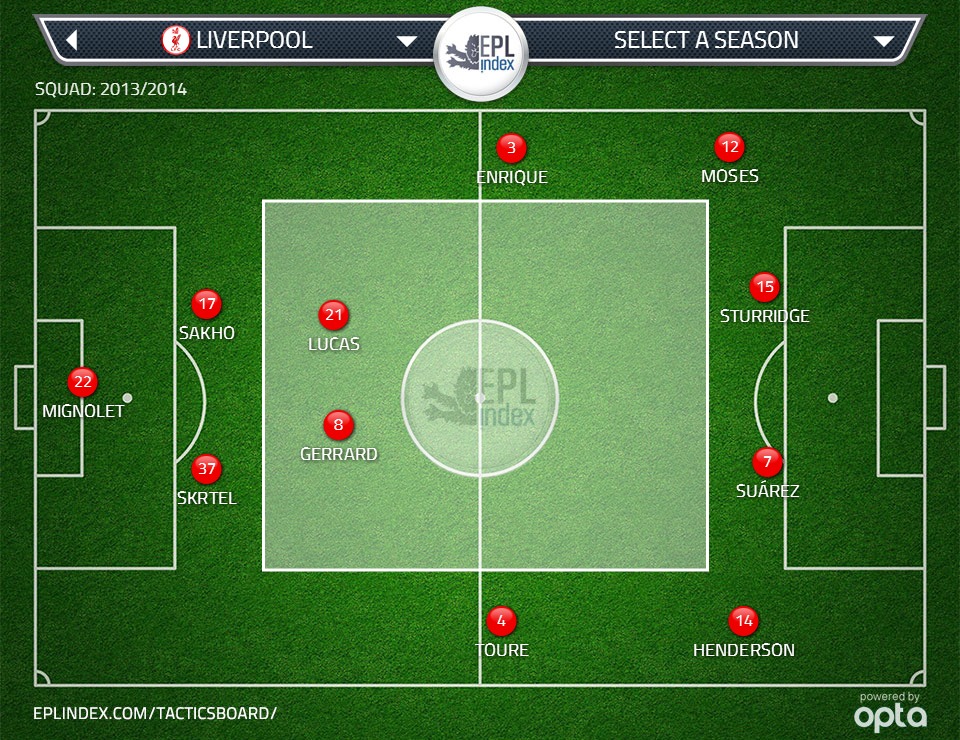 As we know our full backs are given instructions to bomb forward every time we have the ball.   Obviously the front two and other attacking players get forward as well.  However our centre backs have still been staying deep and this makes the space between the defence and attack far too big.  The thing is we attack at such pace, Gerrard gets the ball from the centre backs and it is often a long ball up to the front two and everyone rushing to get forward, but we are not keeping the possession well enough and this is giving the centre backs little chance to push up the field.  Having said that even when we have kept the ball well at times they have been far too deep.  I think this is because Rodgers wants space to open up the field and make it more likely for us to keep the ball.  But when we lose the ball, which is inevitable, as all teams do it, then those gaps give the centre midfield a real problem, as I said whether to press or to protect the back four and I can understand why they are doing the latter, as it is the safest option.
So what is the solution?
Barring adding a centre midfield to help the midfield two, by including all of Lucas, Gerrard and Henderson in the same team.  I really feel the team need to keep possession of the ball better.  But more importantly the centre backs have to push up the field and make us far more compact as a team.  This will reduce the space between our defense and attack, giving the centre midfield the opportunity to press and actually press as a team.  It will also stop our side sitting back and inviting pressure, which we seem to be doing far too often.
People will say we need to buy new players.  But I think we could have Mascherano and Alonso in this team and it would struggle a lot more than it used to do under Benitez, due to the amount of space.  No doubt, they would be better as they are two of the best players in the world in that position.  But unless the defense push up the field they might struggle more than we think.  Under Houiller and Benitez we used to have very little space between our defense, midfield and attack.  Gerrard would be the link between midfield and attack, being  a midfielder he could drop deep to help them if needed.  I think Coutinho will help with this as he's more energetic and better at tracking back than Moses.  Under Houiller we'd play on the counter attack, so being deep was not a problem.   At our best under Benitez we would move up and down the pitch as a unit – defending as a team and attacking as one.  I don't think we have done that this season, except the first half vs Stoke and first half vs Villa.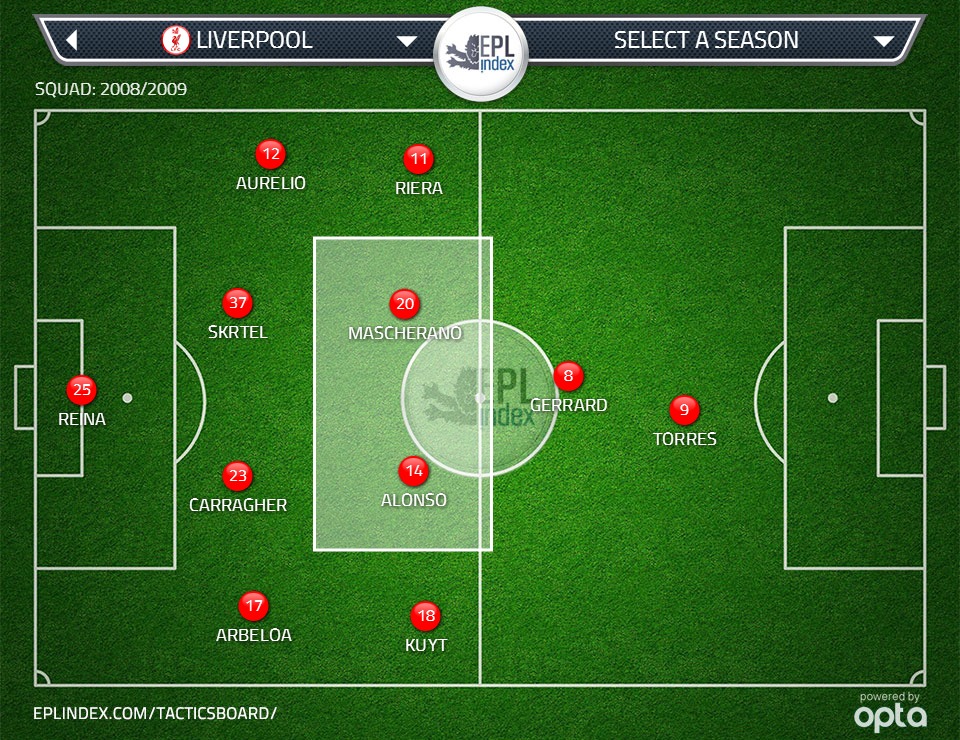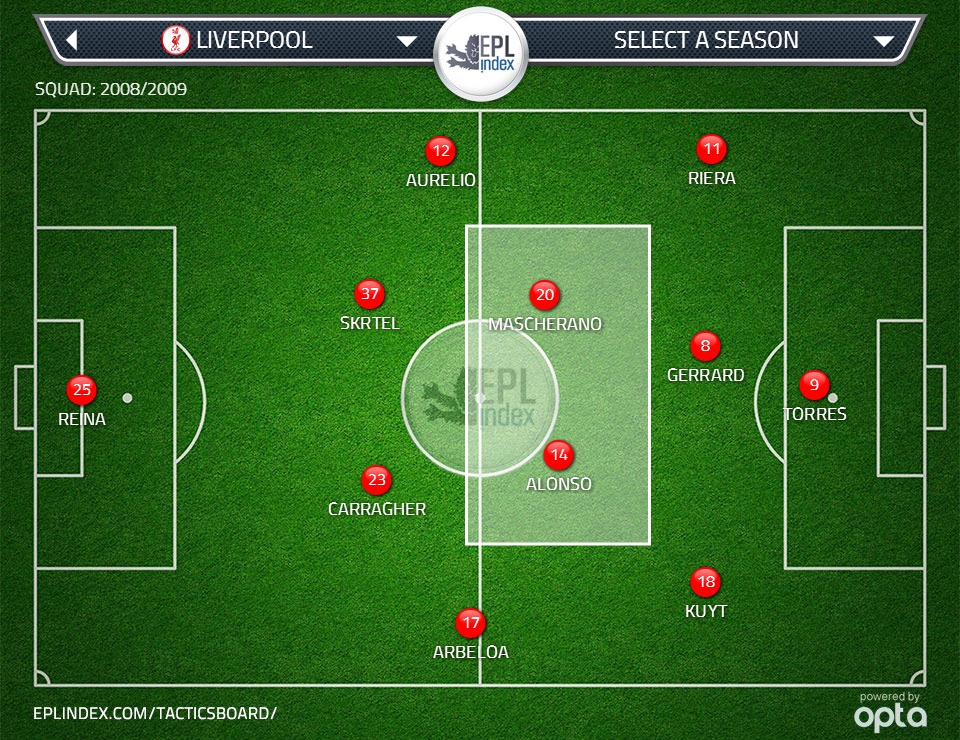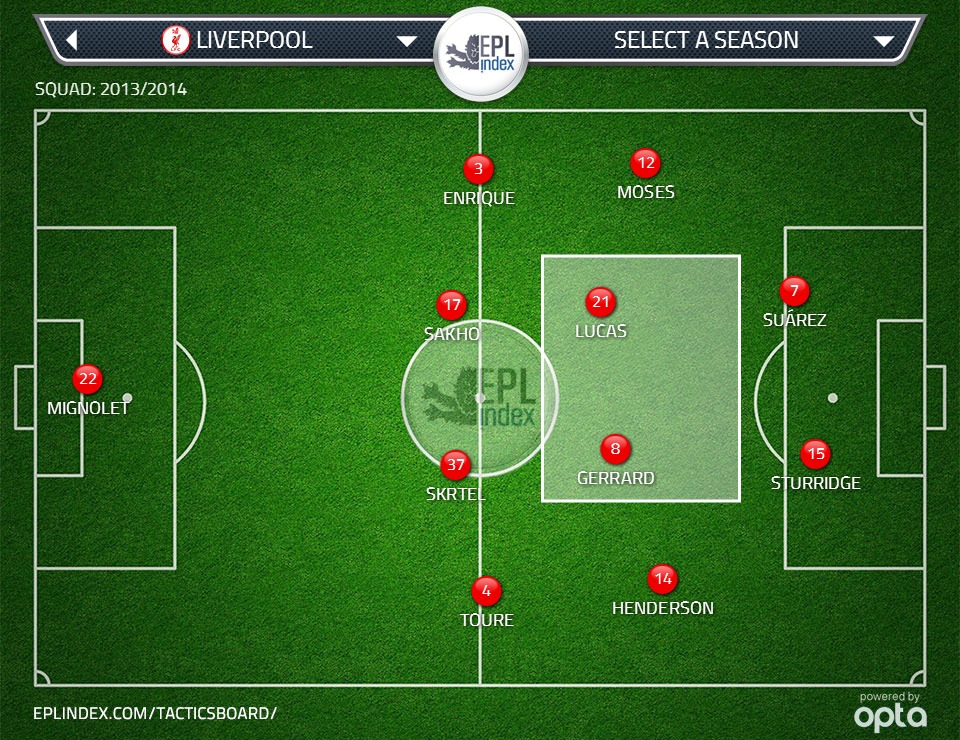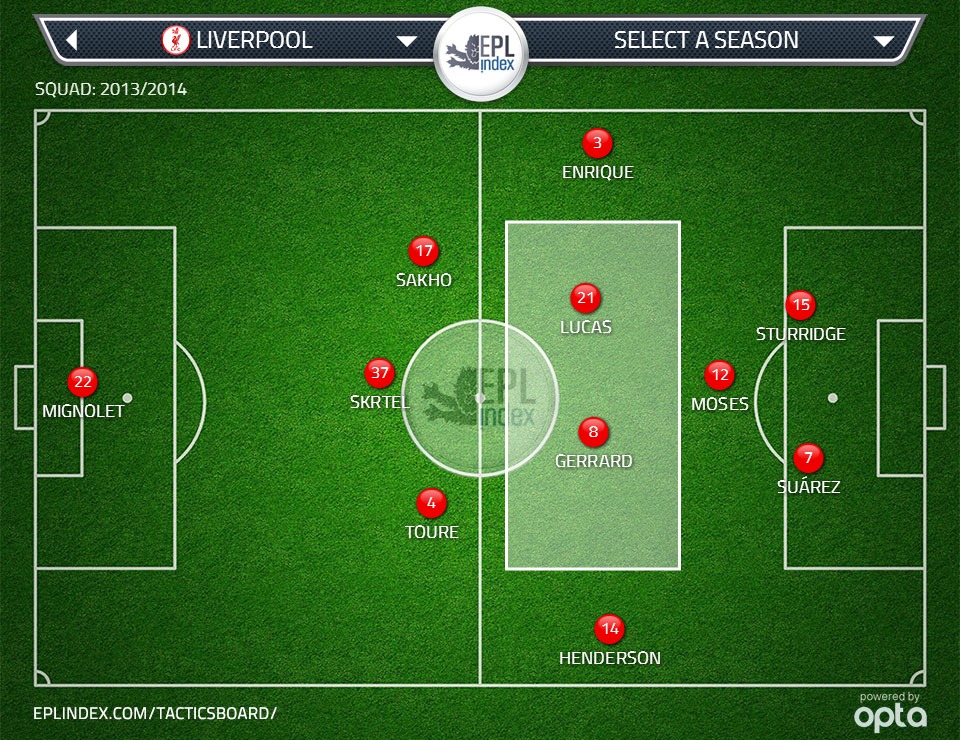 Conclusion
As I said originally, the centre midfield are getting a lot of criticism recently.  Some justified, some of it is harsh.  I feel the side would be best having Henderson, Lucas and Gerrard all in midfield, as they all offer qualities that make us a better side.   I think a midfield diamond might be best to get them all into the team, as well as having Coutinho central in a free role.
However it doesn't matter who we play in centre midfield, if the centre backs and defensive line continues to be far too deep they will have a thankless task and won't know whether to press or sit back and protect the defense, as you can't do both over such a large amount of space.  It would also help massively if the team kept the ball better.
It is easy to pick on the individual players, but I really think the tactics are the biggest issue.  Get the centre backs pushing higher up the field, then we'll be more compact as a team, can press more effectively, put teams under pressure, win possession in more dangerous places on the field and the centre midfielders will probably look far better.