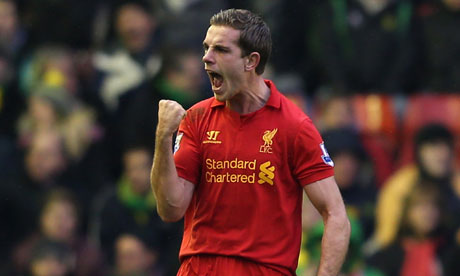 Despite the iffy second half performances (that have popped up on a regular basis, it has to be said) there is a lot to be positive about for second-placed Liverpool FC.
The 'SaS' partnership of Daniel Sturridge and Luis Suarez is so far firing on all cylinders, with both scoring in Liverpool's 3-1 win over Crystal Palace; it's always good to have two strong candidates for top scorer in the team, while Philippe Coutinho is set to return soon to add a bit of creative spark. Further back, defender Kolo Toure is looking like a fantastic free signing, while Simon Mignolet's saves in goal are preserving many points for Liverpool this season, with the Belgian goalkeeper looking like one of Liverpool's best players this season.
However, one of the many positives that is going under the radar of some "media experts" and the England manager is the rise and improvement of midfielder Jordan Henderson. When he joined Liverpool in the summer of 2011 from boyhood club Sunderland, many said it was a smart signing. Henderson, who was 20 when he joined Liverpool, plays similarly to how Steven Gerrard plays and some have said he could one day succeed the Liverpool legend as the driving force in Liverpool's midfield (via http://www.bbc.co.uk/sport/0/football/13732294).
He was a regular in 2011/12, making 48 appearances that season in all competitions for Liverpool as they won the League Cup and reached the FA Cup final, playing in both finals. However, it was a season that was a mixed bag for Henderson and the team, as despite successes in the cup competitions, Liverpool finished 8th in the league and that led to the departure of manager Kenny Dalglish.
Next season, the first under Brendan Rodgers, for the first few months anyway, Henderson was not an automatic first-team regular and could have left in the summer of 2012. However, Henderson dug in, and made 44 appearances, 29 of them being starts, and now his perseverance is beginning to pay dividends as Henderson looks to return to being an automatic starter.
With the extra games last season through the Europa League, Rodgers chose to utilise Henderson in the Europa League, and he featured most of the early group games. However, his commitment was never in doubt; for example, in December, he started Liverpool's 3-0 win at QPR despite feeling unwell with the bug that prevented Rodgers from being in the dugout that day. He had also been praised for changing games from the bench, and he had a mini-run in the first team, even scoring against Arsenal at the Emirates.
By now, he was really hammering on the door of a first team place, and when Joe Allen went for shoulder surgery, he was promoted into the first team and hasn't looked back. He ended the season with three goals from the final eight games of the season as Liverpool ended unbeaten. He's cemented his place in the team now, starting in every game.
But it's not just his work-rate and commitment that's made Rodgers a fan. He's also versatile as shown by recent games at right wing back. Rodgers changed Liverpool's formation from 4-2-3-1, to a 3-5-2 with wing-backs, and with Glen Johnson injured, Henderson was elected to be right wing back, with his brief prior experience at right back, and also on the right of midfield, mostly in 2011/12, making him a suitable choice. He made no gripes about it and got on with the job quietly but effectively, even though it wasn't his favoured position.
He had a very good game last weekend at home to Crystal Palace when he was moved to central midfield, to fill in for the suspended Lucas, requiring graft from Henderson. He duly provided it, winning 7 out of 7 tackles he attempted, recovering the ball 12 times (via http://eplindex.com/41802/player-performance-analysis-jordan-henderson-crystal-palacehtml). He offered a lot defensively in the win over Crystal Palace, and maintained his performance levels throughout the 90 minutes where Liverpool let go of the gas in the second half after taking a 3-0 lead into half time and was many peoples' man of the match, even though Liverpool's official Twitter account did not allow their followers to vote for Henderson in the man of the match polls they do after the match on Twitter. That shows the defensive side of his game, and his goalscoring tally of 3 goals in 8 at the end of last season proves the attacking side of his game.
At the end of last season, he was England's captain in their Euro Under 21 campaign in Israel. So with the versatility in his game in mind, you'd have thought he would be a good candidate for England's crunch World Cup qualifiers this week versus Montenegro and Poland. He put in a very good performance in front of watching England manager Roy Hodgson. Unfortunately, the squad had been decided before the game, despite Henderson's very good start to the season, and the likes of Tom Cleverley feature instead. Even when Hodgson was on Match of the Day, Britain's biggest football programme discussing the Liverpool vs Crystal Palace game, Henderson didn't even get a mention.
It shows that some sections under appreciate Jordan Henderson. Luckily, the Liverpool supporters and Brendan Rodgers aren't in that camp. The Liverpool boss has some tough decisions to make when Coutinho & Johnson are fully fit and Lucas returns from suspension, but Henderson's start to the season, his work-rate, commitment, energy and versatility is giving him the best possible opportunity of staying in the Liverpool starting line up when these decisions are made.