---
Tonight's game was of extreme importance. In case of victory we would've climbed right up to the top of the table where we belong.
We all knew that. Rodgers knew it, the players knew it. Perhaps they knew it a little too well.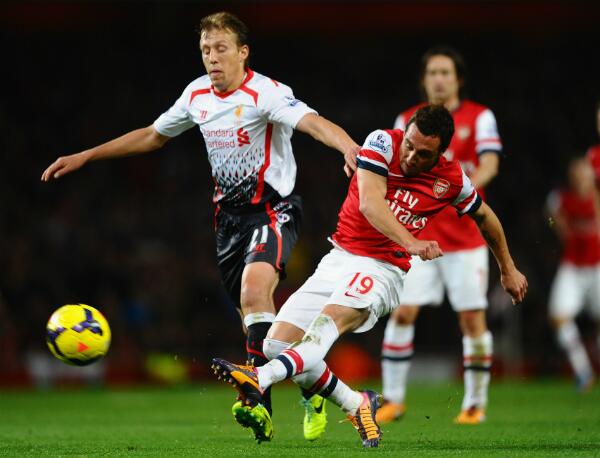 Going up against Arsenal, you're going up against the strongest midfield the Premier League has seen in quite some time. I'm not merely talking about Mesut Özil, but their team as a whole. Knowing this wasn't the problem. The problem tonight was that we had a midfield that simply couldn't match the Arsenal one. Having the two single best strikers in the league doesn't help much if they don't get any chance to show their abilities. Even though the Liverpool side started out very confidently in the first few minutes, as the game progressed it was obvious which midfield was better. Not even bringing on Coutinho (thank God he's back by the way) seemed to help in the battle versus the likes of Mesut Özil. It was obvious that the Merseyside defenders still have some work to do (even though Jon Flannagan was impressive tonight) and that our strength lies within our strikers.  However, I am not undividedly negative about Liverpool's performance tonight. Sure, the team was sloppy at times (Suarez' miss right at the end, Henderson's catastrophical miss in the beginning) but we have come a long way since last year. Steven Gerrard is constantly proving that he is more than fit to play at top level at this age and both Sturridge and Suarez had some bright moments when they got the opportunity. And let's not forget that Szczesny did wonders between the Gunners' posts.
Regardless of the severe importance of tonight's game – we have to move on and bounce back stronger. Falling down to mid-table might be extremely harmful to Liverpool's, tonight put aside, brilliant season so far, because coming back once you're down is hard. A loss against the league's strongest team doesn't determine the outcome of a whole season. It does show what we need to improve, though. The ball's on our side of the pitch.
Carl Magnus Magnusson
Twitter: @CMMagnusson