by @addykted27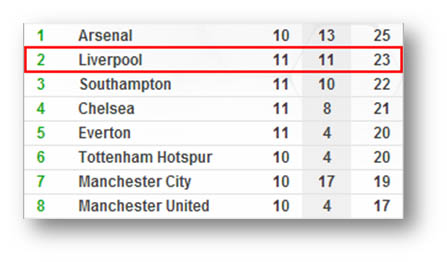 The above league table shows Liverpool sitting pretty at number 2 in EPL after 11 games and won't get affected by the result of games on Super Sunday comparing it to last year there is marked improvement surely in terms of results and optimism. Yesterday win over Fulham showed glimpses of how good Liverpool team can be on their day after having suffered 2nd loss of season to table toppers and arguably the best team in league Arsenal last week.
Liverpool changed to 4 at back and Agger, Coutinho returned to starting XI after missing through respective injuries. Gerrard just showed why he is a top, top, top, top, top player for both club and country by being part of buildup in all goals and grabbing 2 assists. Suarez had a good game and got a brace although he was claiming that own goal too, but Sturridge had a quiet game by his recent high standards. Skrtel scored 2nd goal of game to become the first defender for Liverpool to score in league this season.
All in all a good weekend to Liverpool fans but the big question is where will Liverpool end the season come May, some fans think that Liverpool can fight for title but we will have to wait and see how things turn up going into busy Christmas schedule at end of year when the table shows roughly where teams will end up in rankings. So let's look at few things Liverpool need to get right to keep the good form at start of season intact and take it to New Year.
5 things that Liverpool need to get right: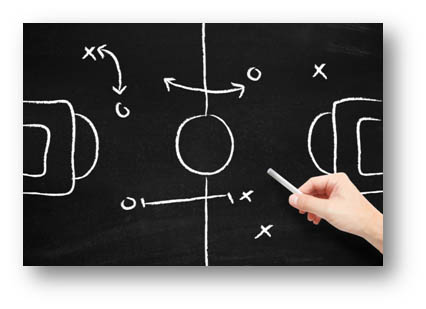 1.     Tactics: More often than not Rodgers has got the tactics spot on against the opposition so far in 11 games with only Arsenal proving an exception where Liverpool midfield was overran. Rodgers reacted to it and changed the formation which opened game more and Liverpool played into Arsenal slick passing which ended any hopes of comeback although Liverpool did had a few chances but it was a bad day at office, we didn't click and lost match.
It doesn't mean that Rodgers should take knee jerking decisions after every bad performance but Rodger needs to adapt his tactics better to tackle opposition when we find it hard to beat them especially during away fixtures. It may not be just changing the formation but also throwing in more forwards and getting more men into box. Scoring goals is the only way teams can get all 3 points as EPL can be really cruel at times.
2.     Substitutions: One aspect where Rodgers is somewhat handicapped by the bench strength but still he needs to learn quickly to change the game by making vital game changing substitutions as per the needs like bringing on extra striker in search of goal when a goal down or when drawing.
Agreed Liverpool lack quality on bench but its where Managers step up and get the best from whatever is at their disposal. Often Liverpool make only 2 substitutions during the match even while chasing a game this is where Rodgers need to trust his bench more.
Last season Assaidi, Sahin, Suso, Borini, Henderson were mostly unused subs at times when they could have impacted the game. This season it seems like Moses, Aspas, Alberto, Sterling, Ibe are the ones. Some positive substitutions even when having lead can be good for testing the bench strength which can come in handy during tight situations.
Liverpool have scored most of the goals in first half and seen out the match most times but none of the substitutions made by Rodgers has scored so far in league. This is a crucial statistic which needs to be change if Liverpool have to turn those draws into wins and losses into draws.
3.     Handle young talent: Another area of concern, last year Liverpool had Sterling with a good season but he has been somewhat affected by his off-field issues during current season so far. The next best young player Suso has been loaned out to Almeria and is doing all right there.
Loaning out Borini hasn't been the best of moves for both player as well as Liverpool with Aspas out injured there is no striker as backup to SAS something which have been an issue from Rafael Benitez era. There have been talks that Sterling might also be loaned out in January window to gain first team experience which might be good for him if Rodgers can get a suitable replacement.
Martin Kelly has been one of the best academy player to come from Liverpool youth ranks and has impressed many, his development into the first team should not be hampered by move for another defender as cover to Glen Johnson. Flanagan has played a few matches and has looked okay but Thiago Illori is yet to get a look-in, Luis Alberto also has looked promising in the few cameo appearances he has played, Jordan Ibe has been one of new faces in squad and all this young players will be hoping to get a run in first team. It will hugely benefit Rodgers if he can get the best out of these youngsters.
4.     How Brendan Rodgers strengthens the team in January: This will most likely decide where we will finish the season, last year Rodgers brought in Sturridge and Coutinho both had big impact on our form for the remainder of season.
After having strengthened the defense in close season Rodgers will look to strengthen the midfield. A possible backup or even long term replacement to Lucas is must buy also an attacking midfielder who can help unlock the stubborn defenses with his skills is also high on priority list.
 Although a striker is not highest priority but a good goal scoring backup striker is always welcomed with almost half of season remaining to play. Rodgers has been good in doing business during January window than close season so expecting a marquee signing from him won't be surprising after having missed on so many names in closed season.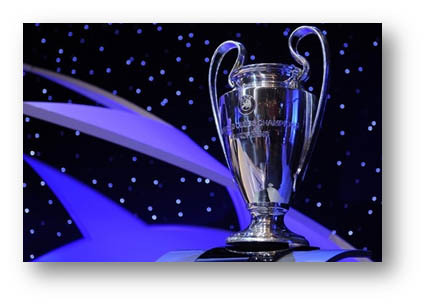 Belief: Rodger needs to make team believe in their abilities and that they can achieve the goal of Champions League qualification for next year. This will be vital while playing bigger teams both at home and away as this was the area Liverpool struggled last season winning just one game against top