By @addykted27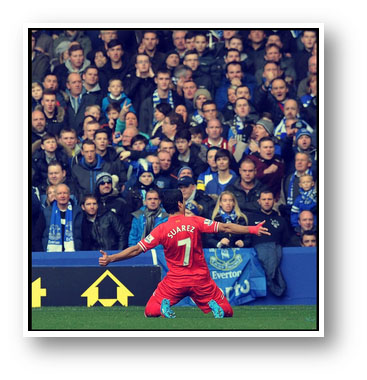 The 221st Merseyside derby was anything but superb it was arguably the best match of the season too. Everton came into this match without able to score in their previous 2 matches although not allowing a goal too, but as is the case derby the form is always thrown out of window. It's always which team can handle the pressure better on the given day wins the derby. Also being the match with most Red cards in recent history it was bound to have emotions running high on both ends. Lets see at the few talking points which affected the outcome of game.
Tactics
This was always going to be a fascinating battle between Rodgers and Martinez who love the possession based attractive football and playing from back instead of long balls direct style somewhat like David Moyes.
Rodgers made 2 changes to side that last faced Fulham bringing in Allen and Flanagan. Both teams lined up 4-2-3-1 and Rodgers opted for an extra man in midfield for the away game which meant Liverpool had a better control of midfield against a strong Everton midfield.
Both teams relied heavily on set pieces for the goals as chances from open play were limited and when Everton did get a sight of goal Simon Mignolet was outstanding for Liverpool and almost single handedly kept them in the game.
Since Sturridge was deemed fit only to be on bench it made Liverpool bench look much stronger and Rodgers had a game changing substitution at hand and it did work for Liverpool the late equalizer.
Set piece defending seemed to be a worrying area for Liverpool and Rodgers need to address it properly in a close match like this conceding 2 out of 3 goals to set-pieces that easily is always poor. The obvious thing is Liverpool are lacking in terms of height with only the center backs being tall and the other outfield players being not that heighted. Glen Johnson was marking Lukaku who easily shrugged off and got the free header on goal while both center backs were marking their opposite numbers. This is one area Liverpool need to improve if they want to be in top 4 come next may, as it can be the deference between 1-0 and 1-1, 3 points earned or 2 points lost.
Red Card
No matter how you look at it, it was a red card definitely and yes it did affect the outcome of the game as Mirallas was involved in some parts for the 2 goals Everton scored in 2nd half. But the reply given by Rodgers was spot on let's see if the FA commission acts on this incident or not although I'm sure they won't but if it was Suarez then it would have easily been a Red card and another 8 match ban.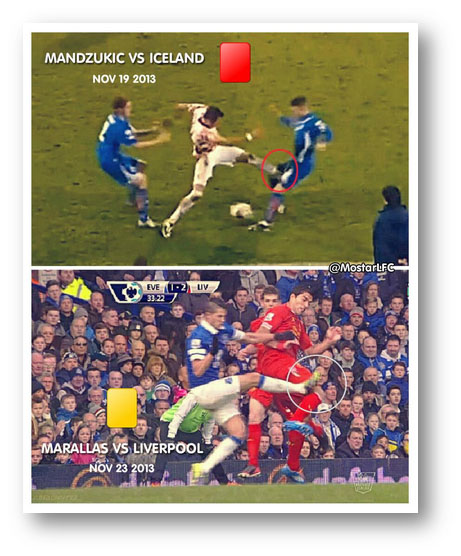 Phil Dowd was adamant of not giving a red card to any player in the derby it seems and avoided giving a red card to Mirallas which did have a big effect in outcome of the game.
Joe Allen
Rodgers opted for an extra man in midfield in form of Joe Allen it did help Liverpool as there was an extra man in midfield also Allen kept it simple with his passing but yes he did miss a sitter, its not the first time such thing has happened nor it will be the last time. Allen has to work more on his finishing which looks doubtful for a player made to play in no10 role just behind the main striker. He missed a similar chance in Steven Gerrard's testimonial too although he scored later. Allen has yet to open his account for Liverpool in League that says a lot to be honest but he is more of distributor of ball than a goal scoring midfielder not his fault at all. Many fans seemed really angry on Allen but few did realize that both the Everton goals in second half came when Allen was subbed and which made the game more open as Liverpool later pushed for goals.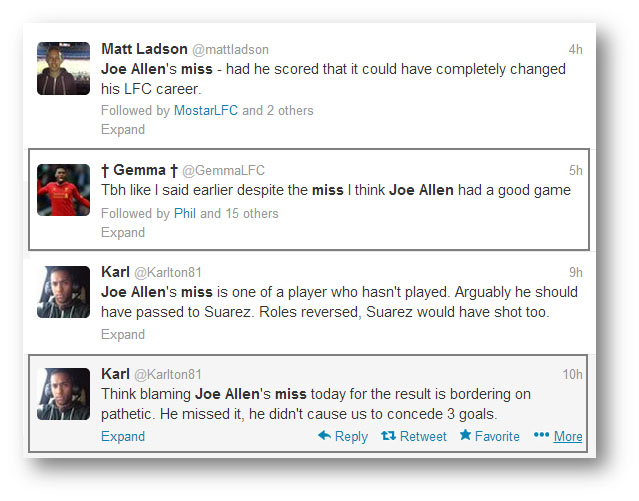 Fullbacks
To the buildup of match too much was said about why Flanagan will be starting in derby but it was a nice touch from Brendan to give a local lad his chance to prove himself. Although it might have gone badly for both Flanagan and Liverpool but atleast we now know the lad has grown up. Yes he had a few situations where he was exposed by the Everton winger and fullback but he did his job quite well. On other hand Glen Johnson was really having an off day on the right side of defense. He wasted the ball when in promising situations and also had a few situations where he ran himself and the team in spot of bother.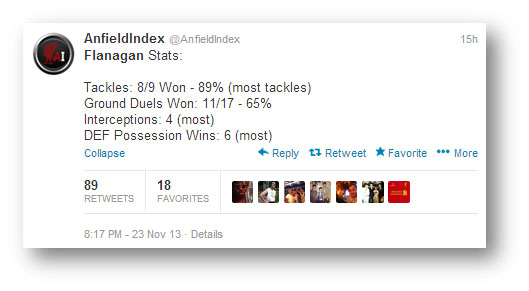 Midfield
When Allen was subbed for Moses the game seemed to have opened up more as Liverpool had a man less in midfield also there wasn't a likewise replacement for Allen on bench which did hurt Liverpool as Gerrard wasn't that effective from open play but did stamp his authority from dead ball delivery.
Many fans were excited to see M'Vila in the away section and jumped to conclusion that Liverpool will sign him come January, no doubt he is a good player but what about till then we have to play a few more matches till January. With only 4 midfielders to choose Rodgers can consider Sakho as make shift defensive partner to Lucas. The advantage of having Sakho play is obvious with his height and those superb timed tackles, also if he does make any mistakes it won't harm team much in outfield rather than in box. Not only Sakho will be useful in marking the defensive set pieces but also can allow Gerrard play in more advance role.
Benitez did it last season with Luiz at Chelsea with good amount of success; also Pep Guardiola is doing same at Bayern with Lahm playing as a defensive midfielder in absence of Schweinsteiger. Sakho has the attributes to be a good defensive midfielder due to his good interception skills and also due to fact he sometime over commits while challenging a 50-50 ball so it might help team in midfield more than defense.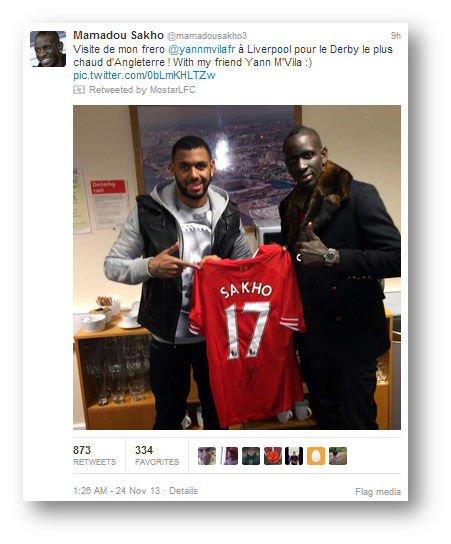 Getting draw in derby feels like 2 points lost but in end the Liverpool are still in 2nd position with the amount of goals scored which is good news. Now we need to take maximum points from our next fixtures to remain in top 4 till Christmas.
MOTM: Simon Mignolet
Photos credit @MostarLFC also special mention @AnfieldIndex and @BassTunedToRed , any suggestion if any @addykted27