By allaboutanfield.wordpress.com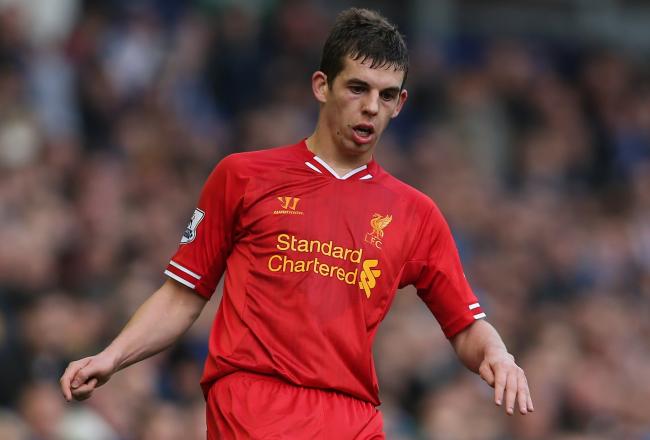 Liverpool F.C. have recently been very fortunate to have a good flow of youth players coming in through it's Academy. Last season we had Raheem Sterling and Andre Wisdom who both got first team football. This season it has been Jordan Ibe and Jon Flanagan.
Jon Flanagan became one of the youngest Liverpool born players to be allocated a first team squad number during  the 2010/11 season . Flanagan was originally given his first team debut during the reign of Kenny Dalglish and then he impressed in Rodolfo Borrell's Under-18 team.
Birthdate: 1 January 1993
Birthplace: Liverpool, England
Other clubs: None
Bought from: Local
Signed for LFC: Joined 2007
International caps: u-21 3/0 caps/goals
Liverpool debut: 11.04.2011
Last appearance: 23.11.2013
Contract expiry: 2015
Win ratio: 50% W: 9 D: 3 L: 6
LFC league games/goals: 13 / 0
Total LFC games/goals: 18 / 0
Flanagan has worked hard in the youth rank and his hard work was recognised by Kenny Dalglish who gave him his first appearance in the senior team against Manchester City at Anfield on 11 April 2011. He played the full 90 mins in a game which Liverpool won 3-0.
After the game Kenny Dalglish reflected on the lad's debut performance: " "The young boy is not bad. For us that is really encouraging as well because it is a reflection of the work that is being done at the academy and if we have a strong academy it can only benefit us for years to come."
With Martin Kelly and Glen Johnson both suffering from long term injuries Flanagan was given more opportunities to play. He continued to feature in games against Arsenal, Birmingham City, Fulham and Spurs. Against Fulham he played as a left back and he did the job remarkably well.
During the 2010-11 season Flanagan was awarded the Young Player Award for his contribution at right back. Flanagan was deeply touched and honoured and paid a tribute to Dalglish and to the coaches at the Youth Academy who had helped him.
Flanagan's rise was temporally interrupted by injuries to both of his knees during the 2012/13 season and slipped down the pecking order. Despite his injuries Flanagan did not give up hope, he continued to work hard at his fitness. His hard work paid off and he caught Brendan Rodgers's attention.
Flanagan was recalled back into the first team on the away visit to Arsenal at the Emirates. It was a last minute decision by Brendan Rodgers to include Flanagan due to Glen Johnson's sudden illness. His inclusion certainly raised a lot of eyebrows among Liverpool fans, despite little preparation he performed respectably well.
Such was his performance that Rodgers decided to give Flanagan another opportunity last Saturday. The inclusion of Flanagan over Cissokho at left back also raised some concerns of the Liverpool supporters.
Below is a copy of data of how Flanagan had performed on Saturday  from premierleague owl.com.
– Played all 90 minutes.
– Had 58 touches of the ball.
– Completed 84% of his passes.
– Attempted 0 crosses.
– Completed 1 of his 2 attempted long-passes.
– Completed 1 successful dribble.
– Was fouled once.
– Made 9 successful tackles (game-high).
– Made 4 interceptions (joint-high).