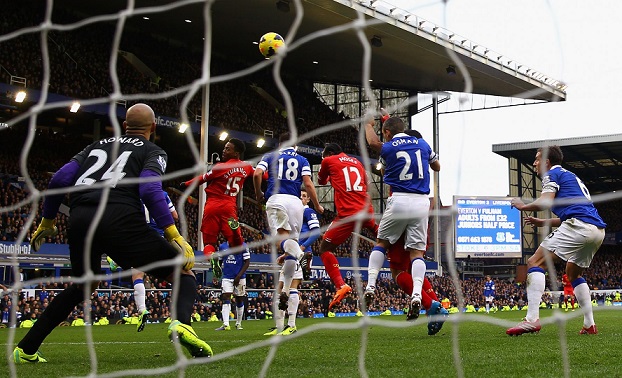 12 games into the 2013/14 season, Liverpool sit in second spot, just 4 points away from league leaders Arsenal. After our transition season in our previous campaign, everyone was expecting the Reds to mount an attempt at a Champions League berth this season. Realistically, how many people actually thought that we would be in second place?
While sitting in second is an achievement that we ought to be happy about, fans must realize that the title race this season is extremely tight – one win could send you to the top 4, and one loss could send you spiraling down to 9th. Again, Kopites should be very happy about the progress we've made this season. In the previous campaign, Liverpool only managed 28 points at the end of December (that's 20 games). This season, however, we've already hit the 24-point mark in 12 games. Finally, Rodgers's system seems to be able to clock in consistent results in the league, something we haven't seen in years. Anfield as well is once again regaining its status as a "fortress". This season we have only lost to Southampton at home, and after that game we've blown away every other home game: Crystal Palace (3-1), West Brom (4-1) and Fulham (4-0).
With December looming over the horizon, the average citizen would look forward to receiving their Christmas presents and enjoying a party on New Year's Eve. For BPL fans however, everyone knows that December is crunch time – teams have to play a massive 7 games in the space of a month. Liverpool's festive season opponents will truly test if Liverpool is quality enough to remain in the top four. On the 15th of December, Liverpool visits White Hart Lane to take on the Spurs. 11 days later, the Reds will make the short trip to Manchester to face the blue half of the town, and 3 days after that, Stamford Bridge awaits us. If our prolific "SAS" strikeforce keeps on performing the way they are now, i am confident we would be able to reach the January transfer window still in the top 4 and further cement our place in Europe's top competition next season.
Speaking of the January window, reinforcements are needed to boost the current squad. Fans worldwide are calling for a CM to be added to the squad, along with a RB and maybe a right sided winger. Rumors about English wonderkid, Will Hughes, has been circulating around the web for the past 2 weeks or so. Even though he is young, he obviously shows why big clubs are going for him – talented young player who could become a big player for Liverpool in the years to come.
I personally think that the addition in central midfield is vital. I believe that currently, our central midfield lacks the tenacity found in top-4 teams. The likes of Allen and Henderson will take maybe another a year to fully reach their potential. To ensure that we are able to continue contesting for the top 4 spots, we need a quality and experienced central midfielder to take opponents by the horns. I think Yann M'vila, Radja Nianggolan or Bender (either one) would be a solid addition to the team, not regarding their price tags. Purchasing a classy CM will also give Rodgers the chance to loan one of our CM's out for experience. As for a RB, Rodgers has his eyes set on Chelsea's young English fullback, Ryan Bertrand. I think he will be able to provide enough competition to Glen Johnson's starting spot in the team.
Looking forward, this season is crucial to both the Liverpool board and the fans. Reminder, if we do not make it into the Champions League this season Suarez is sure to leave. While i believe that no player is bigger than the team, losing Suarez will put a huge dent in our squad, both in terms of quality and morale. Getting into the Champions League will also convince world-class players to sign for Liverpool, something we've been lacking over the past few seasons.
Come on Redmen.
(@Livefastdiey0ng)