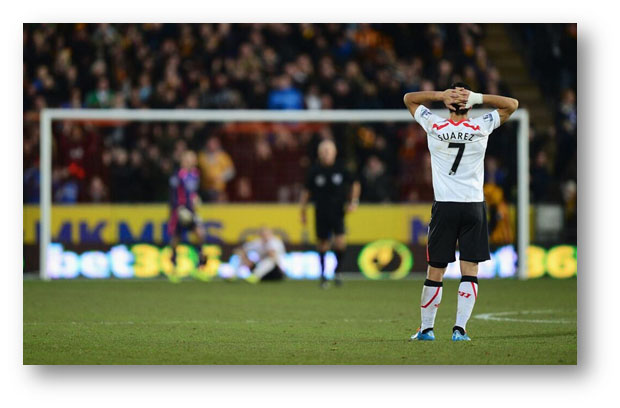 Many fans were utterly disappointed by yesterday poor display away at Hull city more than the final result which to be honest clearly brought the Brendan Rodgers side to the harsh realities of this league. Thankfully we didn't slip much in our pursuit of top 4 we are still in 4th spot with Manchester City and Chelsea taking advantage and jumping ahead of us with their respective wins.
Yes Rodgers gambled with his team selection with Sturridge injured for long term and Coutinho also carrying a knock from last week, both Moses and Sterling were in starting lineup and expected to up there game but failed to deceive also Moses missed a clear goal scoring chance which did hurt Liverpool dearly as Hull City took there at opposite end soon after. I don't think Rodgers can be blamed for such display from both players.
But Rodgers got it all wrong at back, the area Liverpool have been most vulnerable this season and Hull city took full advantage of it, yes a deflected goal and a Skrtel own goal meant that Hull did ride their luck but overall the body language from Liverpool players was disappointing to say the least.
Somehow the Skrtel at left side of defense and Skrtel at right side of defense have been complete opposite players yet Rodgers played him out of position and benched Agger and Sakho. Glen Johnson has looked an average player for past two games which has hurt Liverpool both in defense and more so in offense too. Playing Agger or Sakho would have been a better choice surely now that Skrtel failed but now don't think Rodgers will experiment much with back line.
Other thing where Rodgers got it wrong was substitutions not only was it late but also were not aggressive enough as if Liverpool were trying to play out a draw. It was clear that Hull city was frustrating Suarez who was all alone upfront yet Rodgers didn't throw Aspas into the mix, yes he was back after an injury spell and that he hasn't got the best of start for his Liverpool career but with games coming thick and fast in December some minutes under his belt would have been crucial for his confidence.
Looking at loan players Liverpool have away, Suso has been the most impressive and should be back next season as a much better player, Sterling will most likely be loaned out in January window. Borini should be recalled or be loaned out to Serie A with option of selling him up later as his stint with Sunderland looks to be of not much use for both player and Liverpool. Moses can still turn it around at Liverpool but he needs to up his game.
Glen Johnson performances have been a concern Rodgers might have to look at some options in January window but there is a certain Thiago Illori in our squad who is yet to be given a debut in first team by Rodgers and might suit that position with his pace.
No matter how we look at it December is the month which will give us a fair idea where we will end up at end of season. Yes we have improved vastly form last year but performances like this against weak teams show us we are still a team in transition and in need of more hard work. Next matches now have added importance and hope that team will bounce back positively and keep the momentum high during the festival season.
YNWA