As we close in on the halfway mark of the season, it is an indescribable joy to see our beloved club ranked second on the league table. To accumulate 30 points from the first fifteen games, or an average of two points per game, is clearly UEFA Champions League qualification form.
Of course, the season is still young. But if we can continue winning points at the same pace for the rest of the season, and finish the season with 76 points, it will be near insanity if that point total does not get us into next season's UEFA Champions League.
Over the past 10 seasons, from 2003-04 to 2012-13, the lowest number of points to clinch fourth spot was 60. That was us in 2003-04, and as history would have it, we went on to win the big one in Istanbul the season after. Over the same period, the highest number of points to clinch fourth spot was 76. That was also us in 2007-08, or the season before our closest title fight in recent memory.
At this point, may I suggest another way to better analyse an entire season. Let's start by breaking the season down into smaller blocks of five games each, and leave the last three games of the season as a mini-block.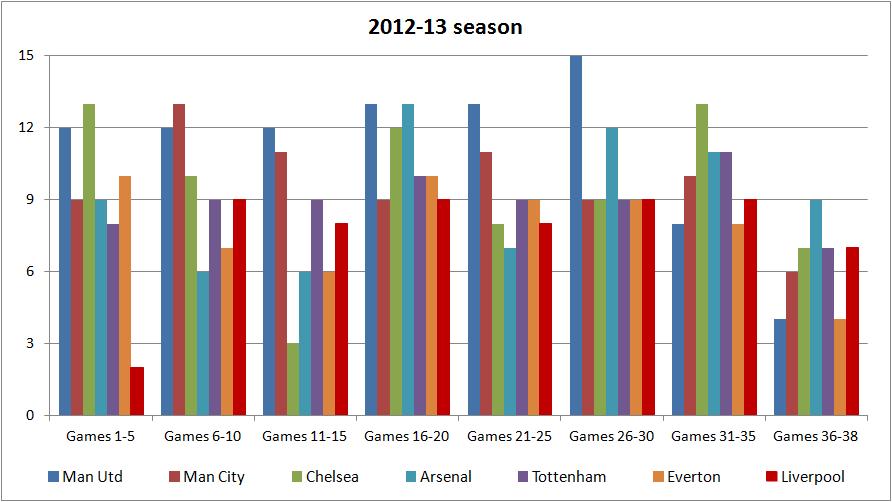 If we look at last season's respective records for the top seven teams, you will find Manchester United remarkably consistent, recording 12 points each from its first three blocks of five games, turning on the style over the 16th and 25th games, and completely demoralised the chasing pack by winning all its games in the 6th block. After that, Manchester United was basically on cruise control as it went on to claim Fergie's final title before his (first!?) retirement.
Coming back to stuff closer to our hearts, we are all well aware of that worst start in 101 years we had last season. After the first block, we stumbled along subsequently on our way to seventh place. While our play undoubtedly improved during the second half of last season, we were still only good enough to average 1.6 to 1.8 points per game for the rest of last season.
On a much happier note, we have displayed remarkable consistency by recording 10 points each from the first three blocks of games this season, en route to our current second place. Our point tally at this stage is also better than that of any season since our recent peak in 2008-09, when we had 34 points after 15 games. Furthermore, we have scored more goals and have a better goal difference than that of any of the last five seasons, including the fabled 2008-09 season.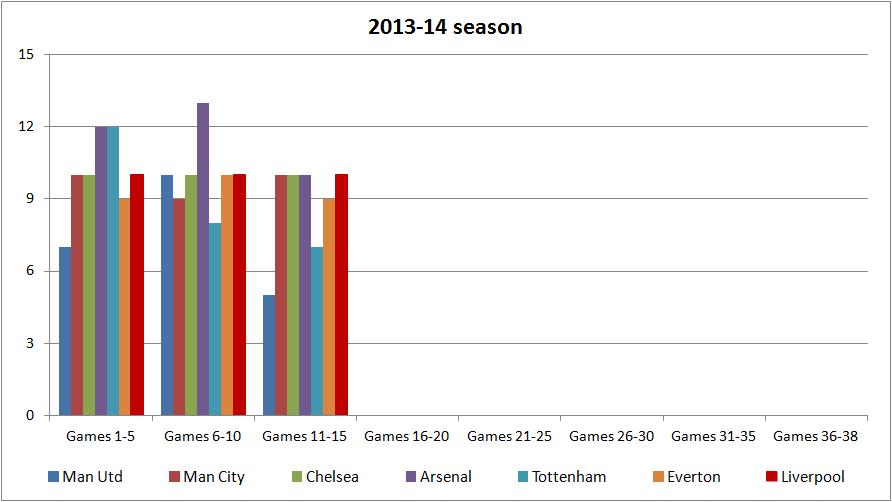 Apart from secretly rejoicing the predicament that Manchester United is currently in, it is perhaps also heartening to see Tottenham, a close rival for a coveted top-four spot, progressively recording fewer points over the first three blocks. And during the third block of games, our point tally also matched those of Manchester City, Chelsea and Arsenal.
Looking ahead, the next block of games must be our litmus test for the first half of this season. Within the fourth block will be away games to Tottenham, Manchester City and Chelsea, all within a fortnight. Make no mistake; games against these teams will be tough even if they are played at Anfield. Considering the recent injuries to Stevie G and Sturridge, this could easily be the beginning of the end of our promising season. Though I certainly hope it won't be!
However, the block of five games analysis does not take into account of the quality of the opposition and is inherently flawed. Another way to look at our season so far is to compare the results of the corresponding fixtures last season to the games that we have played this season. However, promotion from and relegation to the second tier mean we cannot face the same 19 opponents twice this season. In order to address this issue, I will compare the results of last season's games against Wigan (18th in the Premier League in 2012-13), Reading (19th) and Queens Park Rangers (20th), respectively to those of the games this season against Cardiff (1st in the Championship in 2012-13), Hull (2nd) and Crystal Palace (playoffs winner).
And after 15 games, against the same, or similar, opponents at home, or away, we have scored nine more goals but conceded eight more than this stage last season. As a result, we have improved our goal difference by one and increased our point tally by five. This way of comparing this season to the last is probably superior to the block of five games analysis. And it tells us that we are indeed better than last season, but perhaps not 11 points better after 15 games.
I will be the first to admit that this article is nothing more than an academic exercise. And I am definitely hoping for more positives to come out of our team during the rest of the season. Let's hope for good showings from our next few games and that we are still in one of the Champions League spots after 20 games. What am I saying!? I mean after 38 games! Hahaha…